Past GTC Chairman Brian Rose guest of honour at German Guild's 5th anniversary
In 2009, the Chairman of the GTC at that time, Brian Rose, was asked to travel to Germany to advise on the setting up of an equivalent guild to the GTC for German cameramen. Five years on, Brian was invited back to help the BVFK celebrate a successful first five years in existence. Brian picks up the story:
The BVFK: a guild for German cameramen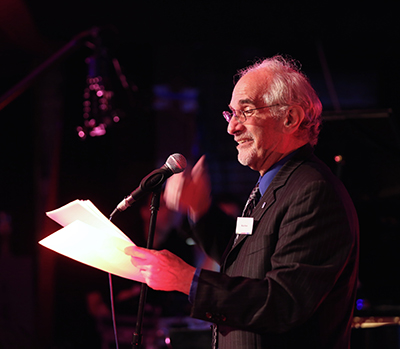 Five years ago, I was invited to join the pioneer members of the Bundersverband der Fernsekamerasleute, or BVFK, at their inaugural meeting in Munich. As Chairman of the GTC – the senior television Camera Guild in Europe – I had been asked to advise on the challenges they could expect to face in starting a similar organisation in Germany.
It was an exciting, pioneering meeting, which finished at 4 o'clock in the morning. Together we laid the foundations of the organisation and produced a Constitution for the new organisation which has, I suspect, already made a very real contribution to maintaining standards for television in Germany.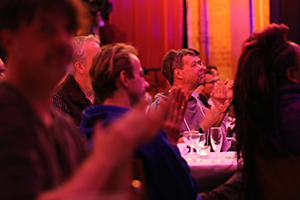 Some five years later, the BVFK (Federation of Television Cameramen) has every right to celebrate. From about 35 cameramen who attended that first meeting, it now has some 550 members – a quite remarkable achievement. And, to mark that achievement, they recently held a large meeting in Berlin.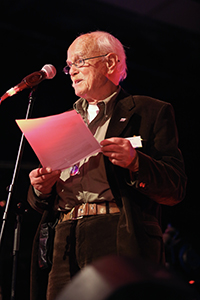 I was deeply honoured and moved to have been invited by BVFK Chairman Frank Trautmann to join them for the celebration and indeed to make the keynote address in the evening. It was even more of an honour to share the stage with veteran German cinematographer Wolfgang Treu, whom I had met some years ago at Camerimage in Lodz.
Shared concerns
I have to admit that, for someone who doesn't speak a word of German, the very well organised day was somewhat exhausting. But it soon became apparent that from the little I understood, and from the discussions we had during the day, the challenges we face in the GTC are by no means limited to the UK.
Poor fees, a general disrespect for television cameramen, bad working conditions, the threat imposed by self-shooters; all of these will be familiar to GTC members. This, and more is shared by the BVFK; we have exactly the same concerns.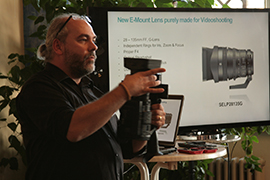 One discussion that I was able to join in during the day, was the lack of consultation of cameramen by manufacturers. Exactly why they build and design cameras without speaking to the people who actually use them, remained something of a mystery to us all. We are all too familiar with the problems: cameras designed with a body far too small for handholding; with confusing assignable buttons in difficult positions; and by the time you've added all the accessories to actually make the camera usable, it's heavier and larger than a standard ENG camera. Amazing pictures maybe, but hardly ergonomic. In fact, as I shared with the meeting, just that day I had met a camera crew filming at Heathrow, who expressed exactly the same exasperations.
Happy Anniversary BVFK
The overall presentation of the day was very, very professional and in this I felt I was on familiar ground. The day consisted of a series of seminars and workshops, as well as panel discussions with leading industry experts. Apart from the language, it could have been a GTC event. No mean achievement after just five years.
To my shame and embarrassment, everyone understood my English and I was told that many members found my speech very moving. Perhaps it was our shared frustrations, or perhaps it was a pride in what they have already achieved, but I would like to think that it was our shared aspirations for the future.
International collaboration
Personally speaking, I think that one of those shared aspirations has to be the formation of an international body of Television Camera Guilds along the lines of the well-established IMAGO for cinematographers.
Perhaps it was no coincidence that we were in Berlin almost exactly 25 years since the Wall finally came down. Perhaps it was no coincidence that the meeting was held just opposite the Schiller Park, named after Friedrich Schiller, whose words from the 'Ode to Joy' – "Alle Menschen werden Brüder" (All men shall become brothers) – I was pleased to share with the meeting.
I am sure that we will continue to move forward together. Many thanks to the BVFK and their Council for their kind hospitality.