Petro Vlahos, the inventor of blue and green screen dies at 96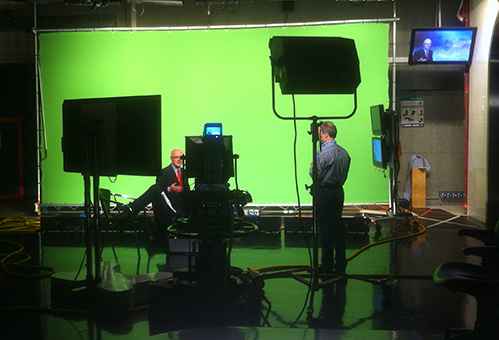 Petro Vlahos – the pioneer of blue- and green-screen systems and founder of the company Ultimatte has died at the age of 96.
The technique was developed for Ben Hur in 1959 and a related process was awarded an Oscar for its use in Mary Poppins in 1964.
Vlahos was not the first to use blue screens (earlier versions of the technique had been employed in very early films such as The Thief of Bagdad and The Ten Commandments) but he is credited with developing the colour-difference travelling matte scheme, which minimised fringing around objects.
As with other blue-screen techniques, scenes would be filmed against a blue background that was then used to generate a matte. Vlahos's breakthrough was to develop a means of separating the blue, green and red parts of each frame before combining them back together in a certain order. In particular, the process allowed the blue-screen procedure to cope with glassware, cigarette smoke, blowing hair and motion blur which had all caused problems for earlier efforts.
Vlahos was also awarded a patent for his work on a related technique called sodium vapour illumination, which he developed for Disney. Scenes would be filmed against a white backdrop using sodium-powered lamps causing a yellow glow to bounce off the background. The camera featured two film stocks shot simultaneously and a prism on the lens which split the yellow sodium light away from other colours, sending it to a black-and-white-based film stock used to create a matte. The other film stock recorded scenes in colour without the sodium's yellow cast being visible, creating a cleaner effect than the earlier blue-screen techniques.
Vlahos co-founded Ultimatte Corp, with his son Paul in 1976. These days the company focuses on making AdvantEdge, a compositing software plug-in.