Plans for major new studios in East London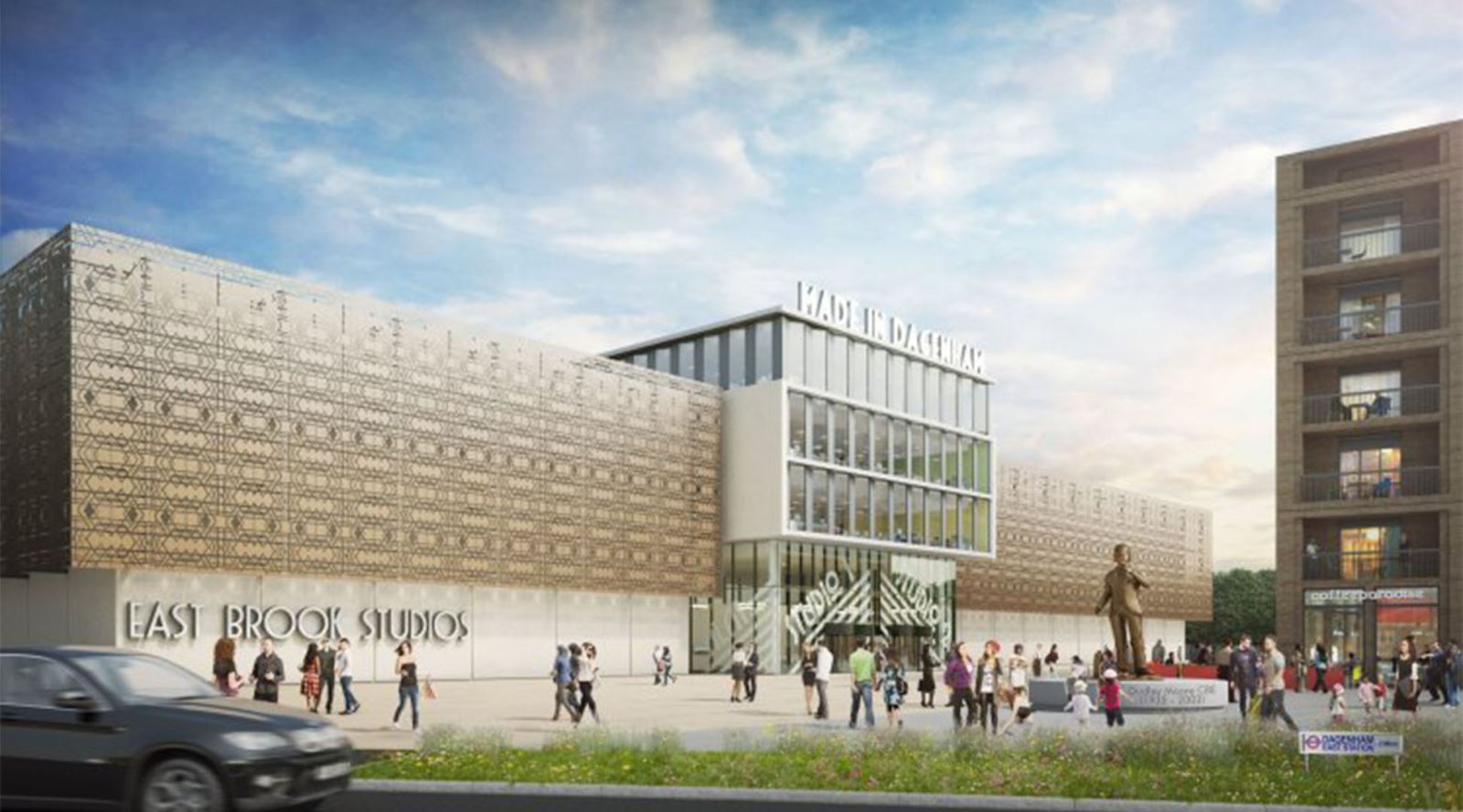 London Mayor Sadiq Khan has backed a plan to build what could be the capital's largest film studios, based in East London. The studios would be called East Brook Studios and in a nod to the hit film, in the artist's impression, bear the catchprhrase 'Made in Dagenham' at their summit.
If given the green light, it will be the first studio lot to be built for 25 years in the capital, which is hailed as the world's third busiest city for filmmaking.
The Mayor is working with Film London, the London Local Enterprise Panel and the London Borough of Barking and Dagenham to commission a feasibility study into the new studios. The process will be led by Film London in consultation with the film and television industries.

The potential site for the new studios is located near the London-east Industrial Park and has been selected because of its large size allowing a bespoke new facility to be built. The area is well connected with the District Line and the coming Crossrail services nearby, with quick access to central London.

The London Local Enterprise Partnership and Barking and Dagenham Council will invest up to £80,000 to develop a business case for the proposed new studios. This will look in detail at the demand for such a facility and the economic benefits it could bring to East London and the city as a whole.

The Mayor of London, Sadiq Khan, said: "From James Bond and Star Wars to Harry Potter and Bridget Jones's Baby, London has a vibrant production history and some of the best studios in the world. To sustain and grow this success story, it is critical that the capital gets significantly more studio and production capacity to maximise the opportunities for filmmaking. London is open to the best creative and cultural minds and I am looking forward to exploring whether a new film studio in Dagenham could help the capital's film industry thrive for years to come."

Adrian Wootton, Chief Executive of Film London and the British Film Commission, said: "London is one of the world's busiest destinations for the film industry, with international filmmakers making a beeline for our city because they know it offers the very best by way of facilities, expertise and creative talent. Our global reputation means demand for studio space is incredibly high, and unlocking new studio space in east London would help maintain the capital's competitive edge. If realised, this major new infrastructure project would mean a tremendous economic boost for Barking and Dagenham, the capital's film and TV industries and the UK as a whole."