Congratulations to Vinten on Queen's Award for Enterprise

As the Queen celebrates her 84th birthday today, one of
the GTC's longest-standing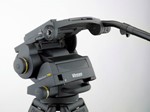 sponsor companies, Vinten, has been honoured with the Queen's Award for Enterprise in the Innovation category. The company has been recognised for continuous innovation and development with its Perfect Balance technology – the unique and innovative engineering solution for professional television camera support.
"This outstanding recognition is a fitting tribute to the continuing success of the Vinten brand and its employees as it celebrates its 100th anniversary, an unprecedented achievement in its own right in the film and television industry" said Roger Wilson, Managing Director.
The Queen's Awards for Enterprise are the UK's most prestigious awards for business performance. The innovation Award recognises those organisations demonstrating substantial and sustained improvement in business performance and commercial success as a result of outstanding innovation in products or services.
Perfect Balance
Since its foundation in 1910, Vinten has been a world-leading developer and manufacturer of camera supports including pan and tilt heads, tripods and pedestals. The introduction in the 1980s of Perfect Balance, which is unique to Vinten heads and pedestals, allowed the brand to branch out into a new sector which it had not previously served: the large and rapidly growing electronic news gathering (ENG) market, which favoured lightweight mountings. As a result of deploying Perfect Balance, Vinten was able to secure a leading position in this market globally, while at the same time doubling its sales.
Vinten is now renowned for Perfect Balance, the ability to support a camera so that it appears weightless to the user. This, combined with fluid drag, ensures that the only moves the camera makes are those that the operator wants, with the camera remaining perfectly still – in any position – at the end of the move.

A century of innovation
It was on 1 January 1910 that William Vinten opened his workshop for business, in Wardour Street London, as W Vinten Cinematograph Engineers. Vinten went on to become the founding company of what is today known as the Vitec Group and the Vinten brand has earned and maintained an unmatched reputation for innovative, operationally excellent, precision engineered products. You will be able to find out more about the history of Vinten in the next issue of Zerb (Autumn 2010) as the GTC pays tribute to the remarkable story of one of our longest-standing sponsor companies.
About Vinten
Vinten® is a global market leader in camera support technology for broadcast professionals, as well as corporate, education and government applications. The range covers manual heads, tripods and pedestals suitable for ENG, EFP, OB and studio environments. Along with five other leading brands in the broadcast industry, Vinten is part of Camera Dynamics Ltd, a Vitec Group company.