Rory Peck Awards 2014 finalists announced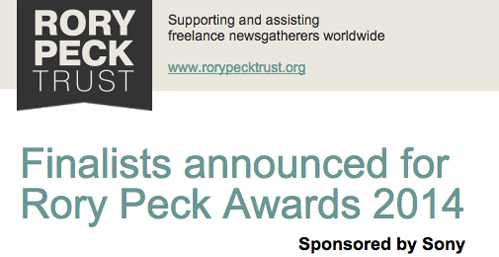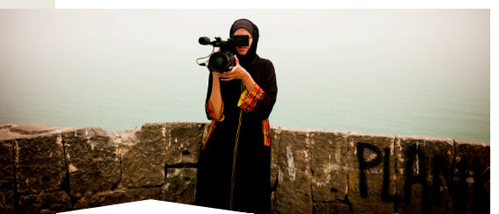 In a presentation at New York City's British Residence, legendary US news broadcaster Tom Brokaw announced the finalists for the Rory Peck Awards 2014, sponsored by Sony.
The Rory Peck Awards are the only awards dedicated to the work of freelance cameramen and camerawomen in news and current affairs – self-shooting journalists, video-journalists and filmmakers who work independently in many of the globe's most difficult regions.
This year's finalists come from Britain, Central African Republic, North Korea, Saudi Arabia, Syria, USA and Ukraine.
Rory Peck Award for News 2014
Pacome Pabanji (Central African) for CAR: Descent into Chaos. Broadcast by AFPTV.
Nichole Sobeski (American) for Kenya: Attack at Westgate Mall. Broadcast by AFPTV.
Andriy Perun (Ukrainian) for Ukraine Crisis: Kiev. Broadcast by Reuters
Rory Peck Award for Features 2014
Marcel Mettelsiefen (German) for Children on the Frontline. ITN Productions for Channel 4 Dispatches.
Muhammad Ali (Syrian) for Syria's Second Front. Clover Films for PBS Frontline.
Team Mindeulle (North Korean) for North Korea: Life Inside the Secret State. Hard Cash Productions for Channel 4 Dispatches and PBS Frontline.
Sony Impact Award 2014
Ruhi Hamid (British ) for Knife Crime ER. Sundog Pictures for BBC3 Reggie Yates' Extreme South Africa series.
Safa Al-Ahmad (Saudi) for Saudi's Secret Uprising. Commissioned by BBC Our World with BBC Persian and Arabic channels. Broadcast across BBC.
Ben Steele (British) for Hunted. Blakeway Productions for Channel 4 Dispatches.
Tickets now available
Winners will be announced at the Rory Peck Awards ceremony on Wednesday 19 November at London's BFI Southbank. To buy tickets, and support the work of the Rory Peck Trust, visit rorypeckawards.org.