Rory Peck Trust announces Martin Adler prize-winner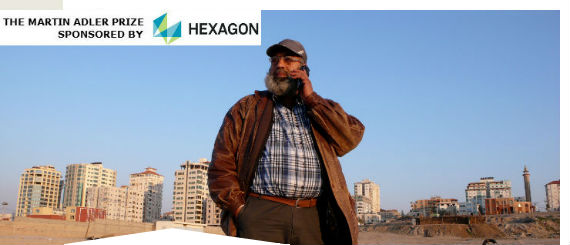 Palestinian journalist, fixer and translator Khaled Abu Ghali will receive the Martin Adler Prize at this year's Rory Peck Awards.
Khaled Abu Ghali, who lives and works in Rafa, southern Gaza, receives the Martin Adler Prize in recognition of his exceptional 14-year career as a journalist, fixer and translator. He has covered many of Gaza's most intense periods of conflict, most notably 2006, 2009 and 2012, working for, and contributing to, many of the world's most prominent news outlets.
Khaled is widely known among journalists for his invaluable breadth of knowledge, experience and skill, and for his impartiality and professionalism, despite living with the personal impact of war. Channel 4 News' Foreign Correspondent Jonathan Miller, who worked with Khaled during the most recent conflict in Gaza, said he assumed a critical journalistic role during that time, delivering top-level interviewees and supporting reporters and news teams in the field.
Says Jonathan Miller: "Despite the increasing intensity of Israel's bombing campaign and the escalating level of risk for journalists on the ground, Khaled worked flat out for weeks. He continued to do so even when his own wife and children were forced to evacuate their family home in Rafah, and when a close friend was killed in an air-strike.
Khaled is respected by visiting foreign journalists and admired by Gaza's own journalistic fraternity as a man of great integrity. He fully recognises and respects the importance of journalistic impartiality in reporting the Israel–Palestinian conflict, despite having witnessed and lived with the raw emotion of war for so long."
Another correspondent who worked with Khaled comments: "Calling Khaled a fixer is a serious understatement. Having Khaled with you is like having another top-end producer."
Khaled will be receive the prize at the Rory Peck Awards ceremony on Wednesday 19 November at London's BFI Southbank, hosted by Sky News' Alex Crawford and Channel 4's Alex Thomson.
Now in its eighth year, the Martin Adler Prize, sponsored by Atex, recognises the dedication and bravery of local freelancers who have played a significant role in the reporting of a major news story.