Rory Peck Trust Award winners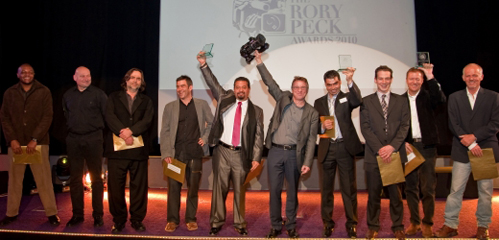 The Rory Peck Trust hosted its annual Rory Peck Awards on Wednesday 17 November at London's BFI Southbank.
This was a special evening which celebrated the important and valuable role freelancers play in the news and media industry and also raised funds for the Trust and its work. The GTC''s Welfare Officer Brian Rose was pleased to attend on behalf of the Guild.
The Rory Peck Award for News was won by NAJIBULLAH QURAISHI for
Behind Enemy Lines
The Rory Peck Award for News was awarded to ROGER ARNOLD for
Red Shirts Protest
The Sony Professional Impact Award was won by NICK READ for
The Slumdog Children of Mumbai
The Martin Adler Prize was presented to ARTURO PEREZ
The ceremony was presented by Julie Etchingham and Rageh Omaar.
See a full report of the Awards ceremony at:
http://rorypecktrust.org/page/3209/Rory%20Peck%20Awards%202010