Rotolight becomes a GTC sponsor
The GTC is delighted to welcome Rotolight to its growing list of sponsor companies.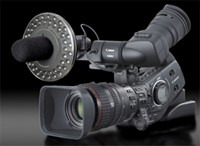 The Award Winning Rotolight RL48 'Stealth' has 48 Ultra-Bright LED's and a special Filter holder with a variety of creative lighting filters (by Lee Filters) allowing perfectly calibrated operation at 5600K (Daylight), 4200K (Mixed), and 3200K (Tungsten). The RL48 is suited for a variety of video and broadcast applications including film, ENG, network news, interviews and exterior event videography.
Rotolight was the NAB 2009 'Top 10 Hot New Product' and recently won the TV BAY "Best New Lighting Product" Award.

Rotolight | 08707 605713
www.rotolight.com