View footage from the brand new Sony F3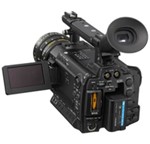 Just 24 hours after being launched in a secret location in London, Visual Impact are able to show exclusive footage of Sony's new 35mm camcorder the PMW-F3.

The video package includes footage from the camcorder and interviews with DoPs Matt Broad and Steve Lawes on their initial thoughts on using the F3.

The second clip features Visual Impact's hands-on review of the camcorder which was shot in the short time they had it before the prototype was sent back to Sony for the official press launch.

To watch the official launch footage of the PMW-F3, follow this link:
Sony PMW-F3 launch promo from Mike Saunders on Vimeo.

Visual Impact UK


Tel: +44 (0)20 8977 1222
Fax: +44 (0)20 8943 5307
Web: www.visuals.co.uk