See the Alexa on GTC Awards Day
Tuesday 28 September at the BFI Southbank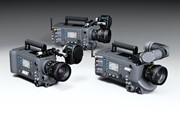 GTC sponsors ARRI GB will have the Alexa camera available for GTC members and visitors to view at the GTC Awards trade fair this Tuesday.

ARRI experts will be on hand on the day to explain all the features of this new 35mm CMOS format range of cameras, or if you fancy a more in-depth look at the operation and workflow options of the innovative product, then ARRI are hosting two half-day workshops at their Uxbridge headquarters on 16 November when ARRI Media's Bill Lovell will thoroughly demonstrate the camera for GTC members.

GTC Awards Day will be a great chance to catch up with many other GTC sponsors and their latest products, in particular Vinten. We are delighted to be able to celebrate the centenary of these longstanding supporters of the GTC with a special exhibition and are honoured that Bill Vinten will be in attendance as a special guest. Bill has agreed to lend items from his personal collection of historic cameras and mounts to form part of the exhibition.
Other exhibitors include:
and we are very grateful to the following companies for choosing to be associated with the GTC Awards by generously sponsoring the event: