Steadicam Workshops Live Seminar announced for new Total Focus Expo
GTC sponsor Tiffen International has announced that it will stage a series of Steadicam Workshop Live Seminars at a new event in London for the broadcast and cinematography industries, Total Focus, 30 June to 2 July at Olympia's West Halls.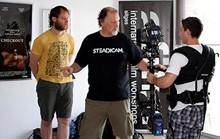 Top professional Steadicam trainers Robin Thwaites and Danny Hallett will teach groups of six or seven people each day of the show in an open-plan seminar room, where all attendees can watch the tutorials taking place.
Total Focus
Total Focus Expo 2016 will deliver a production event in West London serving the cine, broadcast & pofessionrl video market. The aim of the event is to offer a centrally located meeting place for the production industry at a time of year when new products and technologies can be showcased for the first time in the UK. The 2016 event will take place at Olympia in London providing an easily accessible venue with modern facilites and a host of social opportuities on its doorstep.
Steadicam training
If you're a new or prospective Steadicam operator, there's no better way to get up and running than by attending a Tiffen workshop. Even experienced Steadicam operators can register to learn the latest innovations and techniques.
Tiffen has already hosted numerous Steadicam workshops to educate the future Steadicam operators of the world. These workshops have proved useful to both potential Steadicam purchasers and operators just starting out.
With the rising popularity of Steadicam Camera Stabilizing Systems, especially in the video industry, these workshops will be an excellent opportunity to get hands-on experience. You will learn all the basic Steadicam techniques and become familiar with related accessories. In addition, you will learn how to market yourself as a "specialist".
Companies supporting Total Focus so far (including several GTC sponsor companies) include: