Still having fun: Garret Brown, inventor of Steadicam and winner of the GTC's TiCA in 2005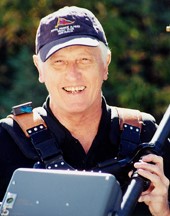 More than thirty years after inventing Steadicam – surely one of the most important camera kit concepts to have been introduced in recent decades, Garrett Brown is still just as enthusiastic as ever about developing the technology for use in more and more situations, and for an ever increasing range of camera formats, including lightweight professional and prosumer models.
Watch Garrett (who was honoured with the GTC's TiCA in 2005 for 'furthering the cause of the GTC by fostering and improving the art and craft of the professional television cameraman') talk at NAB about the new Steadicam Smoothee, Merlin and Tango Steadicam products. The interview starts at 0.27.