Success for GTC member Michael Brennan at the GoldenEye Festival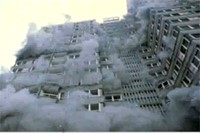 Congratulations to GTC member Michael Brennan who was announced the winner of the best 'Risk Shot' category at the Golden Eye International Festival of the Cameraman, Batumi, Georgia, on Saturday 22 October. Mike's winning submission was an incredible low-angle slow-motion shot of a large building imploding.
The 500 frames per second camera was built into a bomb-proof case made of laminated steel with an internal frame and ten millimetre polycarbonate front cover. But even the strongest of boxes would be crushed under the thousands of tons of rubble falling at thirty five miles per hour. The solution was to pull the camera out of harms way after it got the shot, but before it could be damaged or buried under rubble for a week.

So Mike organised a track, made of scaffolding tubes and purpose-built cross bars, secured to the ground with twelve inch spikes. The dolly was powered by bungy cords, like a huge bow and arrow, triggered by two separate explosive charges attached to a tether. The dolly and payload weighed 120 kg and ran at thirty two miles per hour for
150 feet.

Mike says: "Full credit is due to Director Michelle Carlisle for sticking with my idea of tracking a camera from the base of the building as the building fell, and to my camera assistant Johann Perry and Controlled Demolition Ltd. The shot was in the back of my mind after I had successfully shot numerous implosions with cameras in innovative angles inside and on top of buildings – and I still have a few tricks up my sleeve for more interesting angles."
For more information about the Golden Eye festival go to www.goldeneye.ge