Sun shines on the 'Meet the Wildlife Filmmakers' workshop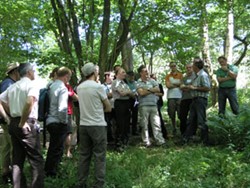 Home-going Glastonbury fans caused huge traffic queues in Somerset on Monday but that didn't deter nearly
40 GTC members travelling from as far afield as North Wales, Manchester, Milton Keynes and the London area to enjoy a day with the wildlife filmmakers in the Chew Valley, south of Bristol.
Meticulously organised on our behalf by Bristol Wildlife Filmmakers (BWF) and generously sponsored by Panasonic Broadcast, Pyser-SGI and Vinten, the day revolved around the filming experiences of cameramen John Waters and Tim Shepherd and the work of veteran wildlife producer Mike Salisbury.
BWF founders Sarah Pitt and Karen Partridge chaired the sessions and provided an insight into the oft-overlooked areas of wildlife ethics and animal welfare, and the importance of careful research before filming can begin.
Best known as 'the meerkat cameraman', John Waters
recalled his experiences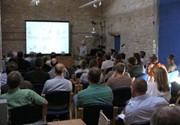 and showed clips of his films from around the globe – everything from the aforementioned cute meerkats to being caught right in the middle of a group of apparently rioting chimpanzees!
The members were taken by John into the Folly Farm reserve of the Avon Wildlife Trust to see how and where to erect a hide and how to get the best use from it.
Mike Salisbury OBE is best known for his 30 years of service with the BBC's Natural History Unit in Bristol, during which time he produced numerous wildlife series including five series with David Attenborough: Lost Worlds Vanished Lives, ThePrivate Life of Plants, The Life of Birds, The Life of Mammals and most recently Life in the Undergrowth.
He detailed for us his careful planning for wildlife shoots,
including story-boarding,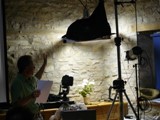 while emphasising how one should also be open to abandoning plans if the wildlife doesn't cooperate and be prepared to drop everything and take advantage of unexpected opportunities.
Tim Shepherd won an Emmy and RTS awards for cinematography on The Private Life of Plants and The Human Body series and is reknowned for his spectacular time-lapse, time-interval and, more recently, motion control work.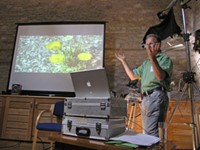 This he demonstrated with some awe-inspiring sequences culminating in a frankly jaw-dropping 60 sec shot for 'Plants' which took two years to produce. It involved setting up a time-interval tracking shot across approximately 20ft of moss-covered boulders which then had to be recreated in the studio by Tim. He then grew the necessary plants and fungus for the shot and inserted them into a CSO blue background and the time-interval track repeated for each plant – 96 times in all!
The results showed plants from all the seasons, growing
and flowering in succession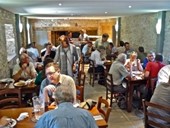 as the camera tracked back. The Guild members almost gave Tim a standing ovation for that one!
All this plus an excellent lunch at a venue in beautiful surroundings – what more could you ask?
Feedback from delegates
Just to say what a fantastic day it was at the Wildlife day today.
Interesting talks from interesting people in a great environment and
excellent catering!
What more could one ask?
Many thanks to the Bristol Wildlife Filmmakers, the Avon Wildlife Centre,
the sponsors Vinten, Panasonic, and Pyser-SGI and our own Clive North for
stringing it all together. Brilliant!
A FAB day and very informative.
Well done to Clive North for all his hard work and organising another a fab work shop day in conjunction with Bristol Wildlife Filmmakers, Sarah Pitt and Karen Partridge
(And the lunch really was excellent too : -- O) )
What a fantastic day. And all free if you are a GTC member!!!
Thank you so much for a really great day.