New Website Launched!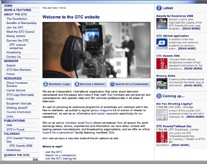 Welcome to the brand new GTC website. We hope you will enjoy discovering its new features or – better still – can come along and see it being demonstrated during its launch at the GTC Awards/Talkback Day at the BFI Southbank on Tuesday 7 October. The site has undergone a complete redesign using the latest web technology and we are grateful to Paul Dunn and David Field of Diablo Design and Multimedia for their exceptional hard work and attention to detail in working through the complicated brief.
We have tried to get as many features up and running for launch day as possible and, for instance, hope that members will take advantage of the expanded profile feature by updating their pages as soon as possible. However, there are still many more facilities to come.
As mentioned on the GTC Forum, we will be starting up an 'equipment for sale' section and there will very soon be a shopping basket system up and running whereby members and visitors can buy, for instance, back issues of Zerb and tickets for events and training courses – we're just sorting out a few accounting issues with this but it's all ready to go as soon as the moneymen are happy that we are doing everything properly!
Also planned are a selection of relevant RSS feeds, a complete archive of Zerb through the ages, a listing of all past GTC award winners, many more files in the resources section, members photos and much, much more ....