The GTC has a new Chairman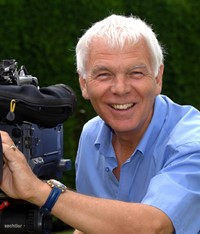 The Guild of Television Cameraman has a new Chairman, Keith Massey, who takes over from Graeme McAlpine, who has done a great job leading the GTC during an active period of growth during which the Guild has also been celebrating its 40th Anniversary since its foundation in 1972.
Keith was elected Chairman at a meeting of the GTC Council at Pinewood Studios on Sunday, at which two Co-Vice Chairman, Dudley Darby and James Fulcher, were also appointed.
Recipient of a prestigious Royal Television Society Lifetime Achievement Award in 2010, Keith is a highly experienced and well-respected cameraman based in Yorkshire. The GTC is delighted that he has decided to accept the post of Chairman for the next two years. Keith is keen to promote the GTC to new members and, with the launch of the Bill Vinten Universities Award, under his leadership the GTC will be actively hoping to encourage those wishing to learn more of the craft of the cameraman.
The GTC is also very pleased to see some younger members taking an increasingly active role in the running of the Guild, a development that helps safeguard its future in a constantly evolving industry. In James Fulcher we have a Vice Chairman in his early 20s, while our social media is looked after by student member James Milligan, currently studying at University of Central Lancashire, and camera assistant Simon Dunn has recently become involved in helping run the popular GTC Workshops as assistant to GTC Workshops Organiser Clive North.
See a full list of the GTC Council here or you can click here to contact a member of the GTC Council.