The GTC elects a new Chairman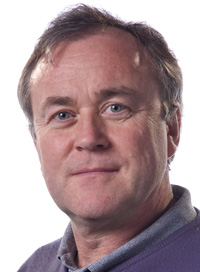 The GTC Council is pleased to announce the election of Graeme McAlpine as its new Chairman. Graeme recently rejoined Council after a gap of some 25 years and replaces the outgoing Chairman Brian Rose.
Both Graeme and the GTC's Honorary President Dick HIbberd paid tribute to Brian Rose and thanked him for all his hard work on behalf of the GTC in his two years as Chairman. Several Council members have further commented and thanked Brian for his great good humour and diplomacy during his years at the helm. Council is glad not to have lost Brian's services altogether though as he will remain on Council and has taken on a new post, that of GTC Welfare Officer, a position that we can expect Brian to tackle with his customary vigour and enthusiasm.
Other Council changes
Other new Council appointments include - Darren Bramley takes on the role of Manufacturer Liaison Officer, Dan Mulligan will be Standards Officer, while Eric Samuel will be our Insurance Officer. As announced earlier, Guy Littlemore is now looking after the GTC Awards 2010 following six years of exceptional hard work by John Tarby to whom the GTC is grateful for guiding the GTC Awards event to its increasingly high profile position in the calendar. You can see the full list of current Council member posts at the Meet the GTC Council page.
More about the new Chairman

Graeme's work spans all forms of camerawork from lighting single camera to multi-camera studio and OB work.
He joined London Weekend Television in 1977, eventually becoming a cameraman working with EMI 2001 cameras. After attachments to both studio and location production management he joined the in-house PSC department, to work on documentary features, light entertainment and sport. In 1991 he left LWT to pursue a freelance career, travelling the world, working for ITV, C4 and the BBC, sometimes as a 'self shooter' filming 'observational' productions. In 1999 he decided to return to multi-camera OB and studio work in addition to PSC.
Like many freelancers, Graeme works across all genre of camerawork from 'news' to commercials. Today he works frequently on big events and shows like the Olympics and Commonwealth Games but is also to be found working on high-end corporate productions, where he specialises in directing/vision-mixing live events.
With a strong belief in the role of the GTC Graeme, hopes to 'maintain the growth of the highly successful workshops, publications and the Awards event. With the help of his Council 'team', he hopes to increase the benefits of membership and improve the Guild's presence within the television industry'.
As Chairman he hopes to see an increase in membership numbers and also to see the GTC taking an active role in shaping the future generation of television cameramen which is needed to sustain the industry.