The GTC is saddened to hear of the passing of Phil Baxter of CVP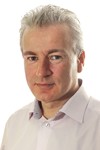 The GTC was shocked and saddened to hear the news that Phil Baxter, CEO of CVP (former sponsors of the GTC) had passed away suddenly on Wednesday 4 September.
Phil leaves behind a company that has gone from strength to strength since he started it in 1986. In recent years the company has grown to over 90 staff in six locations with a turnover of £55m. As well as contact through the GTC during the time when CVP were a sponsor company, many members will have met and dealt with Phil over the years as a customer or maybe at a trade show or exhibition.
The GTC extends sympathy to Phil's wife Alison, daughters Hannah and Chloe, as well as employees of CVP at this very difficult time.