The GTC is very sad to hear of the passing of its long-term friend and supporter Bill Vinten OBE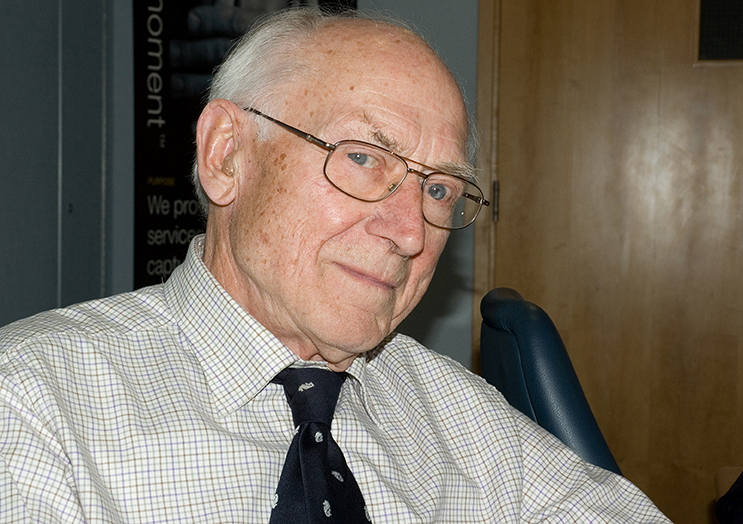 It is with deep sadness that the GTC heard of the death, at the age of 95, of Bill Vinten last Sunday. He was a wonderful supporter of our Guild since its inception in 1972.
The name Vinten, now part of the Vitec Group, is synonymous with high-quality products in the television industry, sold worldwide, and has celebrated 105 years of innovation since his father, also William, started the company in 1910 making cinema projectors and then cameras for the Royal Flying Corps in the Great War. They started in Wardour Street then expanded to Cricklewood and finally Bury St. Edmunds.
I met him for the first time at the very first Bill Vinten University Awards at The ITV London Studios in 2013 and I could not believe he was 95. He looked 75! Bill had wanted to help Stuart McKears financially in his quest to set up a university awards scheme to encourage young cameramen and women on university courses. He was very enthusiastic with his praise and encouragement for the winning students.
Bill managed to come up to York with his wife Elaine in 2014 for the second awards ceremony, and again, was still incredibly agile and dapper. Sadly, this year, Bill could not attend at the UCA in Farnham as his health had deteriorated. When I spoke to him he said that he did not have long to live – but he was even then incredibly positive and was resigned to accept the situation with customary grace and dignity.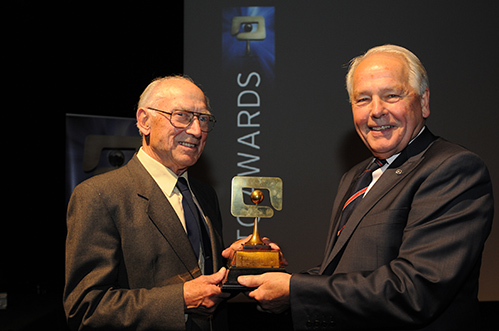 Together with the recent loss of our founder and president, Dick Hibberd, we have lost two stalwarts and legends of the industry and our guild. They will be greatly missed.
Keith Massey
Chairman
GTC
The GTC's journal Zerb was pleased to run an interview with Bill Vinten in 2010 as part of its recognition of Vinten's centenary year. To learn more about the life of this remarkable man read the Zerb interview with Bill Vinten by GTC member Dudley Darby.