The GTC was sad to hear of the passing of Michael Bond, creator of Paddington Bear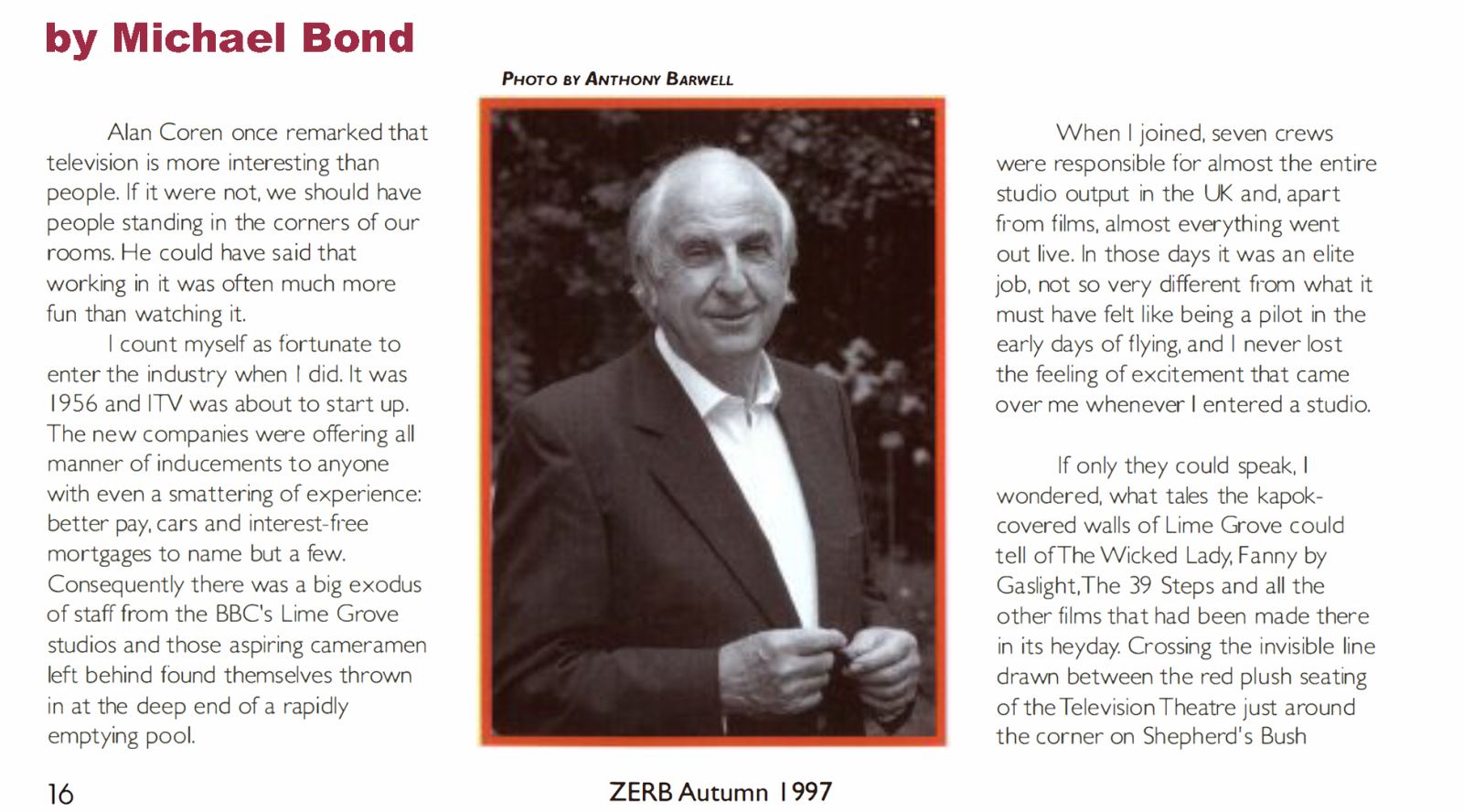 ---
The sad passing of the creator of Paddington, the much-loved little brown bear from
darkest Peru, Michael Bond, was rightly marked on recent news bulletins. Little mention was made of the fact that Michael started his career as a television cameraman though.
Going back many years (20 years ago in fact), Michael wrote about his years as a cameraman for Zerb. Download the article.
As a popular and well-known senior cameraman at the BBC in the late 50s and 60s, current GTC members had the pleasure to work with Michael, not least of which our President, John Henshall, and former Membership Officer, Rex Palmer.
John recalls:
When I joined the BBC at Television Centre in 1961, Mike Bond was the senior cameraman of Crew 7, with Ron Green as his No.2. Crew 7 was noted for its jolly atmosphere. I worked with him many times when I was on the Camera Pool and he was always both a gentle man and a gentleman, with a great sense of humour. I joined Crew 7 permanently as No.3 to Senior Cameraman Ron Green, when Mike had gone to form Crew 17 as part of the huge expansion brought about by BBC2.

Ron told me that Mike had started writing for his daughter, when she was ill in hospital. He had offered his work to the BBC, as required by our contracts, but they were not interested and he therefore found his own publisher.

Although 'Paddington' was his most popular, he also wrote many other works, including 'The Herbs' – two of the characters of which were said to be named after colleagues: 'Bayleaf' after the H.T.O.Tel.S (Head of Technical Operations, Television Studios) Bill Bayliff, and 'Dill' after cameraman Martin Dilley.
and Rex adds:
I was a junior on Michael's crew for a while and he was always very supportive of the junior members of the crew. I remember one time when he left his camera to go upto the control room to 'have a quiet word' with the director for the way he was talking to the junior members of his crew!

I also remember that on several occasions when he was on the front of the Mole crane doing 'Blue Peter', we drove him into shot so that the presenters could interview him about his latest Paddington book!