The GTC welcomes new sponsors Easyrig from Sweden
The GTC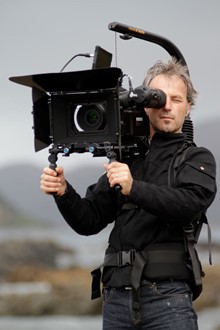 is delighted that Easyrig has joined the growing list of GTC sponsors. The Guild is very grateful to all of its sponsor companies for their vital ongoing support.
Easyrig is a Swedish company who have developed an innovative portable camera support system that reduces the strain on the cameraman's back. Ergonomically designed, the rig reduces the static load on the neck and shoulder muscles, and distributes it to other parts of the body.
The Easyrig gives the speed and mobility of a handheld camera, while still achieving steady shots from the shoulder, hip or even at knee level. The powerful suspension lines easily accept a range of cameras from lightweight digital cameras to heavier broadcast camcorders and 35 mm film cameras.
The latest addition to the product range is the Easyrig Mini designed to be used with latest generation of lightweight cameras.

The Easyrig is ideal for news broadcasts, sport events, documentaries, commercials and many other handheld situations where stability is crucial and where the freedom to move is essential.
See more about Easyrig at: www.easyrig.com