The new Bill Vinten/ GTC Award unveiled at BVE
The GTC Exhibitions team was delighted when Bill Vinten dropped by their stand this morning to view for the first time the trophy he has sponsored and designed as an incentive to encourage camera skills among final year undergraduates.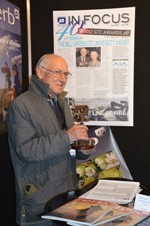 The trophy, the design of which brings together the GTC logo with the iconic Vinten Fulmar pedestal, has been revealed for the first time at BVE2013.
Bill Vinten OBE, for many decades the driving force behind camera mountings company Vinten Broadcast, has been a supporter of the GTC since it was founded in 1972.
This will be the first year that the Bill Vinten GTC Award will be presented. In addition to the trophy for the university, winners will receive paid work experience (worth at least £2500) plus one year's free membership of the GTC. There will also be two runner-up prizes (£750 paid work experience) plus a year's free membership of the GTC.