The Ship2Ship walkers are braving freezing temperatures on their Bristol to London walk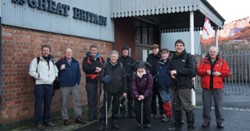 The Ship2Ship crew including GTC member Barrie Dodd have set out from Bristol on their very cold tramp to London.
So far in high spirits they send this message:
Well it has started! We left a cold and clear Bristol Docks at dawn yesterday. After 100m we had lost Ewan..after 200m we were all lost and eventually having found a grown-up we asked directions and made our way out of Bristol towards Bath.
Great walking, weather cold and crisp, a fast pace, 24 miles. Andrew Braeks left the crew with sore legs but a great start.

Please donate via the justgiving Pages.. any and all encouragement is welcome.
http://www.justgiving.com/ship2ship
http://www.justgiving.com/ship2shipa