UPDATE - Congratulations Angus on completing the Channel Swim!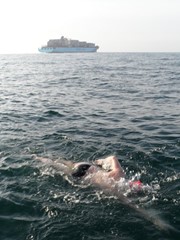 TV cameramen, Angus MacFadyen completed his solo cross-Channel swim on Monday. With the tides against him some of the time, his marathon effort took an exhausting 18 hours 42 minutes to complete - what a great effort Angus.
Angus undertook the swim to raise money for Lawrence's Roundabout Well Appeal which provides desperately needed fresh water for people in Southern Africa.
Lawrence's Roundabout Well Appeal was set up in 2005 in memory of Lawrence Prifti who died from a rare genetic degenerative condition at the age of eight. The charity buys water pumps in Southern Africa (South Africa, Lesotho, Swaziland and Malawi). Pumps are powered by children's roundabouts, so that as children play on the roundabout they pump water into a large tank. Each pump can provide enough water for 2000 people. A single pump costs about £7500 to install. Maintenance is paid for by the revenue from advertising placed on the tank.Nothing could be done to save Lawrence's life... but something can be done to save the lives of each child who dies every 17 seconds just because they don't have access to clean water. With your help the life of one child can be remembered by changing the lives of many.