Register now for Wildscreen 2010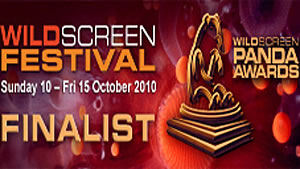 Registration is open for this year's Wildscreen Festival in Bristol.
The festival which this year takes place from 10 to 15 October comprises a full programme of screenings, debates, keynote lectures, workshops, masterclasses and networking events. Wildscreen is the largest wildlife film festival in the world and is a crucial marketplace, where films are bought and sold, new commissions and contracts are awarded, and ideas and skills are traded.
Of particular interest to cameramen who may be thinking of attending the festival:
the festival's trade show will be open to non-delegates
on the evening of Tuesday 12 October from 5pm until 7pm
camera and lighting workshop with GTC Award-winning DoP Nick Dance on
Sunday 10 October from 9.00am until 1.00pm (delegates only)
3D day on Wednesday 13 October with a limited number of places for non-delegates available
For further information about any of these events or the festival in general, contact Martin Hammond, GTC Council Member and Wildscreen Exhibition & Camera Workshops Manager, on 07805 039290 or martinjohnhammond@mjhmedia.co.uk.
For more details, Wildscreen news and registration see: www.wildscreenfestival.org