Zerb Editor to judge Reelshow International film competition

The Zerb Managing Editor and administrator of this website, Alison Chapman, is delighted to have been asked to be the judge for Reelshow International's monthly film competition in July.
Reelshow International is an online community and resource for student film-makers. Young film-makers can post their films online and enter them for a monthly competition. Apart from all-important publicity for their work, the winner collects a $75 Amazon gift voucher.
Reelshow International was started by British DoP Richard Dodd (Waterloo Road, Royle Family, Holby City, Cracker and many more) and partner Mary Lou Brown and is designed to encourage student film-makers and to showcase their work. Richard says "the average graduate of a film school sees his/her efforts wasted because of the lack of opportunity to show that most precious achievement 'The Showreel'. Three years of hard work and study, now contained in a DVD or a film can, and no-one, apart from a few family members and friends, actually gets to see it... This is where Reelshow International hopes to make a difference."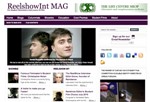 As well as providing a place to present students' films, the site also provides a usefulresource for young film-makers with information about film schools and festivals around the world and an online magazine Reelshow Int Mag.
See more about Reelshow International at www.reelshowint.com