GTC Award Winners 2020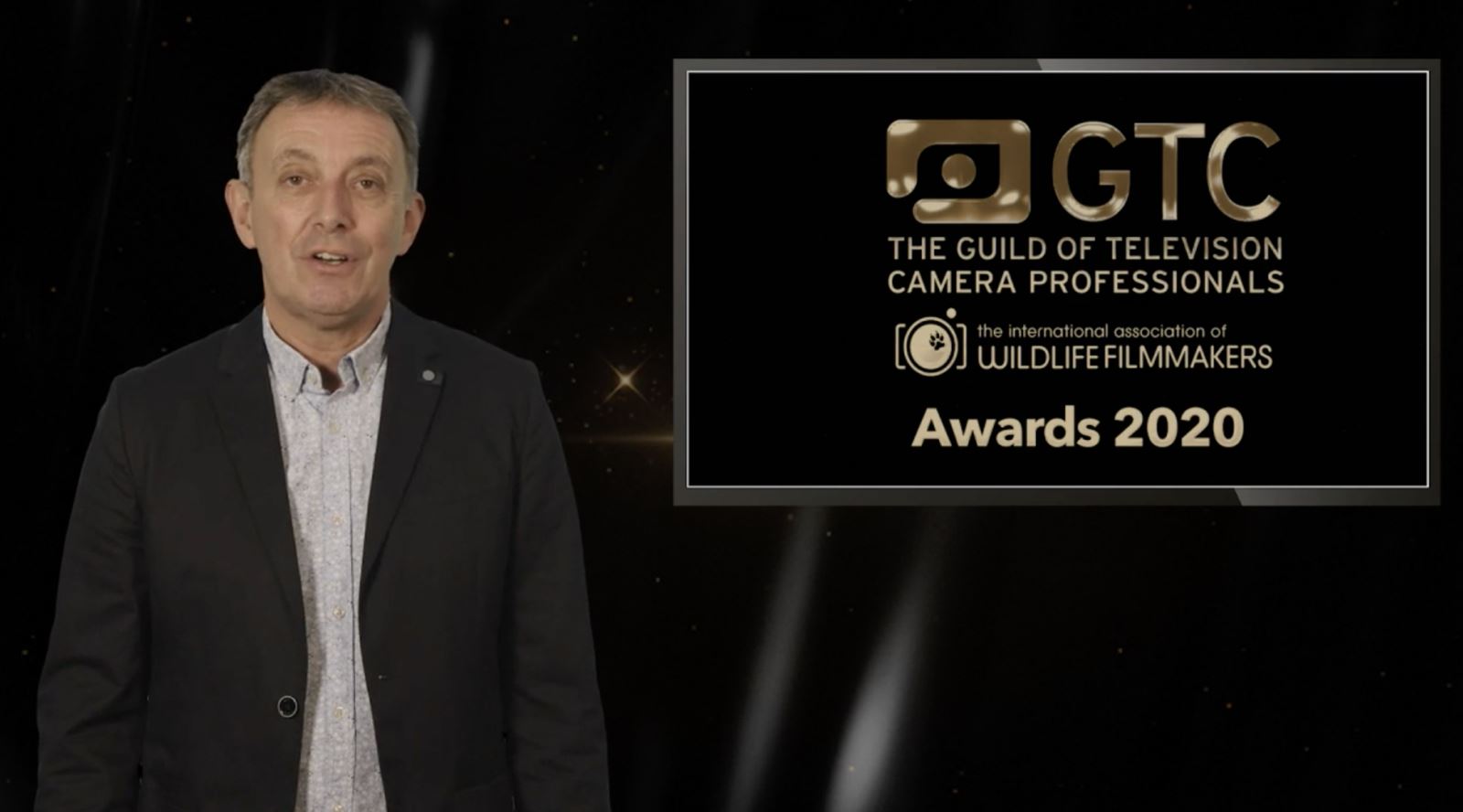 This year, due to the pandemic, we sadly couldn't hold our in-person AGM and Awards presentation day, which is usually a highlight of the GTC calendar. So, this year, the GTC Awards were for the first time presented online on Sunday 6 December. We were excited to take this opportunity also to present our student awards, the Bill Vinten GTC University Awards at the same time.
Watch the opening titles:
---
The event was produced by GTC Awards Officer Hazel Palmer and GTC Council Member Graham Risdon, and presented by GTC Chair Graham Maunder.
Introduction
Graham started the evening by introducing the unusual circumstances of the event:
"Good evening everyone and welcome to a very different and slightly unusual 2020 GTC and IAWF Awards evening where, for the first time, we are incorporating the GTC Bill Vinten Student Awards.
This is the fourth year that I've had the honour of hosting the awards and it's certainly the most convenient location so far – although I have to say that the camera equipment on display here looks a little outdated and the range of activities on offer today has been much more limited!"
The GTC in 2020
He went on to summarise what the GTC has achieved this year despite the challenges of COVID-19:
All our core activities have continued.
Clive North did a wonderful job in speedily taking GTC workshops online and running more than ever – although members miss meeting up in person, this does mean more people than ever have been able to enjoy these excellent workshops.
Before lockdown we ran more well-attended First Aid Courses.
The members' Public Liability Insurance scheme is in its fourth year.
Zerb and GTC In Focus continue to go from strength to strength, expertly edited by Rob Emmanuel and Roger Richards respectively.
Alan Duxbury with the help of John Tarby have done a great job in managing the Bill Vinten GTC University Awards in a difficult year.
The Cordwallis VW discount scheme has now benefited 94 members.
Alex Wade has continued to supply valued legal advice.
We continued our mental health outreach with a new GTC Mental Health Supplement supported by findings from our survey.
Despite the uncertain times, membership continues to grow and we have increased member engagement through an increased social media presence.
After Graham's summary of the year, it was time to start the celebration of the people and programmes that have won awards.
---
GTC Awards for Excellence

Nominations were submitted by GTC and IAWF members. Then a jury from a cross-section of camera skills, gender and ages was invited to view all the clips online. As in recent years, there are no categories in the awards so every nomination can be assessed on its own merit. Therefore, not only the visual aesthetics, but also the approach and method of filming a particularly difficult subject or in a especially challenging environment can be taken into consideration. There were a total of 22 nominations, from which 14 were selected for Awards for Excellence.

Seven Worlds – One Planet, BBC1
The Camera Team

The first award is to the whole camera team for Seven Worlds – One Planet, yet another amazing series from the BBC Natural History Unit. As one of the nominations said: "I lost track of how many times I said 'Wow'!"

The award was accepted by John Brown, DoP across the whole series., who echoed in his speech what we hear so often from our winners that our awards mean so much as they're voted for by their peers.

Many congratulations to John and the whole team.

British Legion Festival of Remembrance, BBC1
Nigel Saunders and the Camera Team

The next award goes to camera supervisor Nigel Saunders and the camera team for the BBC coverage of the British Legion Festival of Remembrance 2019. This programme continually manages to portray this annual event with beautifully framed and well-timed shots, complementing it without distracting and the 2019 team behind the programme, are, as you see in the clip, worthy recipients of the second award.

A very proud Nigel Saunders accepted the award on behalf of the camera team – and, having previously won a BAFTA, the programme also recently picked up an RTS Award, so many congratulations ae due on a full sweep of awards!

Cricket World Cup Final 2019, SKY Sports
Sunset and Vine Cricket Camera Crew

Another deserving team effort! To capture the excitement and drama that can be generated by live sport is not an easy task, but as you will see in the clip, Hamish Roberts (who accepted the award) and the team did just that when covering the Cricket World Cup Final in 2019.

The nomination also made mention of the seemingly endless selection of pin sharp and close shots for the director to use on replays.

Congratulations to Hamish and his team for some great coverage and indeed, as he says in his acceptance speech, for bringing us the magic over a very long day.

Rise of the Nazis, BBC2
DoP: Duane McClunie

The next award makes it the second year in a row for Duane McClunie. Duane's use of different aspect ratios, styles and LUTS for the dramatic reconstructions and the interviews in BBC2's Rise of the Nazis gave a great look to the programme and, as you will see from the clip, this is another very well-deserved award.

Congratulations to Duane, who just couldn't resist shooting himself in cinemascope for the acceptance speech! We look forward to seeing whether he can make it a hat trick of awards next year!

Flirty Dancing, 'The Dances' Series 2, C4
Jimmy Jib Operator: Dave Emery

Adding a layer of beauty and complexity to the series Flirty Dancing is how the nominator described Dave Emery's jib work:

"Dave's input from a jimmy jib perspective gave the show such a beautiful lift... His skill and use of the jib added a layer of beauty and complexity to the series."

The clip shows 'The Dances' from series 2 and Dave was delighted to accept the award.

Ben Fogle: New Lives in the Wild, Morocco, Five
DoP: Geraint Warrington
The sixth award of the evening went to Geraint Warrington for his work as DoP on New Lives in the Wild, Morocco.

In the nomination, mention was made of the great actuality coverage combined with stunning GVs, helping to make a great documentary.

Congratulations to Geraint and let's hope we can all start travelling again very soon. Geraint also thanked his family for coping with and enabling him to work in this industry of strange hours, short notice changes and travel without them, a sentiment endorsed by Graham.

Giri/Haji, BBC2
DoPs: David Odd and Piers McGrail

Giri/Haji, our next award winner for DoPs David Odd and Piers McGrail, really deserved a better slot than it received on BBC2 as it was quite simply stunning, with beautiful artistic compositions, colours and lighting throughout every scene.

In a personal opinion, Graham mentioned that this was, for him, one of the standout programmes of 2019, so he was very happy to see it win a GTC Award.

Congratulations to David and Piers – and here's hoping for a second series!

Hippos: Africa's River Giants, BBC2
DoP: Brad Bestelink

Having tried to capture shots of hippos while away on safari himself, Graham knows how hard it is and paid tribute to Brad Bestelink who received the next award for the BBC2 programme Hippos: Africa's River Giants, part of the Natural World series.

Brad used multiple different ways and devices to obtain rarely seen insights into these magnificent creatures, shown in the clip.

Congratulations to Brad and we look forward to seeing the results of his next adventure, which looks as though it will be coming from another challenging habitat.

Flirty Dancing, C4
Camera: Chris Yacoubian

The next award took us back to Series 2 of Flirty Dancing, with the nomination this time for DoP Chris Yacoubian.

This nomination mentioned the beautiful cinematic filming of the dance sequences and wonderful lighting, as well as the importanc of Chris' close relationship with the production team and choreographers. I think you'll agree that this really paid off when you watch the clip.

Congratulations to Chris and thanks as well to Ashley Banjo (see right), who joined Chris to add a personal extra endorsement in the acceptance speech.

The Real Chernobyl, Sky News
Camera: Andy Portch

The next award proves that even if the circumstances dictate that you can't spend much time at your location, it's still possible to create a really beautiful and well-shot documentary.

Andy Portch's award for the Sky News documentary The Real Chernobyl is a case in point. This is definitely a location you wouldn't want to stay too long, yet with just two weeks for shooting and editing, the end result was amazing.

Well done to Andy – and Graham quipped that it was good to see him glowing with pride and not radiation!

Meat: A threat to our planet?, BBC1
DoP: Alisdair Livingstone

Alisdair Livingstone's nomination for Meat – A threat to our planet? made mention of the totally engaging coverage and skills involved, at times even shooting from a rope.

In thanking the GTC for this Award, Alisdair mentioned how valuable a resource he has always found the GTC, which was great to hear.

The Award is especially precious to him as it was
earned on a film covering a topic that he feels very passionate about and he commented that TV at its best can be used to highlight issues in order to do good. Graham endorsed this sentiment agreeing that this is something very important and we should never lose sight of it.

IAAF World Athletics Championships, BBC1
ACS Special Cameras

When the world could still hold mass participation events with huge audiences, GTC sponsor Aerial Camera Systems (ACS) was normally involved somewhere along the way and the IAAF World Athletic Championships in Doha last year was no exception.

The nomination for this award mentioned the high standards and seamless integration with the main coverage that the ACS wirecam, minicams and tracking camera achieved.

Many congratulations to everyone involved at ACS. A regular at the athletics, Graham joked: "It certainly saves me from running backwards down the 100m in front of the athletes!"

I'll Get This, BBC2
DoP: Olly Wiggins

BBC2's I'll Get This DoP Olly Wiggins was the penultimate award winner for the night.

This nomination noted the stunning look achieved and the difficulty of shooting in the round, but also made particular reference to the fact that the dining celebrities appeared to have completely forgotten the cameras were there.

Very well done to Olly – and Graham agreed that we are certainly all looking forward to things getting back to normal and hearing someone else say the words "I'll Get This" in person!

Sex Education, Netflix
DoP: Jamie Cairney

The last but by no means least GTC Award went to DoP Jamie Cairney for his great work on the Netflix series Sex Education.

Mention was made of the unique look and feel to the show that Jamie achieved, which was well demonstrated in the clip.

In his acceptance speech, Jamie namechecked all his crew as well as the producers.

A big congratulations to Jamie and all the crew he mentioned for this visually very interesting hit drama series.
---
---
Bill Vinten GTC University Award winners

Now for the Bill Vinten GTC University Awards which we were pleased to be able to include with the main GTC Awards this year. Previous winners have gone on to work on some fantastic productions including Star Wars, The Avengers, Bodyguard, Bohemian Rhapsody, Gentleman Jack and Killing Eve, so an amazing path to be following.

Winner

One of the judges this year was the winner of the very first award in 2013. Ed Gammie commented that the winning film, No Change, a drama/documentary adapted from a book written by a homeless person was: "Excellent across the board and consistent from start to finish."

The winner of this year's Bill Vinten GTC University Award is University of Surrey's Maximillian Newcombe. Many congratulations to Maximillian and we look forward to seeing his future career path follow some of our previous winners.

Runner-up

In second place, from the University of York, the award goes to Bense Kadar for Monkey's Blood, an action-comedy about a miserable traffic warden and her clash with the Ice Cream Mafia.

One of the judges said: "This is a great film and perfectly shot. It is of professional standard and I really enjoyed watching it!" The director Sam Hartshorn was also praised for the use of whip pan cuts.

Congratulations to Bense on a well deserved second place in the 2020 Awards.

Third place

Third place went to Michael Fokias from University for the Creative Arts (UCA), for his work on See the Animal.

In See the Animal, a dejected assistant seeks a break from two rowdy magicians. The camerawork creates a strong focus on the protagonist as events lead to an inevitable tragic conclusion. One judge described this film as "atmospheric story telling".

Very well done to Michael on some great lighting and camera work.

University Trophy

This is awarded to the university whose three films scored most highly collectively. The University for the Creative Arts, Northern Film School and University of York each had two films in the shortlist so were in the running but this year the Bill Vinten GTC University Trophy goes to University of York. This also means the University becomes the first to win the trophy twice. The portfolio of camerawork comprised Bense Kadar's Monkey's Blood, Jacob Crow's I Stand For Us and Fivos Philitas' Night Lives.

The Award was accepted by Duncan Petrie on behalf of University of York, who paid tribute to the talent and hard work of the students.
Many congratulations to the University of York and to all our student winners this year – and the best of luck to all of them as they join our industry and pursue their goals.
---
---
GTC Honours
This year there are several people the GTC wanted to honour in a different way.
Honorary GTC Memberships

As anyone who has been a GTC Council member over the years will know, Sue Hynard has been at almost every Council meeting to record the minutes, wherever in the country the meeting was held. As such she has been a great supporter of the GTC. Council felt we would like to recognise this work by offering Sue an Honorary Membership. Many thanks for listening to us so diligently over the years and for putting down in writing what we really meant!

The second Honorary Membership award of the night went to Sophie Day, who has been overseeing the GTC accounts for more years than she probably cares to remember and has helped keep us on the right path and our bank balance in the black. Thank you so much, Sophie!

GTC Fellowship

Working side by side with Sophie on the accounts for more years than he had planned to when he took on the role of GTC Treasurer, has been Simon Roe. Simon helped us enormously by continuing in the role even when things were getting really busy for his own company, Zest4TV. To thank him for going above and beyond what was expected, I am happy to announce that we are giving Simon a GTC Fellowship. Thank-you Simon.
---
GTC Seal of Approval
Flowtech Tripod
Next, Graham introduced this year's GTC Seal of Approval:
"None of us would be able to do justice to our craft without the equipment we use on a daily basis (... or slightly less often at the moment!).
Throughout the industry we all have our own favourite cameras, lenses, tripods, lights and a hundred and one other little bits and pieces that you amass over the years and that become invaluable to you.
Each year at the GTC, we acknowledge the products that have become 'game-changers' by awarding them our very own 'Seal of Approval'. To be awarded this, the product must have been around for at least a year and have received a nomination from a GTC member. The Council then ask for opinions from other members and eventually vote on the products nominated."
This year we are very happy to announce that the Vitec Group have been awarded a GTC Seal of Approval for its Flowtech tripod.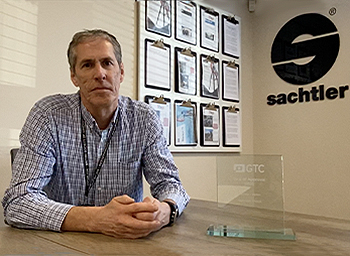 Thanks to Sachtler VP Mike Dowson for his acceptance of the GTC Seal of Approval – and for offering the chance for GTC members to see how the tripods are made at the Bury St Edmunds factory. Many congratulations to the Vitec Group on the Flowtech tripod, this year's worthy winner of the GTC Seal of Approval.
---
---
GTC Dick Hibberd Award Winner
Nigel Saunders
This year's winner of the GTC's top award, the GTC Dick Hibberd Award (formerly the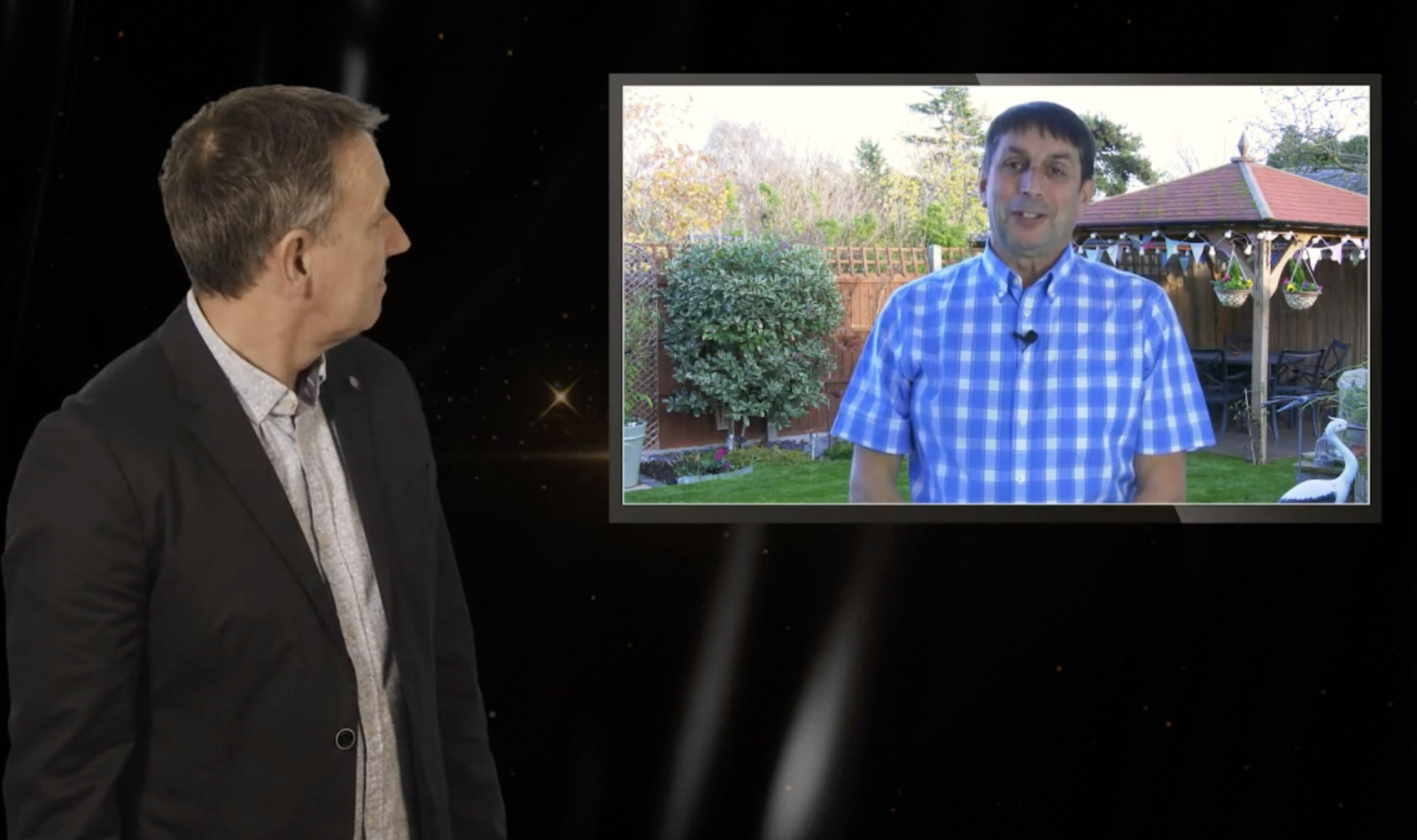 Television Cameraman's Award or TiCA). The list of previous recipients of this award reads like a mini Who's Who of the television industry, so it's perhaps no surprise that this year's winner is someone who has already picked up an award this year, Camera Supervisor Nigel Saunders.
During his long career at the BBC the recipient steadily rose through the ranks,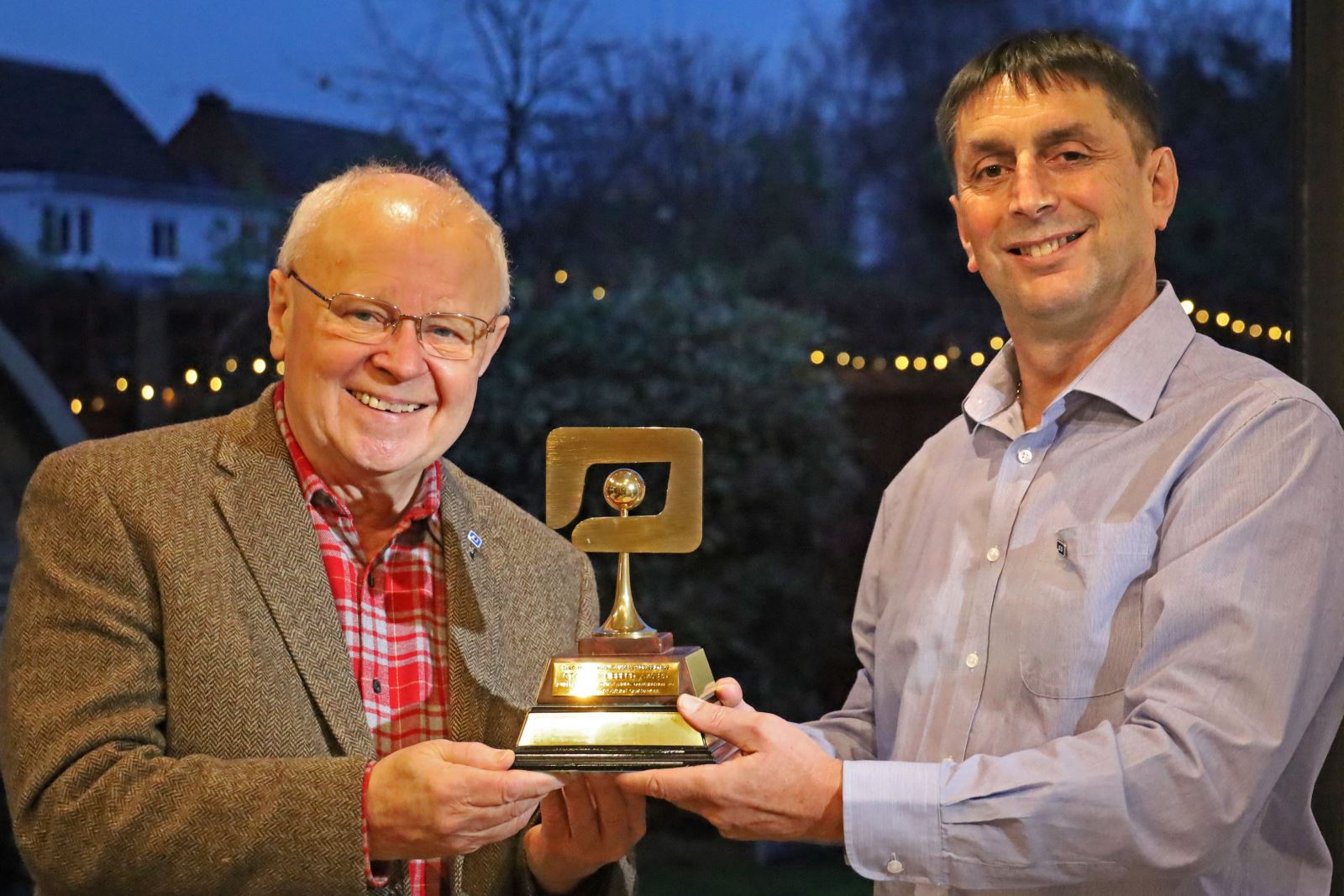 eventually becoming an indispensible 'go to' supervisor for so many directors and producers, while at the same time helping pass on his knowledge and skills to new entrants to television. He constantly adapted with the changes to the equipment being used and mastered all the new technology that came his way and in doing so he has positioned himself at the very top of our industry.
The Award was presented to Nigel Saunders by GTC President John Henshall under strict COVID-19 protocols (N.B. the photo above is an expertly Photoshopped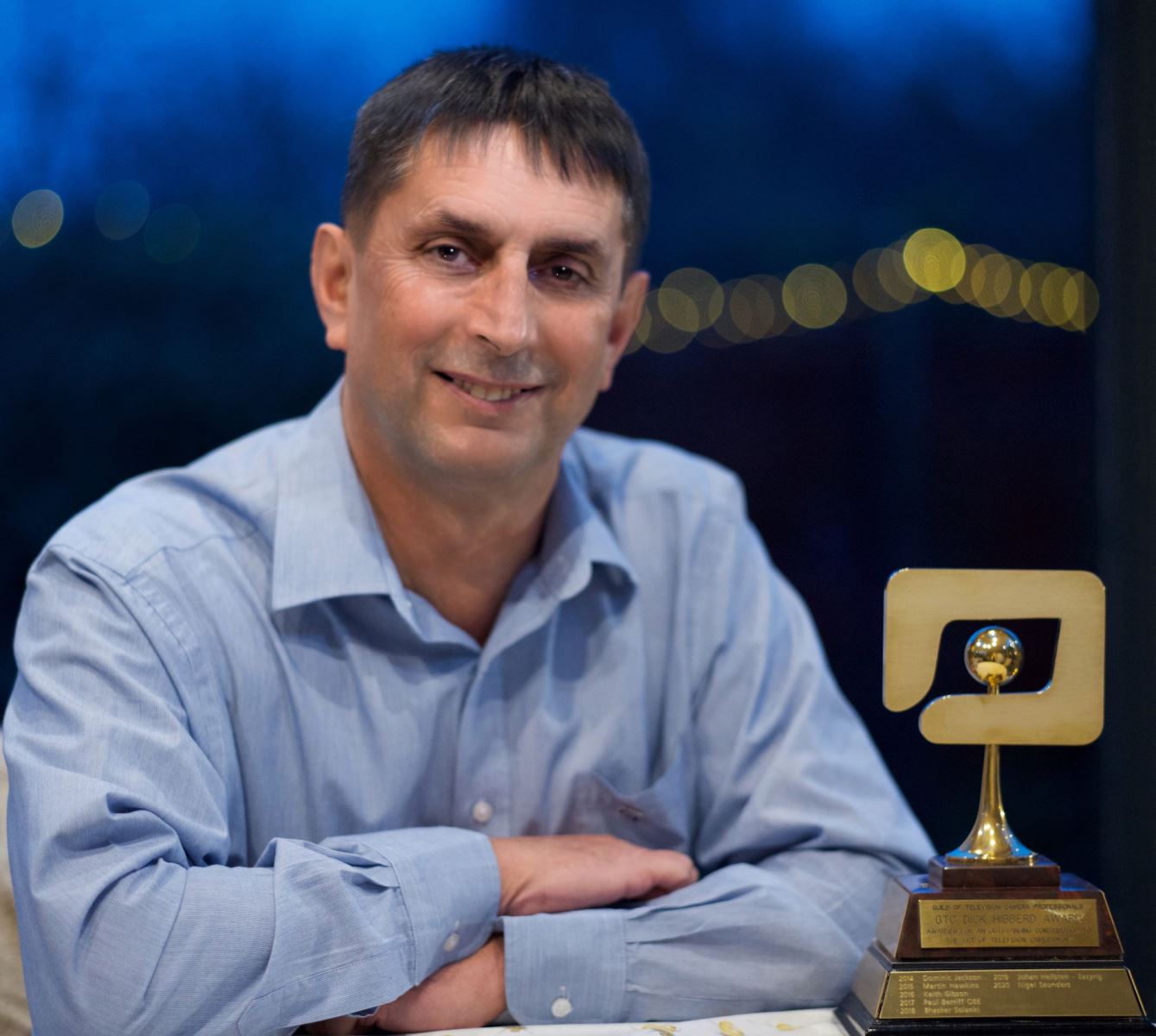 composite mockup to mark the occasion as we would have liked to present it in non-pandemic times).
In his acceptance speech, Nigel graciously thanked the GTC and all those who do so much to help run it.
Congratulations to Nigel from all at the GTC!
---
GTC Awards 2020 sponsors
The GTC Awards organisers are very grateful to Media Flights for their generous support of the event.


---
---
If you couldn't join live watch the show now: https://vimeo.com/485417003
Where to next?