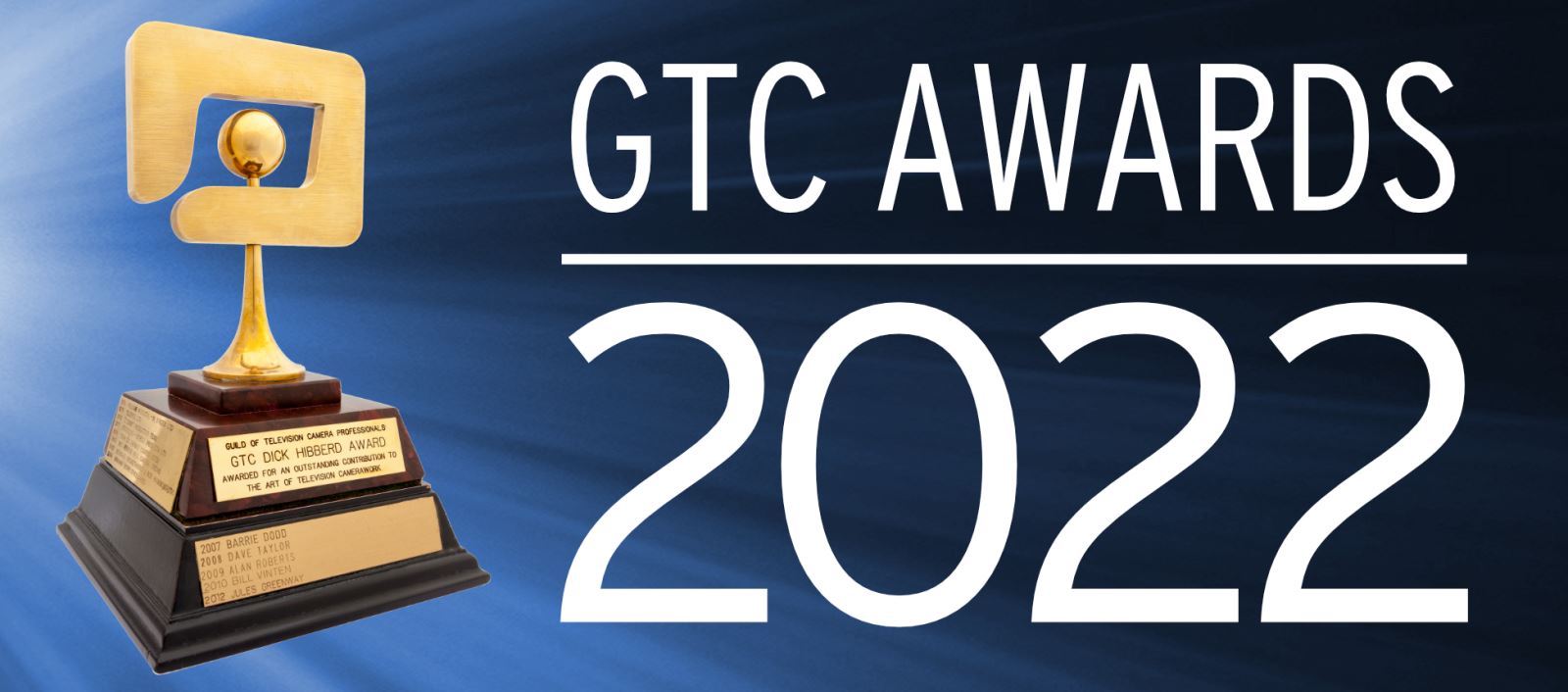 Nominations are now closed for the GTC 2022 Awards
---
And the 2022 nominations are ...
GTC Awards for Excellence
The Green Planet: Tropical Worlds, BBC1
The Camera Team
TX date/time: 9 January 2022
Reason for nomination
Another beautifully shot hour of prime time tv on BBC1. Stunning Time Lapse photography using newly designed equipment especially for this series which allows the camera to move like a drone, and amazing Micro photography which allowed the viewer to see tiny ants move around larger than life.
---
After Life 3, Netflix
Director of Photography & A Camera Operator: Martin Hawkins
B Camera Operator: Tony Keene
TX date/time: January 2022
Reason for nomination
Congratulations to Martin and Tony on the release of After Life 3, as always it's beautifully shot. I really do respect how they shoot comedy, it looks great. Well done as ever.
---
Phil Lynott: Songs for while I'm away, BBC
Director of Photography: Kat McCullough
TX date/time: December 2021
Reason for nomination
Really imaginative treatment of the 'rock doc' genre, with some very interesting shots of street art around Dublin to indicate the extent to which Lynott has infused Irish popular culture.
The interviews were really nicely lit. Overall an excellent piece of work contributing to a very interesting film about the great man. One of those "I wish I'd shot that" shows.
---
Ian Wright Home Truths, BBC
Director and Filmed By: Dan Dewsbury
TX date/time: May 2021
Reason for nomination
Really well shot documentary with a mix of flashbacks. The flashbacks are to illustrate when Ian talks about what happened to him as a child.
It's a very intimate documentary about domestic abuse and is shot in an extrememly sensitive way. A good example of this is when Ian goes back to his childhood home and recalls the way his stepdad treated his mother and him. Ian Wright must have felt at ease with the director/camera op to be able to open up in the way he did.
---
It's a Sin, Channel 4
Director of Photography: David Katznelson and Camera Team
TX date/time: January 2021
Reason for nomination
The backdrop to this wonderfully powerful drama series was the atmospheric recreation of 1980s London, when AIDS ripped through the gay scene. It was particularly poignant transmitting as it did during a time of pandemic from a previously unknown disease.
Carefully conceived to enhance the story and mood, the camerawork is mainly handheld/Steadicam and on the move whenever it is following the younger characters, reflecting their exuberant energy, while their parents' generation are covered with more measured, controlled moves with slow tracks in etc. This was appropriate camerawork throughout, very well done and all contributing to the most affecting series I watched all year.
---
Shark With Steve Backshall, Sky
Camera Team: Duncan Brake, Alfredo Barroso, Robin Cox
TX date/time: 30/11/2021, 15.55
Reason for nomination
I thought the series was so beautifully shot with some really tricky sequences (such as shooting on a moving boat) and the underwater camera work is especially impressive. There is also great use of drone photography.
---
The Mating Game, Oceans: Out of the Blue (Ep 2), BBC
Cinematographer: Doug Anderson
TX date/time: 10/08/2021 2021, 20.00
Reason for nomination
The whole of this series was incredible, however I would like to nominate specifically the sequence of the Humpback Whale Heat Run in episode 2. I know how rare and fast paced this event can be, and I was really impressed with the way Doug captured the intensity and drama of the moment. It must have been incredibly difficult to achieve, and the 'Behind the Scenes' clip at the end of the episode gave the viewer an insight into the ingenuity and skill involved in creating such an incredible scene. I was hooked, and have real admiration for all involved.
---
Wimbledon Men's Final, BBC1
Steadicam: Howard Woosey
TX date/time: 11/07/2021 13:45
Howard Woosey was nominated by two different GTC members for his work on this show.
Reason for nomination
Howard is responsible for the amazing Steadicam shot of the two players' journey from the changing rooms through the Wimbledon buildings and out onto Centre Court.
The route is fraught with difficulties but Howard has performed it flawlessly for many years, live, with the eyes of the world watching, and continues to improve it.
I think it is high time that this remarkable shot is recognised.
Reason for nomination
Excellent coverage of the players long walk from the changing rooms to Centre Court. Seamlessly executed for many years, this extremely tricky shot is performed beautifully by Howard who I believe should be recognised for his skill and expertise.
---
BT Europa Cup Final, CBS Champions League Final, BT Consumer Show, BT and CBS
UAV Camera Work: Batcam and their pilots and assistants:
TX date/time: 26 May, 29 May and 9 June (all at 8 p.m.)

Reason for nomination
I would like to nominate Batcam and their two pilots and assistants, for their filming of three separate 'studio pass-through' sequences at the end of May and beginning of June 2021.

In all three sequences, the Batcam UAV flew in a continuous unedited shot from outside of a studio, through the complex and control rooms and onto the studio floor to start the shows. The piloting skills of the two operators concerned was fantastic and the results stunning. Many GTC members have congratulated the pilots on their skills on the GTC forum.
The first 'fly-through' occurred on the Europa Cup Final on 26 May, produced by Sunset & Vine and presented by Jake Humphrey for BT Sport, at their Stratford Studios.
The second was on the Champions League Final on 29 May for CBS Television. This was from the IMG Studios at Stockley Park.
The third occasion was back at BT Stratford Studios and was the opener of the BT Consumer Show presented by Stephen Mulhern and Emma Willis on 9 June, where after the fly-through, the coverage picked up with a live music performance by Anne-Marie.
I was present for this last aerial feat and saw firsthand the professionalism and quality of the work. I believe that they justly deserve GTC recognition for their skills.
---
Dispatches: Undercover in Africa's Secret State, Ch4
DOP: Andrew Thompson
TX date/time: 17 June 2021, 11.30pm
Reason for nomination
This powerful and shocking film is a great piece of television journalism and much of the credit must go to the brave souls who risked everything including their lives to bring the secret footage out of Eritrea. It's a beautifully crafted film and the director Evan Williams is a master of storytelling. This is what Dispatches should be doing all the time (it isn't!) and it sets the benchmark for world affairs.
The film was enhanced by some truly wonderful camerawork by Andrew Thompson. The interviews were beautifully composed and lit, the landscapes were glorious: it was a masterclass in photography. No gimmicks, no fancy machinery, just Andrew and his great eye.
I'm not one who believes that photography is more important than characters or storyline. A poor story with beautiful photography will always equate to a poor film, whereas a great story with great characters will nearly always make a great film even if the photography is average. But when you have a great story and great photography combined, that's when a film becomes truly special and Andy has brought an extra dimension to this documentary and I think it's well worthy of a GTC award.
---
Clarkson's Farm, Amazon
Director of Photography: Casper Leaver
TX date/time: 11/06/21, 8pm

Reason for nomination
Casper Leaver & team did an amazing job with some stunning visuals capturing the highs and lows of a year on Jeremy Clarkson's farm. They captured the humour, warmth, sadness and huge risks of running a farm in the UK today. Hopefully this will raise awareness of environmental issues and the support farmers really need if they are to continue putting food on our tables.
---
Eurovision Song Contest 2021, BBC
The Camera Team
TX date/time: 22/05/2021 at 8pm

Reason for nomination
After waiting for 2 years for Eurovision to return, it certainly came back with a bang despite restrictions still being in place. The camera work complemented each song nicely, with the lighting and stage crew teams contributing hugely.

Standout sections included Greece's performance with the use of green screen. Switzerland and France were filmed in a beautiful cinematic format that transported you away from a live performance. During the France performance, the handheld shots moving around the singer were a standout. Usually we aim for smooth perfection but the movement really complemented that particular section of music.

The amount of time and effort that went into Eurovision this year really showed and all of the team working on the show deserve to be recognised for excellence.`
---
It's a Numbers Game, BT Sport 1
Camera Crew
TX date/time: 10/04/21

Reason for nomination
I would like to nominate the entire camera crew for their teamwork in producing the new series of BT Sports It's a Numbers Game. This nomination reflects how important teamwork in studio and location shooting is. The studio shows are shot in one day at the Stratford BT Sport/Timeline studios.
For judging I am putting forward the most recently transmitted show, show two of the series, which was transmitted on 10 April on BT Sport 1 (Freeview channels 408 & 430).

---
Storming The Capitol, ITV
Camera: Mark Davey
TX date/time: 12 January 2021

Reason for nomination
Outstanding documentary footage by cameraman Mark Davey of the incredible scenes in Washington DC as the insurrection unfolded when the seat of American government was invaded in the Senate and Congress. Mark was in the thick of the dangerous action from the build-up outside to the mayhem inside, which claimed the lives of five people.
A truly memorable piece of photo-journalism on one of the world's greatest political incidents of all time that will be spoken about for decades to come.

---
Where to next?