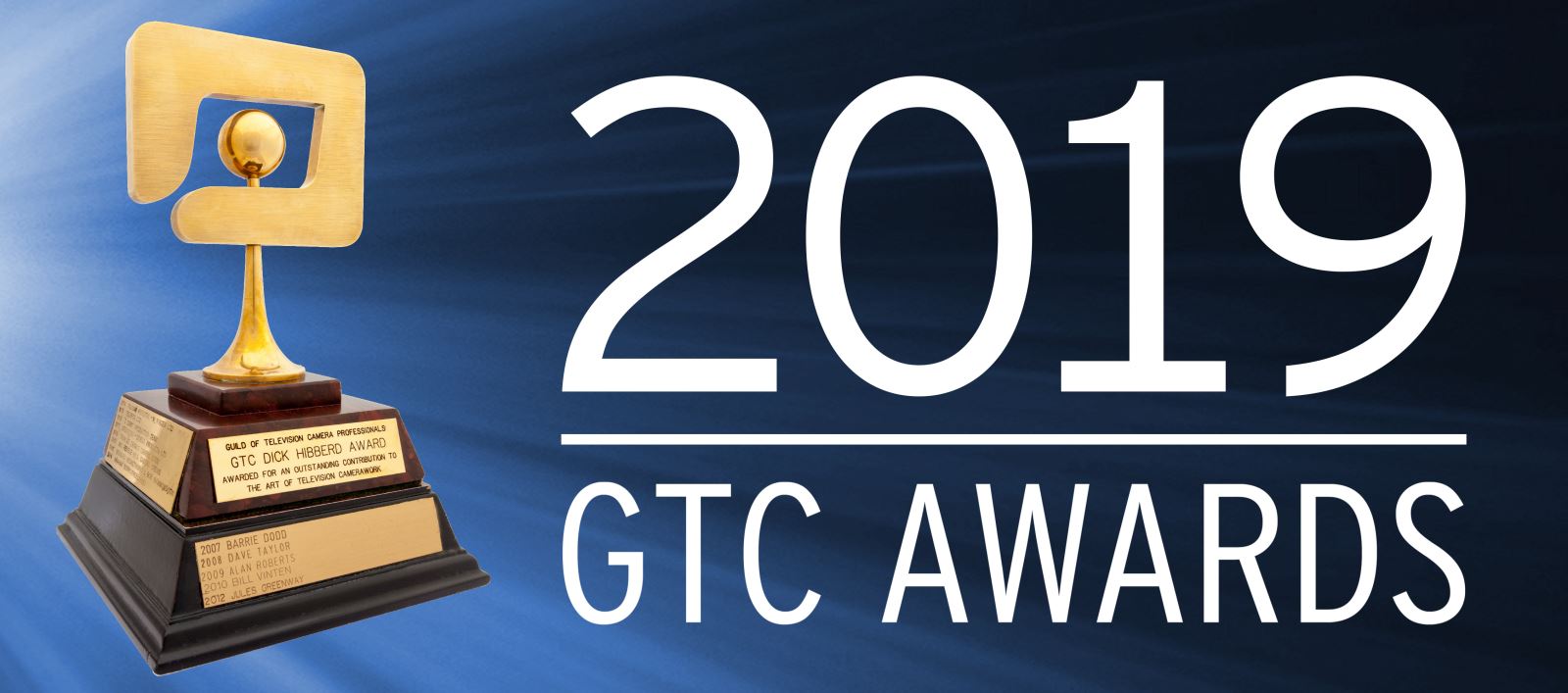 ---
---
And the nominations are ...
GTC Awards for Excellence

Spitfire, Feature documentary
Aerial Director of Photography: John Dibbs; Aerial Photography: Doug Holegate
TX date/time: 17/07/2018

Reason for nomination
Everything was perfect: the angles and the composition. The camera movements and aircraft moves combined together turned each scene into art rather than just a record. Choosing the right weather condititions also played a big part in the look and, to me, equalled the thought put into any drama or movie lighting setup. So, I am not only nominating for camerawork but for lighting as well.
It would have taken months, perhaps even years, just to get three spitfires in one place at the same time. Then to have them available for the right weather/lighting conditions must have taken some doing. The whole thing would have to be choreographed on the ground so that once in the air everyone knew exactly where they had to be. If the close formation shots were at all off at the first attempt, after watching the rushes, the pilots would have to go up again for retakes.
https://www.facebook.com/theplanepicture/videos/2126241027665385
---
UCI World Track Cycling World Cup, VSquared for BBC, BBC2
Segway Camera Operator: Ifor Wyn Humphreys
TX date/time: 15/12/18 18.25 ,19.40 –16/12/18 15.00, 15.29, 16.33 approx

Reason for nomination
Ifor rides a Handsfree Transporter (Segway) for a whole lap of the Olympic Park Velodrome in London while handholding a radio camera mounted with an Atomos monitor on top and framing a two-shot of the cyclist on a Sprint Lap at a top speed of 12mph depending on the cyclists' tactical play and avoiding people around the track. His speed, turns etc., are controlled by his knees and leaning forwards/backwards – a lot to think about let alone framing the shot! The result is a smooth, containable shot and he makes it look seamless. This shot offers a very different perspective of the race.
---
Michael Palin in North Korea, Channel Five
Director of Photography: Jaimie Gramston
TX date/time: 20/09/2018

Reason for nomination
A beautifully shot documentary in what I imagine to be some really tough conditions.
---
Father Brown, BBC1
Camera: Richard Hines
TX date/time: 03/01/18

Reason for nomination
Father Brown has been shot each summer since 2012. It is often overlooked on UK schedules due to mainly having daytime slots but has been sold to 162 territories by BBC Worldwide. This is a reflection of the high production values and consistently excellent camerawork in whatever the scene and conditions a British summer has to offer, and despite severe time pressures.

Richard Hines has led the way as A camera for most of the series and he sets a high bar for all operators and assistant camera operators who have worked on the programme.
---
Hidden, BBC One Wales, BBC Four
DoPs: Stuart Biddlecombe
TX date/time: 6 June, 9 June
Reason for nomination
Really nicely and naturally shot giving the 'noir' feel but without being too dark and dismal. It struck a great balance between standard conventional framing and the more avant garde or contrived framing that, when overdone, can sometimes feel too wasteful of space and too odd. It just all gelled and the camerawork complemented the acting and subject matter rather than dominating it or becoming too 'look at me' or jarring through too much unconventionality.
---
Phil Spencer's Stately Homes, Series 2, Channel 4
Director of Photography: Jon Boast
TX date/time: 07/10/18: 19.00

Reason for nomination
A brilliant series that really showed off some fantastic stately homes in the UK. Their beauty was portrayed well with a combination of aerial, gimbal and slider shots. It was nice to see a diverse range of camera techniques put to great use rather than being used for the sake of it.

Presenter and expert shots were shot nicely indeed and helped to reflect the beauty of the content. This series apparently started life on More 4, on a more4 budget/schedule but was eventually given recognition by the channel and given a Sunday night slot on C4.
---
Mediterranean with Simon Reeve, BBC2
Lighting Camera: Jonathan Young and Craig Hastings
TX date/time: 7–28/11/18 ((4 programmes)

Reason for nomination
This whole series was outstanding in execution and told an amazing story through the pictures and narrative of the huge cultural differences of the countries the Mediterranean embraces.
The series sets the bar for this new genre of documentary film-making which is groundbreaking. The programmes move at great pace and energy for the camera crew shooting from the hip, capturing events in real time, which involves tremendous skill. The pictures were in harmony with the words and personality of the presenter.
---
Dynasties – Emperor, BBC1
Director of Photography: Lindsay McCrae
TX date/time: 18/11/18

Reason for nomination
This programme from the first shot was simply outstanding and must be one of the finest wildlife observations by the BBC Natural History Unit ever produced. The team spent nearly a year in sub-zero temperatures capturing the survival of the penguins in Antarctica. Indeed, they even helped save some stranded penguins stuck in a ravine who would otherwise have perished – by the team digging a channel of snow but not directly intervening.

The freezing environment must have been incredibly challenging for the team to function in day after day. Lindsay McCrae, helped by assistant Stefan Christman, made television that was magical. Despite the conditions the filming is technically excellent and artistic.
---
Spy in the Snow, BBC1
The Camera Team
TX date/time: 30/12/18

Reason for nomination
A brilliant mix of traditional camerawork and specialist robotic cameras told some gripping stories of the lives of animals. The robotic cameras in the shape of animals and objects from the environment helped give audiences new perspectives in the stories being told and blended well with the narration and other shots.
---
Civilisations ep 4 – The Eye of Faith, BBC1
Directors of Photography: Duane McClunie, Johann Perry
TX date/time: 01/03/18

Reason for nomination
Shot with a singular vision using very unusual and compelling framing and embracing all sorts of optical artifacts, I thought every frame of this episode was beautiful. I'd also like to commend it for it some very imaginative PTC staging with Mary Beard, all of which were engaging and visually interesting.
---
The Repair Shop, BBC2
Director of Photography: Neil Kent
TX date/time: 13/08/18

Reason for nomination
I feel very passionately about the look and feel we have created on The Repair Shop over 3 series. The soft and warm wrap-around lighting feels very appropriate for such a gentle and heart-warming show. Working alongside gaffer Barry Read and set designer Polly Rawlings, I was involved from the very beginning helping select and envisage the "repair shop" as a real-life active place, where craftspeople could instill new life into old objects. The concept felt like such a breath of fresh air in today's throw-away culture.
I felt it important to keep the shape of the lighting subtle and authentic, with contrast and shadows moving to make it feel busy and bustling, augmented with practical lamps that were appropriate for such a working space.
We shoot for 6 weeks at time and, as well as supervising all the camerawork (including the essential macro work), I shoot all the off-speed interstitials with the experts and all the jib work and exteriors (apart from the aerials).
I think, overall, I achieved what I set out to do with the photography on The Repair Shop, and the ongoing popularity of the series is partly a testament to that. To quote Stephen Fry in September 2018: "It is my considered opinion that The Repair Shop is far and away the best programme on British television at the moment. Just what's needed to counter the mad digital world".
---
Dynasties – Lion, BBC 1
Camera: Sophie Darlington and John Aitchison
TX date/time: 8pm, 25/11/18
Reason for nomination
This engrossing story was wonderfully told, with intimate and frequently very moving footage to demonstrate every aspect of the relationships and behaviour of the lions and lionesses in the pride, as well as to document the events that happened to the central characters throughout the year.
As well as illustrating this extraordinarily gripping story in great detail, every frame was simply exquisite, including luscious backlit long lens shots, fascinating infrared sequences and gorgeous scenesetters with stunning skies and weather to build tension or add breathing space as necessary.
The fact that the pride seemed completely unaffected by the camera crew's presence is surely testament to their great skill. It's easy to become a bit blasé about the quality of images regularly produced for BBC natural history series such as this, but this episode really is a wonderful fusion of great camerawork with incredibly powerful storytelling.
---
The Mighty Redcar, BBC2
Daniel Dewsbury (Series Director), Johnny Ashton (PD), Stuart Bernard (PD), Lee Bullock (Drone Operator)
TX date/time: 06/09/2018 9pm

Reason for nomination
Interesting personal stories including despair and hope but told in a different visually interesting way using great drone footage from Droneflight and The Aerial Aspect with the addition of great editing and music.
---
Bodyguard: BBC1
Director of Photography: John Lee
TX date/time: August 2018
Reason for nomination
Eps 1 and 2 have been gripping and aesthetically very pleasing both in terms of camera movement/operation and lighting style.
---
Brum Commonwealth Games Closing Ceremony Handover Dance Routine: BBC ONE TXD
Nat Hill (Camera Supervisor), James Davis (Gimbal Operator), John Clarke (2nd Gimbal Operator), Matt Ingham (Head Operator)
Date/time: 15/04/2018

Reason for nomination
A phenomenal one-shot extravaganza, performed live, apparently involving a Steadicam or gimbal and a huge Technocrane. Extraordinary ambition and stunning almost-perfect delivery. Viewable here: https://www.youtube.com/watch?v=_yaADxguP2Y (starts at 07:50).
---
Earth's Natural Wonders – Surviving the Extreme: Series 2, Episode 1, BBC ONE
Photography: Will Edwards
TX date/time: 14/2/2018 21.00

Reason for nomination
Extraordinary coverage in a potentially very dangerous location (below a pack of sea ice above a beach at low tide in the Canadian Artic) with two Inuit women collecting mussels. With only 45 minutes to get a complete sequence in the can, Will Edwards and Russell Leven showed considerable skill and professionalism in very cold, wet conditions including in a 2 to 3ft high space between the ice roof and the rocky beach floor, all on a full-size broadcast camera producing very evocative pictures in the process.
See http://www.bbc.co.uk/programmes/p05y5lb7 for a 5-min diary piece on the filming.
---
Animal with Cameras (episode 1), BBC ONE
Animal Cameras: Chris Watts (Chief Camera Technician), Marcus Shirley (Underwater Cameras)
TX date/time: 01/02/2018
Reason for nomination
Chris Watts for designing cameras suitable to go on wild animals for this series of Animals with Cameras. Chris designed cameras lightweight enough to go on a variety of animals without compromising their welfare or environment.
---
Kiri, Channel 4
Director of Photography: Matt Gray
TX date/time: 01/2018
Reason for nomination
Beautifully lit and shot – often unusual framing but always sitting comfortably with the story rather than distracting.
---
Where to next?