All GTC members receive four copies a year of our informative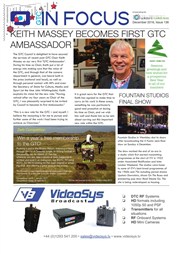 newsletter GTC In Focus, which brings news from the GTC Council, plus information about developments in the industry and products from our sponsor companies. It includes announcements about forthcoming workshops and events, as well as feedback from those that have just happened, and is packed with news and views from members. There are tips, 'funnies' and an occasional look back in history, not to mention a list of new members and contact details for the people that run the GTC.
If you have an idea for an article, or would like to submit a news item or letter, contact the editor Roger Richards on infocus@gtc.org.uk or 07831 615691. The copy date for the next issue is 15 February 2017. For more information about advertising in GTC In Focus click here.
The whole archive of GTC in Focus since 1972 is now available to view by GTC members (who are logged in to the site). View GTC In Focus online.
Where to next?
Search for Camera Crew