COVID-19 protection unit 'ready to roll' on UK film and TV shoots
19 June 2020
Apex Studios, Droxford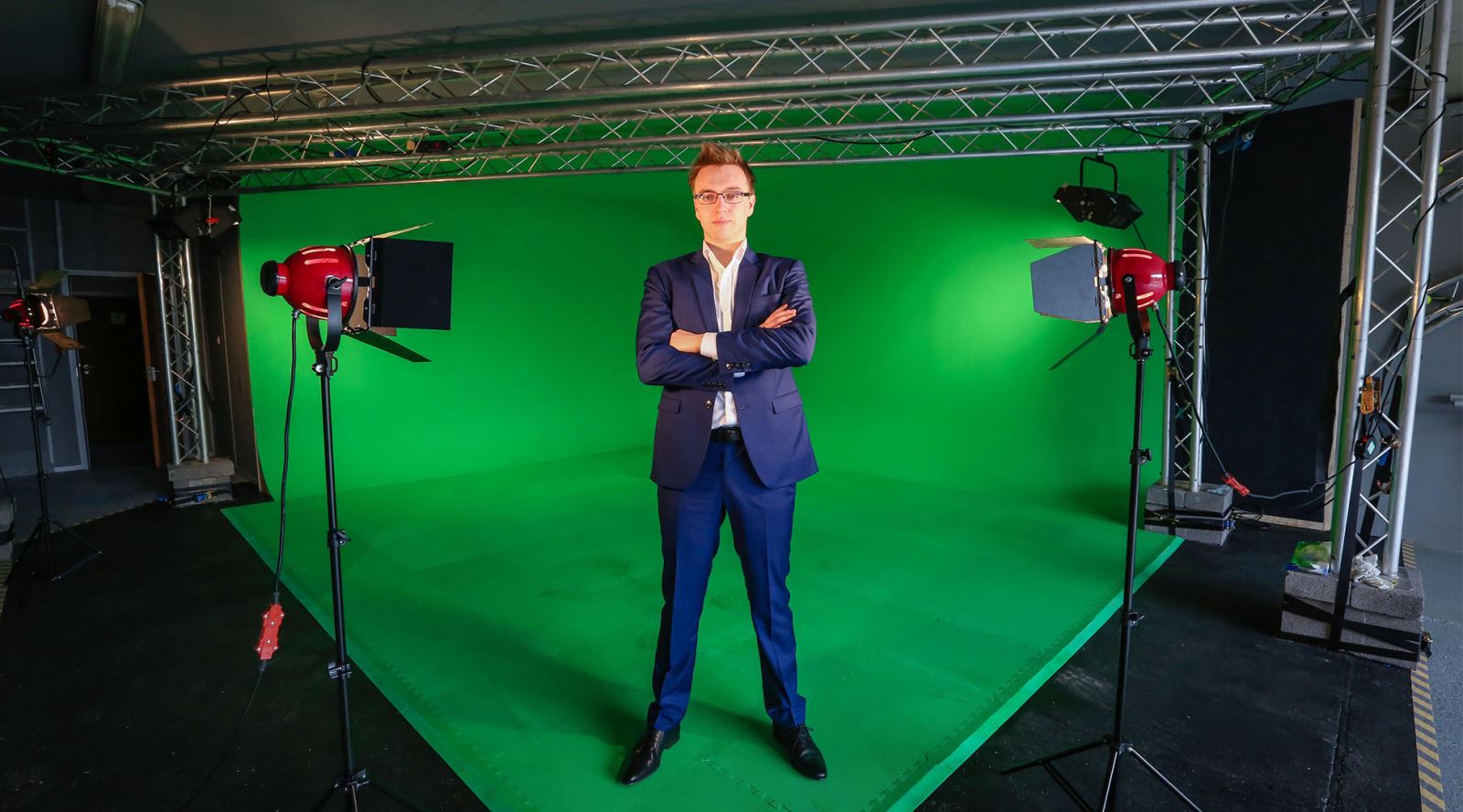 Ben Joel has already applied the CCPU's COVID-protection methodology to film and music video shoots
Experts in film making, virus control, health and safety, VIP close protection and event security have joined forces to aid the UK's film and TV industry as it emerges from lockdown.
Launched by a Hampshire studio entrepreneur, the COVID Close Protection Unit (CCPU) aims to ensure shoot locations and studio projects run smoothly and efficiently, protecting against the risk of COVID-19.
A safe way to shoot
The unit is an alliance of six professionals with skills and experience spanning film location management, pandemic emergency response, medical support, police and military operations, incident command and strategic security.
They have come together to support film-makers, producers and location managers returning to film and high-end TV production as lockdown lifts. The resurgence of activity involves new industry-wide protection measures introduced on shoots to safeguard cast, crew and support staff.
"We are here to help everyone implement these safety policies," said Ben Joel, unit co-founder and owner of Apex Studios in Droxford. "Our vision is that no-one will contract COVID-19 on a CCPU site. Between us, we have decades of experience in practical filming coupled with crisis scenarios and dynamic risk environments. We're applying that knowledge and insight to help the industry get back on its feet after the pandemic.

While the government has finally approved COVID safety guidance for shoots, the virus is generally excluded as an insurable risk. That means film and TV companies, and their backers, will run a very high level of financial risk if a production is delayed due to the infection of a cast or crew member. Derisking location shoots and studio work is therefore essential. Through delegated authority, we take the logistical responsibility for that so the producer or location manager can focus on what they're really there to do – making a great production."
Among Ben's CCPU colleagues are Duncan Massey, a safety consultant to the BBC for more than 30 years; Chris Weigold, a former major incident commander with 40 years' experience; and Sam Thomas, a medical professional used to providing on-site support and advice at film and TV shoots.
Duncan said:
"As production crews try to interpret and follow the new pandemic safety guidelines, they can turn to us for help with all aspects of implementation. They're saying, 'I've done my risk assessment and have my policy in place, now how do I put it into practice?' There is so much to think about.

You can have more than 30 people there even on a smaller shoot, but the figure can easily go into the hundreds if it's a bigger scene and production, including cast members, camera operators, lighting crew, prop makers, make-up artists, catering teams and security people.

There will be a mix of core team employees and outsourced private contractors and freelancers going in and out of the site all the time, so you need a formal policy and means of implementation."
The CCPU methodology
CCPU methodology is based on a three-zone protocol similar to the approach taken by police commanders when managing large public events or emergency incident response.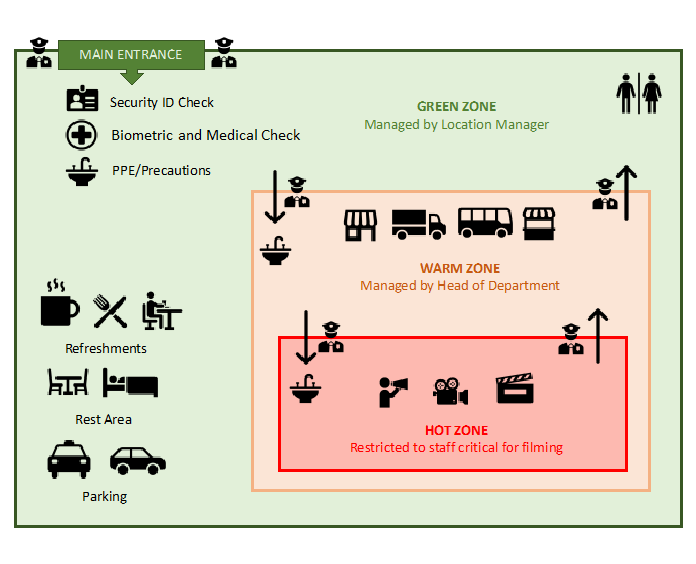 In CCPU applications for film and TV work, 'green' is for outer activities such as vehicle parking, catering, generators and administration, while 'amber' or 'warm' is for preparing functions critical to the filming including wardrobe and make-up. At both levels, there is strict control on access and use of PPE. Arrows and other signage direct the flows of on-site personnel, while marshals will help maintain social distancing.
The 'red' or 'hot' zone is the core of the film making activity itself, with cameras positioned and actors and crew present on set for rehearsals and actual recording. Here, qualified judgements on distancing are made depending on the action so as to enable the film process to happen. Between each zone, there are defined entry and exit points.
Explaining the launch timing, Ben said:
"There is a long way to go before we are back to pre-lockdown levels of production in the UK, but a few shoots are now beginning to go ahead. Some productions rely on summer weather and conditions. These need to be captured now otherwise we will face a crippling lack of film and programme content in the autumn and winter.

We scale our methodology according to the particular shoot. We're used to working under crisis conditions and ensuring people keep social distance. We have that mindset.

We've already done this at Apex Studios, for ourselves, and we're now ready to roll as a wider industry service whether that's for film, TV, adverts or music videos, both indoor and outdoor."
For more information on the CCPU, call Ben Joel on 07935 116322 or 01489 878776, or email Ben@apex-studios.co.uk
Apex Studios, located in the Hampshire village of Droxford, offers a purpose-built green screen filming and production facility available 24/7 for dry hire. The fully configurable cyclorama space has a 100m2 working area, large roller door access, a sound room, a production office and meeting room, and an artist changing and make-up room, together with specialist lighting equipment. Apex Studios also offers a fully equipped recording studio and two rehearsal suites for individual musicians and bands. Each music suite features a Mackie PA system with a 12-channel desk and includes the use of microphones, stands and cables. For more information on Apex Studios, visit www.apex-studios.co.uk or call 07935 116322.