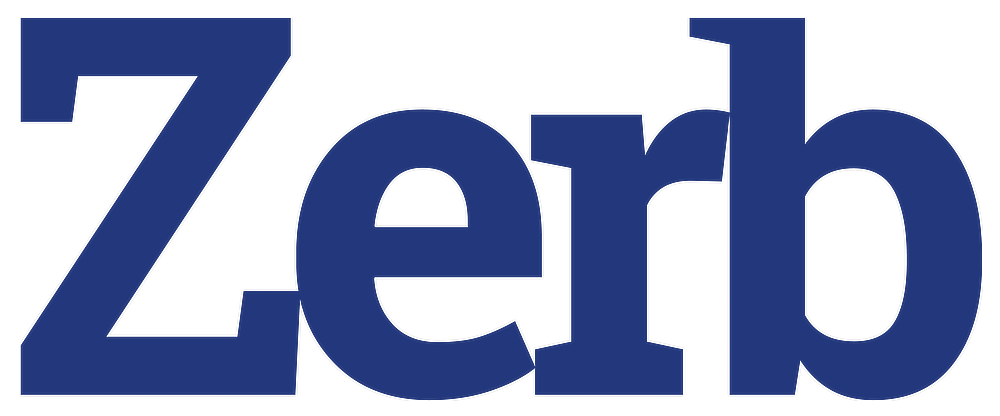 The GTC's twice yearly journal has been around since 1973, the year after the Guild was started. The hazy origins of its eccentric name may be hidden in the mists of time but the content of this well-respected magazine is always cutting edge and relevant to working camera crew.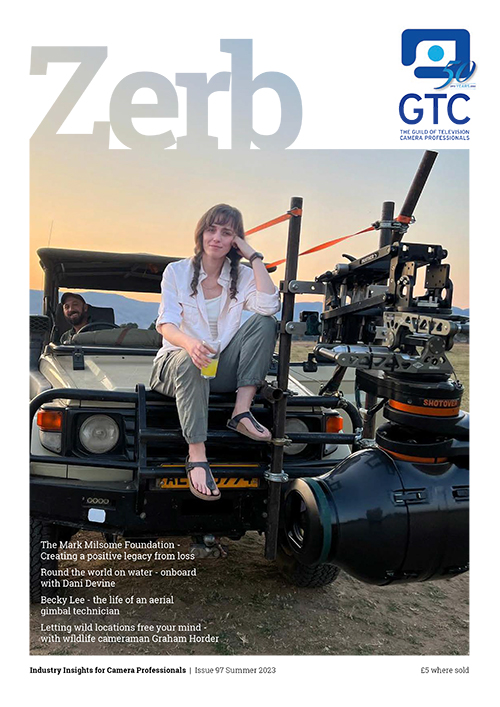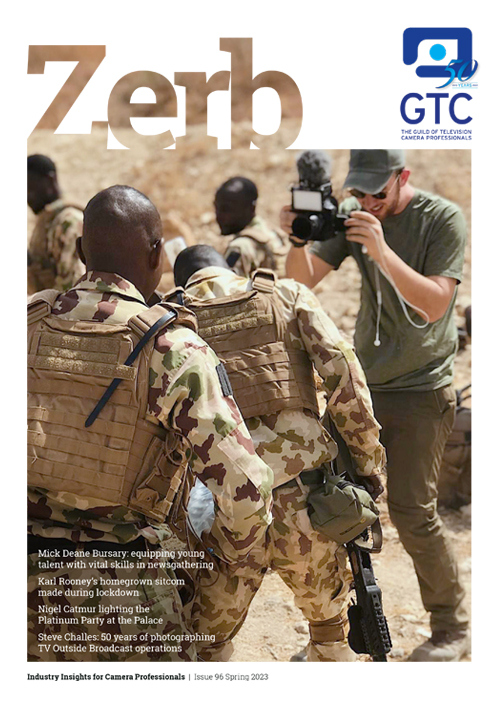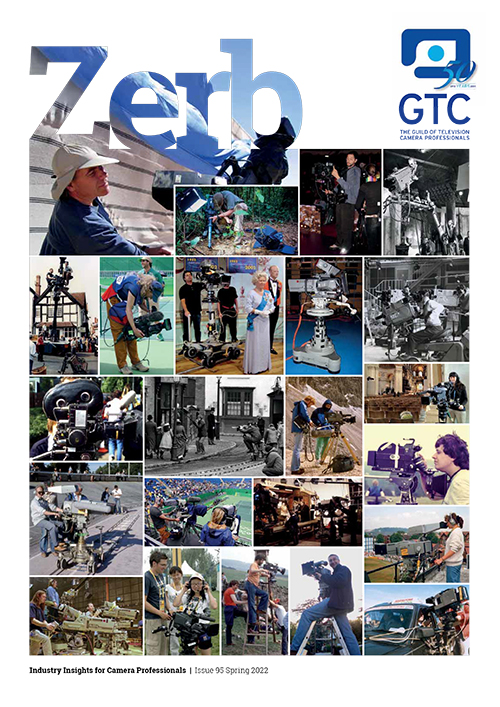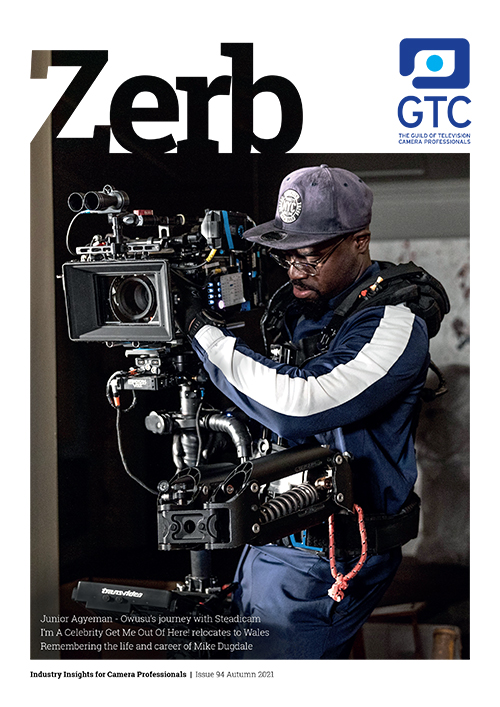 Zerb is unique in that it is both edited and largely written by camera operators, DoPs and camera technology experts. Each issue is edited by a different member of the GTC acting as guest editor, with the overall operation overseen by a managing editor for continuity. This system ensures that articles are predominantly told 'from the camera professional's point of view' and strive to be topical and objective, featuring an entertaining mix of location reports, technical information and human stories related to the craft of camerawork. The entire archive is now available online (see lower down this page for how to access).
---
Zerb 97: Summer
2023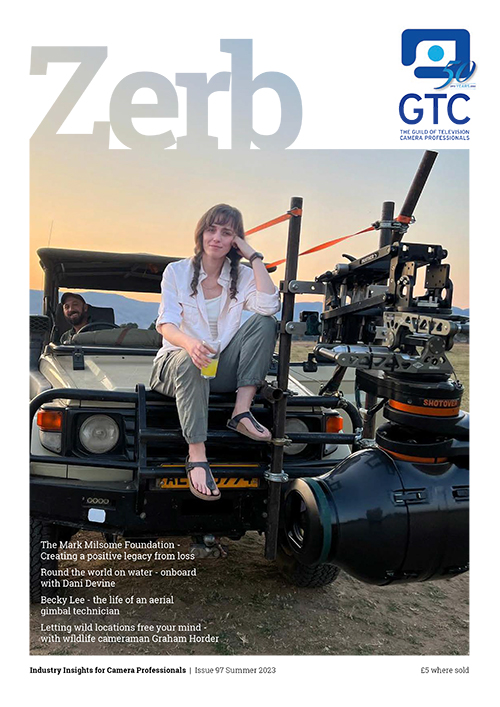 Managing Editor: Graeme McAlpine
Production Editor: Sarah Adams
Design: Toast Design, Banbury
The latest edition of Zerb remains available digitally to GTC members only until the next one comes out.
Contents of Zerb 97
Editorial - Chris Yacoubian, GTC Welfare Officer
John Henshall, GTC President & Co-Founder - Extract from his forthcoming book
The Mark Milsome Foundation aims to provide a positive legacy
What goes on tour stays on tour... by Noel Wyatt
I was Kylie's Cameraman by Dicky Howett
30 year anniversary of Visual Impact Northern
Letting wild locations free your mind by Graham Horder
Q&A's with, Sandra Pennington, Paul Dugdale (Duggers), Brett Turnbull, Nick Kauffman, Sally Garrett, Laura Howie, Tim Potter and Sam Creamer
Getting airbourne with Carys Kaiser
The future of syncing is simple and affordable
The Digital Cinematography Revolution
Ocean crossings with Dani Devine
Becky is flying high - Becky Lee talks to Bill Shepherd about her role as an aerial gimbal technician
GTC members wishing to view this edition digitally can access it here: www.gtc.org.uk/publications/gtc-member-digital-editions.aspx
---
The Zerb Archive
A history of television camerawork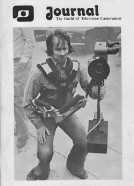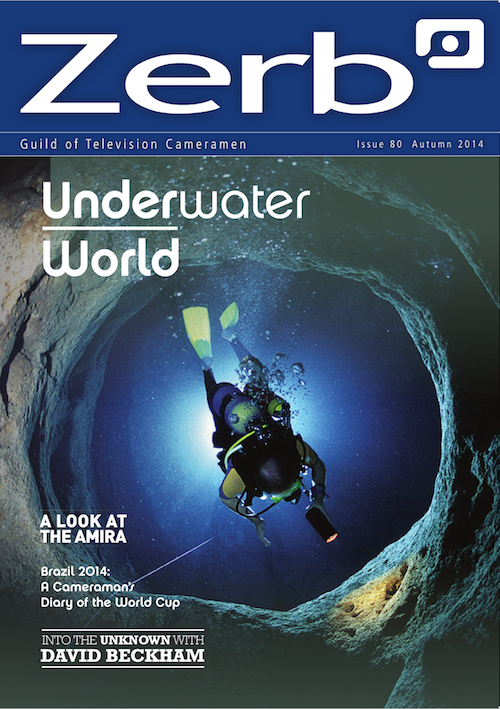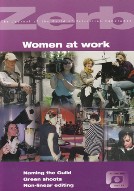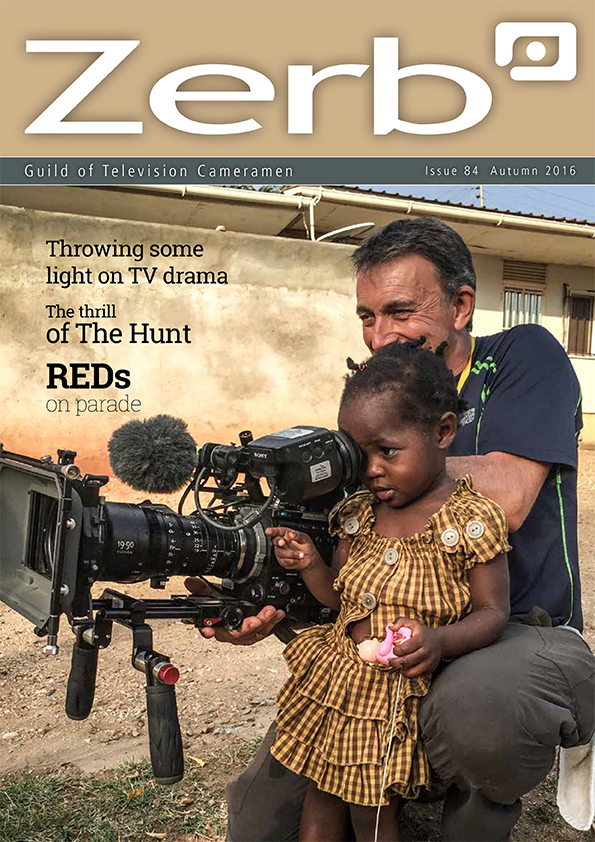 Over the years topics have included every conceivable aspect of camerawork and the body of back issues forms a fascinating archive of the trends and changes in TV technology and techniques. Recently this fascinating resource has been digitised, making available more than 45 years of TV history to both GTC members and non-members.
Online access to Zerb
Anyone, including non-members, can click on the cover images below to access the edition you would like to view online (apart from the most recent issue, which is for members only). Clicking on the cover will take you to the digital version of that issue (hosted by PageSuite) and also give access to all other issues in the archive, which is searchable (to search for specific content look for the search icon top right of the PageSuite screen).
GTC members also have extra rights accessible via a GTC member log-in page. Not only can members view the latest issue online but they can also download material from any issue in the archive. The same permissions apply to GTC In Focus, which can be accessed from the same page.
Non-members visiting the archive who would like to download content, please apply for permission: zerb.production@gtc.org.uk. Alternatively, you might like to consider joining the GTC to enjoy a wide range of member benefits.
GTC member digital editions access page:
www.gtc.org.uk/publications/gtc-member-digital-editions.aspx
If you are having trouble locating any Zerb content you are searching for, please do not hesitate to contact zerb.production@gtc.org.uk.
---
Zerb 96: Spring 2023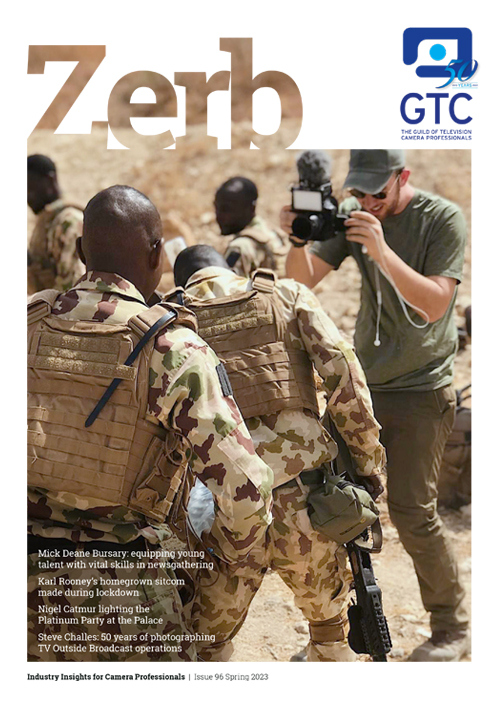 Managing Editor: Rob Emmanuel
Production Editor: Sarah Adams
Design: Toast Design, Banbury
Contents of Zerb 96
Falling Flat - the lockdown sitcom that we all need
The Mick Deane Bursary - nurturing the next generation
Valuable industry opportunities for new generation of camera professionals
GTC Member James Dunlop swaps his clarinet for a camera
Lighting the Platinum Party at the Palace
Operation Lion: the view from Canada Gate
TV OBs through the lens of Steve Challes
Thriving between three freelance careers by Dan Poole
The Fence: from short film to full-length feature
Q&A with GTC Council members, John Templeton and Riccardo M Alfano
Filming The Narrows on a virtual production stage
From wheelchair to pedestal by Derek Halls
Sample articles from Spring 2023
Click on the images below to see sample articles from the current issue of Zerb.
---
Managing Editor: Rob Emmanuel
Design: Toast Design, Banbury
Contents of Zerb 95
An Unnatural History - IAWF member Robin Smith's path to filming wildlife
Meet the Martins: The art of lighting sitcoms with Martin Hawkins and Martin Kempton
Alan Duxbury - 50 years of change in camerawork
The Life of Brian - The career of former GTC Chair Brian Rose
Shooting Dolby Vision HDR on an iPhone by Kevin Augello
Filming wildlife closer to home by IAWF member Marc van Fucht
Nick Gilbey director of the BEHP - Taster of what the BEHP archive has to offer
What is Vision Control? by Richard Carroll
Zerb Basics: Understanding LED light sources
A world of pure engineering imagination - Rob Emmanuel talks to Dave Bromfield Managing Director and Founder of Movie Camera Support Ltd
Quick Q&As with former GTC council members Chris Owen, James French and GTC Honorary President John Henshall
Sample articles from Spring 2022
Click on the images below to see sample articles from the current issue of Zerb.
---
Managing Editor: Rob Emmanuel
Design: Toast Design, Banbury
Contents of Zerb 94
I'm A Celebrity Get Me Out Of Here! – in times of COVID, by camera supervisor Tony Freeman
Moving Pictures – a fine art – GTC member and jib operator Steve Fuller on adding fine art photography to his portfolio
Going Live with Rambert Dance Company's Draw From Within and Rooms by cinematographer Emma Dalesman
Mike Dugdale – a remarkable life remembered. Nat Hill and Paul Dugdale reflect back on an extraordinary life
Life at the sharp end: the role of a lens technician – Gary Leach and Ben Cridge from GTC Sponsor CVP on how they keep lenses in optimum condition
Brave New World – by steadicam operator Junior Agyeman-Owusu
Tiffen Steadicam workshops – attendee comments on the first live post-lockdown steadicam workshop run by GTC sponsor Tiffen
Going Digital: clear wireless sound that makes headlines. Sam North, sales manager for Karno outlines the benefits of digital radio mic systems
The history of ITV's contribution to the evolution of sports broadcasting. Phil Nott from the Broadcast Engineering Conservation Group looks back on how ITV influenced the future of sports broadcasting
50 unforgettable years: GTC sponsor CP Cases celebrates its golden anniversary
Quick Q&As with Council members Alan Duxbury, Clive North and Peter Rance
Sample articles from Autumn 2021
Click on the images below to see sample articles from the current issue of Zerb.
---
Managing Editor: Rob Emmanuel
Design: Toast Design, Banbury
Contents of Zerb 93
Filming Top Gear and The Grand Tour – by DoP Ben Joiner
Taking drone filming to new heights – with Top Gear aerial experts Lec Park and Andrew Lawrence
GTC member (Corporal) Agy Rudel explains what it takes to be a RAF Media Reservist
The story behind Robbaduck Camera Services – GTC member Rob Ballantyne's new camera tracking company
Bullet Time: how New World Designs' impressive bulllet time rig creates the 'game freezes' on The Million Pound Cube
Weathering the storms with Pelis and penguins – IAWF members Natalie and Andreas Oberg test out their optimum camera setup in the Falkland Islands
Focusing on Diopter lenses - the low-down on what these useful add-on tools can do and how to attach them
What goes into creating an innovative piece of new camera mount technology – Sachtler's James Guest on the thinking and research behind the flowtech and activ products
The Tank Factory – how GTC sponsor Prolink contributed to the equipping of this brand new West London studio facility
Reflections from and warm tributes to camera supervisor supremo Tony Keene, who recently took the decision to retire after over 40 years behind camera
Workflow efficiency with the latest CODEX high density encoding technology
After 50 years in the business, Anton Bauer has an enviable reputation for providing reliable power solutions – read how they ensure these standards
Introducing the new Fiilex Q5 color fresnel lamp
Sample articles from Spring 2021
Click on the images below to see sample articles from the current issue of Zerb.
---
Managing Editor: Rob Emmanuel
Design: Toast Design, Banbury
Contents of Zerb 92
Guest editor Elisa L Iannacone shares experiences from shooting on the frontline, with advice on staying safe
Ellen Kuras ASC interviewed – and her current project: a global collaborative documentary record of life under lockdown
Filming drama remotely: how to coordinate and control a drama shoot from the comfort of your own home sofa – with the help of the actors' families
Seeing in the dark: capturing never-before-seen night-time hunting behaviour of big cats for Night on Earth
GTC member Al Livingstone's latest film shows the devastating effect of deforestation through the plight of a very inaccessible baby harpy eagle
Cinematography in Flux: DoP Sarah Smither discusses changes in the industry, storytelling and the key importance of a caring attitude to crew
Spiral of Containment: how a brave and honest multimedia project has helped rape victims to heal
Do you love or loath a LUT? Two colourists explain how LUTs work and how to get the best out of them.
Multi-drone shooting – how a team of drone operators faced the challenges of both weather and terrain to film a complex sheep gather
So you want to improve your carbon footprint and keep travel costs down – is electric now a viable option for your crew and kit transport?
Reflectric – a new energy-efficient lighting technique that achieves lovely natural-looking images with few lamps but multiple reflectors
GTC member Simon de Glanville devised a home-schooling module that would allow him to keep his hand in as a wildlife cameraman while teaching his sons about filming and storytelling – the heroes were snails!
The Helicopter Girls are well known for their aerial photography skills and cutting-edge drones. Now they have another challenge: juggling childcare
Sample articles from Autumn 2020
Click on the images below to see sample articles from the current issue of Zerb.
---
Managing Editor: Rob Emmanuel
Design: Toast Design, Banbury
Contents of Zerb 91
Festival of Remembrance – camera supervisor Nigel Saunders on the award-winning coverage of this national treasured event
It's been a busy few years for Northern Ireland-based news cameraman David McIlveen – but he's still been able to innovate by shooting news on large-sensor cameras
Rise of the Nazis: DoP Duane McClunie on creating the look for reconstructed scenes from this dark period of history
Sex Education – DoP Jamie Cairney on shooting the second series of the hit Netflix comedy drama
... while camera trainee Andrea Jovanovska had a great opportunity to both operate and appear in an episode set in a TV studio
Zerb looks back at and celebrates 40 years of innovation in specialist cameras from GTC sponsor company Aerial Camera Systems (ACS)
Breaking barriers and finding balance: camera supervisors Liz Bell and Jo Hodges not only provide top-quality crews, they also look after health and wellbeing
Retracing the great cave escape of Tham Luang Nang Non – how this extraordinary accident happened and then the rescue unfolded
Bill Vinten GTC University Awards – the story behind our student awards
Any fool can be uncomfortable: IAWF member Graham Horder gives the low-down on what it's really like to film natural history programmes (with a little help from some friends)
Procam's Saul Gittens on this GTC sponsor company's comprehensive training programme for new entrants to the industry
Life as a camera guarantee – GTC member Fiona Schimmel explains what this role involves and why it's a really great way to learn all about OB work
Horse racing – a trio of articles on this busy area for camerawork: first, Matt Payne explains how he transitioned from jockey to camera operator; we hear how Italian GTC sponsor Cartoni custom built products for RaceTech; and James French reports on a visit to their factory in Rome
Plastic Surgery Undressed – the low-down on the complicated linkage involved in showing live cosmetic surgery operations to studio guests elsewhere, including live two-way interviews with surgeons and patients
A glass act: DoP Mark Warmington has a passion for beautiful lenses – and he has recently added rehoused Leicas to his kit collection
Sample articles from Spring 2020
Click on the images below to see sample articles from the current issue of Zerb.
---
Zerb 90 is the last issue with Alison Chapman as Managing Editor and this time there was no guest editor. Design was by Toast Design, Banbury.
Contents of Zerb 90
After Life – GTC member Martin Hawkins on working with Ricky Gervaise on his latest series
GTC sponsor Helicopter Film Services introduce their impressive six-camera array, Typhon2
24 Hours in A&E – Vision Guarantee Richard Carroll on planning and controlling a 111-camera shoot in a high-paced emergency environment
Tales from the snooker: GTC member Duncan Richmond has stories to tell from snooker and many other shoots – and he's compiled them in a book
How do you operate a camera from a Segway following world-champion cyclists? GTC Award-winner Ifor Wyn Humphreys on this specialism
Happy 30th Anniversary Top-Teks! We look back on the GTC's relationship with one of our longest-standing sponsor companies
Bohemian Rhapsody: this iconic video launched the music video industry – and it was all shot in a half-day by four very early GTC members
Zerb Managing Editor Alison Chapman looks back at 25 years overseeing the GTC's journal
Microscopy expert Sinclair Stammers on a career of filming the tiniest creatures, in particular those who like to suck blood!
Aerials over Buenos Aires – Argentinian DoP GTC member Alejandro Reynoso on building up the country's leading drone filming company
Dreamflight – find out how you could join other GTC members in improving the lives of children facing enormous challenges by joining this charity's remarkable life-enhancing trips to Florida
The Baby Club: 'Never work with children...' – GTC member explains why working with 12 babies on this innovative new series was actually fine
Zerb Basics: Keeping your kit safe in cars and vans
Why Boxx wireless products are the choice of one of New Zealand's top Steadicam and RF-camera specialists, Martin Stacey
Sideshow – DoP Stephen J Brand on how to shoot a feature film on a very low budget in just 18 days – and in winter
Green shoots – as the GTC sets out to formulate an environmental policy, it can learn a lot from GTC sponsor company VMI
Managing Editor: Alison Chapman
Sample articles from Autumn 2019
Click on the images below to see sample articles from the current issue of Zerb.
---
The guest editor for Zerb 89 was Rob Emmanuel and design was by Toast Design, Banbury.
Contents of Zerb 89
Parasol Peak – recording a live music performance on the top of a 3000m mountain
Fergus Kennedy on moving from marine biologist to underwater cinematographer to drone specialist
How do you visualise sound on camera? DoP Timur Civan on shooting the award-winning Nigel Stamford video Cymatics
The art of shooting wildlife: IAWF member Sophie Darlington on filming big cats – and other animals
One Box Television: Richard Stevenson celebrates 10 years of his innovative 'flyaway OB' system
The portrait challenge – how difficult and different is it to record a theatre performance in 9:16 for viewing on Instagram?
Smooth operator: a user's guide to gimbal rigs by Mark Langton
Introducing EVI, the dynamic HDR converter that makes it possible to view HDR images on standard definition monitors – and more
Paul Edwards looks back on a long and fulfilling career as Steadicam operator on many great features and training new operators at Tiffen
Zerb Basics: Filters and Matte Boxes - with drama DoP Nick Dance
Flying with batteries – frequent flyers news cameraman Bhasker Solanki and documentary DoP Jonathan Young on how to stay within the rules for transporting lithium batteries but also cut down on check-in hassle
Hothead expert Manueal Balseiro assesses the new Kornercrane, which enables transitioning from underslung to overslung on shot
The story of Easyrig – founder Johan Hellsten recalls 25 years of his back-saving rig
Litepanels Gemini – Andrew Woodfin on developing the new soft light, while Version 2's Nick Edwards gives the end-user perspective
Managing Editor: Alison Chapman; Guest Editor: Rob Emmanuel
GTC members wishing to view this edition digitally can access it here: www.gtc.org.uk/publications/gtc-member-digital-editions.aspx
Sample articles from Spring 2019
Click on the images below to see sample articles from the current issue of Zerb.
---
The guest editor for Zerb 88 was Laura Jeacocke and design was by Toast Design, Banbury.
Contents of Zerb 88
DoP Nat Hill on the amazing one-take #BRUM shot
Being Brunel – DoP Jon Pegler on visualising the mind of Isambard Kingdom Brunel
Hector Skevington-Postles on capturing rare snow leopard footage
Extreme: GTC award winner Ryan Atkinson on filming the Three Cs: caves, cliffs and under the canopy
What does it take to be an on-board reporter on the gruelling Volvo Ocean yacht race?
Agile Remote Cameras – the story behind the ultra-rugged PTZ cameras
Filming from hot air balloons
Out in the cold: tips on how to keep warm and mobile on skiing events – from GTC Chair Graham Maunder
SKAPYA: the all-weather jacket that converts to a bag – and is great for documentary camera professionals
The Helicopter Girls on their new light-bearing drone and partnership with Marzano Films
Camera Supervisor Rob Sargent and his crew covered the Windsor Castle Route for Prince Harry and Meghan Markle's wedding
Learning from the experts – shooting architecture and property shows
RED owner/operator DoP Giles Harvey tries out the new GEMINI and MONSTRO cameras
Zerb Basics: what do you need to know to keep your accounts in order?
The Zerb Good Kit Hire Guide: how to build and sustain a great relationship with your kit hire company
Cutting-edge innovations from GTC sponsor Ikegami – latest 8K cameras, HD trucks and monitors
Happy Anniversary Panasonic! – we celebrate a remarkable centenary of delivering products that make 'A Better Life: A Better World'
Managing Editor: Alison Chapman; Guest Editor: Laura Jeacocke
GTC members wishing to view this edition digitally can access it here: www.gtc.org.uk/publications/gtc-member-digital-editions.aspx
Sample articles from Autumn 2018
Click on the images below to see sample articles from the current issue of Zerb.
---
The guest editor for Zerb 87 was Sally Garrett and design was by Toast Design, Banbury.
Contents of Zerb 87
Marcella: Scandi-noir drama shot in summer London on VariCam – by DoP Kate Reid
Expedition Volcano – by GTC members Will Edwards and Ryan Atkinson
Learning from the experts: The Strictly crew
Blue Planet II – IAWF cameraman Mark Payne-Gill on filming humpback whales for the most watched natural history series of 2017
Supervising the IAAF World Championship: Tim Moses on planning for a major international athletics championship
Bhasker Solanki recalls a remarkable 38 years as a BBC News cameraman
Kësulat – GTC Awards Officer on shooting her first feature, a powerful true story set in the Balkans War
Andy's Safari Adventures – lighting and shooting a complex and innovative children's natural history show by DoP Stephen J Brand
A trip to the Vitec Factory in Costa Rica – by Darren Bramley
Kit review: Vitec flowtech 75 tripod
The new Steadicam M1 Volt – tested by GTC member John E Fry
Strictly has gone paperless – using iPads for shot cards
IAWF member Simon Littlejohn on filming vultures in southern Spain
How the BAFTA's albert Consortium is helping productions improve their carbon footprint – and save on their budgets too
The Canon C700 camera road tested by DoP Jamie Cairney
Also included with Zerb 87 was the special Zerb Mental Heatlh Supplement.
Managing Editor: Alison Chapman; Guest Editor: Sally Garrett
GTC members wishing to view this edition digitally can access it here: www.gtc.org.uk/publications/gtc-member-digital-editions.aspx
Sample articles from Spring 2018
Click on the images below to see sample articles from the current issue of Zerb.
---
The current edition of Zerb is issue 86. Its guest editor was Hazel Palmer and design was by Toast Design.
Contents of Zerb 86
Welcome to the GTC – Guild of Television Camera Professionals
Why titles matter: Hazel Palmer explores the background to the GTC's name change
Extreme Mountain Challenge – the story behind an hair-rasing adventure shoot from GTC member Keith Partridge
Shooting wildlife with the Panasonic VariCam – by Dutch wildlife cameraman Dick Harrewijn
The GTC wishes its long-standing sponsor ARRI a very Happy 100th Birthday – and looks forward to the next 100 years!
Latest technology used to cover the Oxford v Cambridge boat race, one of the most complex annual UK OBs
Grand Tours of the Scottish Islands – spectacular scenery in some of the most remote parts of the UK by Award-winning DoP Richard Cook
Mutiny – Dan Etheridge was embedded with the 'mutineers' who recreated the famous voyage of the survivors of the Mutiny on the Bounty
Motion Impossible... made possible. Meet the AGITO and MANTIS remote controlled tracking systems
Taking off with drones – GTC member Aaron Cook on learning to fly a drone the right way by taking a recognised course and plenty of practice
Learning from the experts – advice from multi award-winning cameraman Jonathan Young for student member Laura Jeacocke
Between the tropics – GTC member Niall Newport on filming an extraordinary cycling expedition across Asia to Australia
Channel vision – GTC member Tracey Cahill on her career working in news and factual programmes in the Channel Islands
Rock steady – GTC TiCA winner Dominic Jackson on why the ARRI Trinity is now his camera stabilisation system of choice
Rebuilding history – the story behind the complex recreation of John Logie Baird's first TV system in a Cambridge University engineering department
Paramo clothing – ethically manufactured outdoor gear that is great for camera crews shooting in all weathers
Diversity behind the camera –

see the results of the Zerb survey

into the state of diversity in the camera department today
Managing Editor: Alison Chapman; Guest Editor: Hazel Palmer
Sample articles from Autumn 2017
Click on the images below to see sample articles from Zerb 86.
---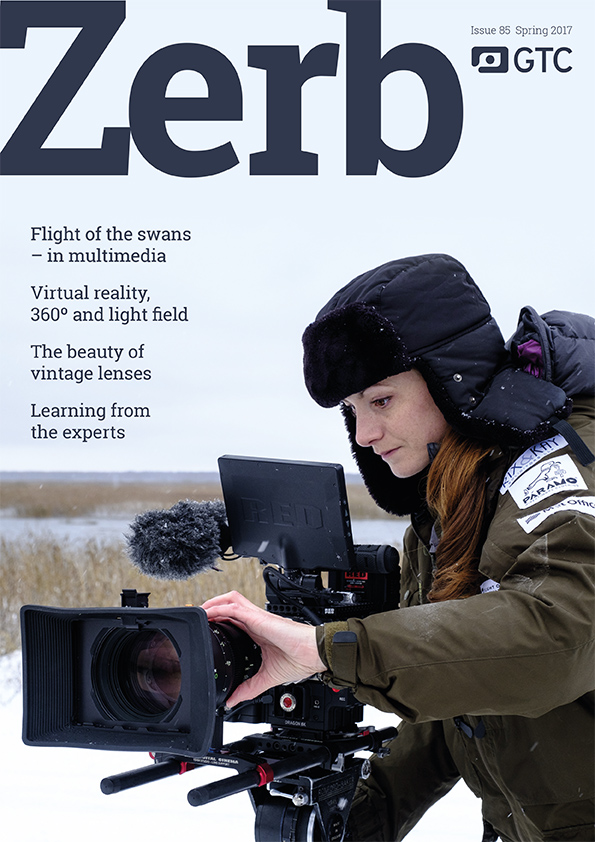 The current edition of Zerb is issue 85. Its guest editor was Ashley Meneely and design was by Toast Design.
Contents of Zerb 85
Flight of the Swans – filmed on RED cameras
High-level shooting for widlife including canopy access, remote camera stake-outs and gyro-stabilised tracking
GTC Chair Graham Maunder recalls working on 15 Olympic Games
Tracking the action – innovative, customised tracking systems for major sporting events from Camera Corps
How do you design the perfect camera cover? CP Cases explains
What do you need to know before starting to shoot 360 degrees?
Video Europe on the Nokia OZO 360 system
Ground Control – the new remotely controlled follow spots that are taking LE studios by storm
The trend for vintage: lenses from One Stop Films and lights from Shift 4
The music man – Sally Garrett interviews music director Paul Dugdale
Learning from the experts – advice from experienced and multi-skilled wildlife camerawoman Gail Jenkinson for student member Laura Jeacocke
HDR explained – by Neil Thompson
Into the thick of battle – work experience on the Battle Porms filming for big-screen transmission using technology from GTC sponsors Boxx TV
Polecam inventor Steffan Hewitt recounts the story, bringing it up to date to its latest incarnations and uses
Student member Kate Priestman on how to crowdfund a graduation film and get it shown on the festival circuit
Apprenticeships: GTC Education Officer looks at the opportunities for apprentices in the industry
Light field technology
Carnets – a cautionary tale from GTC member Philip Spiering who learns the hard way to double-check the carnet paperwork at all stages
Managing Editor: Alison Chapman; Guest Editor: Ashley Meneely
GTC members wishing to view this edition digitally can access it here: www.gtc.org.uk/publications/gtc-member-digital-editions.aspx
Sample articles from Spring 2017
Click on the images below to see sample articles from Zerb 85.
---
Guest editor: John Rossetti
Sample articles from Autumn 2016
Click on the images below to see sample articles from Zerb 84.
---
Guest editor: Peter Newman
The Rugby World Cup 2015
Corporate – a look at the new opportunities for good quality work in this growth area
The ALEXA Mini – user reports from documentary, drama and aerial shoots
Doctor Foster – shot on the Panasonic VariCam
New from Panasonic, the VariCam LT
Introduction to the International Association of Wildlife Film-makers (IAWF) - newly incorporated into the GTC
Filming leopards with camera traps by IAWF member Mateo Willis
Power and backup in remote situations by GTC member Kevin Augello
Glass revival: why optical filters matter – by filter guru Carey Duffy
Dick Hibberd, Founder of the GTC, remembered
Bill Vinten – a life lived to the full. Dudley Darby pays tribute
Steadicam: a roundup of the latest generation models and training
Kit review: Panasonic AG-DVX200 by GTC member Phil Thomas
Eye care – what camera crew should know to preserve their eyesight
Camera preservation – member Nick Gilbey explains how a few enthusiasts are preserving rare historic TV cameras
Sample articles from Spring 2016
Click on the images below to see sample articles from Zerb 83.
Sample articles from Spring 2016
Click on the images below to see sample articles from this issue of Zerb.
Sample articles from Spring 2016
Click on the images below to see sample articles from this issue of Zerb.
---
Guest editor: Ged Yeates
Gavin Finney BSC on Wolf Hall
Ballot Monkeys, C4 General Election comedy
Kliktrak/Kombidolly tracking system from Hillrigs
Patrick van Weeren – in-house advisor at WTS
Camerawork and motherhood -–are they compatible?
Hemingway's car – Adam Docker on a Cuba shoot
LUTCalc – by GTC member Ben Turley
Kit review: Sony PXW-FS7
Fujinon UA-Series – latest 4K lens technology
John Anderson talks to camera helicopter pilot Keith Thompson
Colin Tomlin of Videosys on designing a new minicam
Stornoway-based Alasdair Maclean: becoming a BBC news cameraman
How the ExtraShot podcast is the new crewroom
KerriKart – an innovative new camera cart/slider
Zimbabwean GTC member Jeremy du Toit on relocating to the UK
DJI Ronin training at GTC sponsor Off Trax
Sample articles from Autumn 2015
Click on the images below to see sample articles from Zerb 82.
---
Guest editor: Paul Mellon
Sample articles from Spring 2015
Click on the images below to see sample articles from Zerb 81.
---
Guest editor: Neil Harrison
Underwater camerawork
David Beckham in the Amazon – RED Dragon
The Brazil 2014 World Cup
Sky cricket coverage
The ARRI Amira
Salford's digital dockland
CTBF – the industry's benevolent charity
Blackmagic in the desert
Teaching actors to be cameramen for Alan Bennett's 'Enjoy'
Top Gear
Lens adaptors
TLCI News from Alan Roberts
Airline carry-on baggage rules
The MoVI rig
Sample articles from Autumn 2014
Click on the images below to see sample articles from Zerb 80.

---

Guest editor: Peter Heap
BT Sport's new studios at Olympic Park
Perils on the seas of Peru
Light-field cameras
RIP BBC Outside Broadcasts
America's Cup – official film shot on a Sony F55
America's Cup: SIS LIVE special cameras
Miller celebrates 60 years of tripod manufacturing
Learning to film with a multirotor
Whatever happened to camera craft?
Ninjas and Samurais - from Atomos
Dreamflight – how to get involved with the children's charity
RUBI-Radio Mini HD link system
---

Guest editor: Matt Grant
Earthflight – aerial specialist Richard Cook
Cold Chain Mission
The TLCI measurement of lamps
The ARRI L7-C reviewed
The Sola ENG kit – GTC user review
Grand Designs
DoP Charles Lagus, Sir David Attenborough's first wildlife cameramen
Gurdip Mahal – lighting director 'Designing with Light'
Wireless technology for Steadicam from Boxx TV
The Skquattro – from The Camera Store
75 years of televising the Oxford–Cambridge Boat Race
Jonathan Harrison on LEDs
Polecam a novel use in a miniature village
Young RED user Joseph Hutson
Camera training at The London Studios
The Blackmagic Cinema Camera – GTC user review
---
Managing editor: Alison Chapman
Isles of Wonder – televising the London 2012 Opening Ceremony sequence
Coldplay Live – the technology behind the Mylo Xyloto tour DVD
The camera technology behind Felix Baumgartner's leap from space
Filming chimps in the jungle
Recollections of Hillsborough
World Without End – achieving a Pre-Raphaelite look for an epic Medieval drama
Outnumbered – producing naturalistic performances from the kids
Slow motion camerawork
Thomas English on the latest generation of Steadicam
How do you become a cameraman? Advice from three recent entrants into the industry
Hot Topic – Has camera design gone mad?
FantasyCam – the perfect 'cameraman's camera'
Emmerdale is 40
Interview with RTS Lifetime Achievement Award winner Martin Hawkins
Latest on-camera monitors from Marshall road tested
---
Guest editor: Mark Langton
Televising London 1948 contrasted with London 2012
Zerb Basics – the technology behind radio cameras
The Royal Pageant – On board the Spirit of Chartwell and rigging Tower Bridge
The Bill Vinten GTC University Award
4K – Separating the truth from the hype
How would Canon's much lauded C300 camera stand up to the rigours of an expedition in rural China?
Dan Greenway explains how minicams have come to be so omnipresent
The technology behind the coverage of the progress of the Olympic Torch
Take it easy on yourself – how Swedish cameraman came up with Easyrig
The ALEXA family grows up – and then there were five
Jules Greenway talks about his remarkable career as a cameraman
Raise the Roof in Kenya – how cameramen and other TV professionals are helping children in Kenya
Circumnavigating the globe for a corporate shoot
Power to the pixels - the technology behind the latest generation of onboard monitors explored
Kit reviews: the Sachtler Ace tripod system and the Ki Pro Mini from AJA
Nic Holman on filming the restoration of a Lightning jet
The media behind the mask – should you own a gas mask?
---
Managing editor: Alison Chapman
Freeze Frame: A cameraman's adventurers on ice

EOS C300

– the latest little camera from Canon
Undercover – covert filming of illegal hunters and traders around the world
World War II Heroes – visualising the horror of war
Compact handheld cameras – GTC road test of the Panasonic HPX250 and the JVC GY-HM150
What should you know to keep safe in a war zone?
What will you learn on a hostile environment training course and why might it be the most important training you ever do?
Minicams – which is the best one for your shoot?
Forty Years Young: The GTC is 40! How did it all start?
Pim Korver: 'Seanest' – Dutch cameraman Pim Korver on maritime filming
High and Dry – filming on a tall ship with a team of young explorers
Driving Wars: How the latest minicam technology captured exciting footage of a high-octane stunt driving challenge
Open the BOXX – state-of-the-art low latency wireless technology
Part 2 of Chris Dickinson's adventures filming in the China
Video Ghost – a novel phantom powering system for cameras
Zerb Basics: Codecs
---
Guest editor: Bill Garrett
The Royal Wedding
DSLRs – disappointment or delight?
In China with GTC member Chris Dickinson
Self-shooting in Africa with a Panasonic AF101
Aliasing – an in-depth technical explanation of this problematic phenomenon
HD on the soaps – the camera decisions taken in the HD upgrade on the UK's leading soaps
Cooke Optics – the story of a top-quality British brand
Argentinian GTC member Martin Errea describes life as a working cameraman in South America
Syntax makes a convert – Ged Yeates tries out this SD–HD upconverter
GTC Royal Wedding album
Zerb celebrates 40 years of Anton/Bauer batteries
Damage limitation... for your ears only. How to protect your hearing at work
How cameramen Jim Cemlyn Jones and John Brierley collaborated to release an album 'All these dreams'
How to choose the right tripod and head for your shoot
Introducing Wimbledon Studios, London's newest studio complex plus GTC sponsors 3D specialists DECODE
Final Cut Pro X
IPv6 is coming... are you ready for it?
Travelling together – GTC members came together earlier in the year to film the Travel of the Photographer of the Year Award Winners exhibition
John Summers: one of the very first TV cameramen
---
Guest editor: Julian Hiorns
The Commonwealth Games
OK Go – the story behind the amazing one-shot 'This Too Shall Pass' video
Shooting 3D handheld in the Amazon rainforest
An Audience with the Pope – behind the scenes at this large OB from Cofton Park
ACS SMARTheads
French lens makers Angenieux's 75th Anniversary
Camera review: Sony PMW500
The Panasonic AG-3DA1 in action filming 3D on an oil rig
A colourful history – the story of GTC sponsors Rosco
The Golden Eye of Georgia – report from this festival of camerawork
Holographic TV – a glimpse into TV of the future
Hearing without Headphones – PTSD, a health hazard for news crews
The Rory Peck Trust
Shooting 3D: how can you tell if you're getting it right?
Camera Review: Canon XF305 and XF105
---
Guest editor: Alan Duxbury
3D – The next dimension is closer than you think
3D rigs for football coverage
Life on the road as a news and current affairs cameraman
The General Election 2010
Mugabe and the White African
To Argentina via Turkey with The Quails
Life on the road with the Traffic Cops
A Bird in the Hand: a history of Vinten in their centenary year
Bill Vinten remembers ...
Live from Albert Square – behind the scenes when EastEnders went live
Vortex – how use of the Award-winning vertical rig is soaring
A New Dimension for Panasonic – 3D from the French Open tennis
Project Supo: an innovative cross-media teaching approach from Belgium
Looking after your eyes on set
One Box: an OB in a box – the story of an innovative flyaway kit
DITs and DFTs – what do the new boys on the crew do?
Goalmouth Technology – how Polecam gives a 3D view of football action
Shooting an SIV on beekeeping
---
Managing editor: Alison Chapman
Green Shoots in Africa – David James Foundation
Filming the world's longest horse race in Mongolia
iPhone apps for cameramen
Dreamflight – helping a charity for kids
GTC members give to charity
A short guide to CGI for cameramen
Beagle's About – remote cameras go to sea
Global Crisis – how cameramen can help
LEDs: the energy-efficient solution
A look at green practices at Sony's Pencoed base
News about the latest generation of digital cameras from ARRI
A Trip to Tripoli - two accounts of working on a large OB in Libya
In search of an affordable HD LCD monitor – the JVC DT-V24L3D
Jeremy Hoare on lecturing down under
Lenses from Leicester. Dudley Darby visits the home of Cooke lenses
Ronald Charles Green 1930-2009 – an affectionate tribute to this highly respected and sadly missed cameraman
Cameraman's shoulder – and how to guard against it
HD DSLRs: still developing. Update on the digital SLR cameras
Making the Cut. David Fox reviews Final Cut Pro 7
---
Guest editor: Nigel Cooper
Do or Die in New York City – the making of a self-funded documentary
I Can See Clearly Now ... the Sony PDW-700
Filming with the Yorkshire Air Ambulance
Panasonic AJ-HPX3700 reviewed
Aerial Filming: How safe are you?
Can you really shoot HD on a digital SLR?
How not to light a sitcom
The GTC Awards 2009
The story behind ITV's Country Ways
Tips of the Trade: Focus and Exposure
X-Mo Super Slo-mo – slow-motion image capture at its best
JVC GY-HM700 – a really well built budget camera
MX02 – Digibeta quality edit suite in a bag? A truly portable edit solution
In search of an affordable HD LCD monitor – the JVC DT-V24L3D
Battery low, lights dim, picture intermittent – are you looking after yourself?
Why Polecam is an ideal tool for 3D shoots
Step by step guide to producing and marketing a special interest video
---
Managing editor: Alison Chapman
Multicamera coverage of the Beijing Olympics rowing
Flycam – how to achieve spectacular overhead tracking shots
Starting Out – real life stories of how GTC members became cameramen
Polecam: lightweight jibs at the Olympics
The planning behind the Beijing Olympics OB
Liverpool Nativity: the story behind the massive award-winning live OB
The other side of the track: how to track the horses
A Day at the Races – the low-down on ACS's specialist camera systems
F35 – digital film expert Dan Mulligan on Sony's latest top-end camera
HD in Scotland from HD specialists Midas Multimedia
A progress report and user views on the innovative RED
Diary of a young cameraman – Part 1 of James Fulcher's story starting out
Putting the Sony EX1 through its paces in Afghanistan
Video 125 – the story of a highly successful 'niche' production company
Need finance for your new camera kit? Advice from specialists Fineline.
Time Scupture: the story behind an extraordinary 200-camera shoot
---
Guest editor: Ged Yeates
The London Mayoral Debate – producing a major OB at short notice
Nigel Meakin on shooting Michael Palin's 'New Europe' on HD
Visit to the lens specialists True Lens Services
Filming the bears of Romania
The story of sending pictures from the Moon for the Apollo programme
FCP training – two approaches to getting to grips with the Final Cut suite
Click – BBC News 24's technology show
Kosovo – filming when Europe's newest state gained independence
The latest on the tax status of freelance cameramen
Polecam in the Arctic – filming walrus and seals in the frozen north
Sony PMW-EX3 reviewed
Multi-camera operations in a surgical operating theatre
Relocating from Zimbabwe – starting all over again in the UK
RoscoVIEW reviewed
Panasonic AJ-HPX3000 reviewed
The work of the BFI's National Film & TV Archive
---
Guest editor: Momin Javaid
Keith Massey on how to survive in the industry
Five events that changed the course of TV
The Vortex aerial camera mount system
Broadcasting over the internet
'Top Gear' in the Arctic and filming the audience show
Coalhouse – reality TV in Wales
Cycling special – aspects of cycling coverage
Final Cut Studio 2 vs Creative Suite 3
Laurie Gilbert filming in Thailand
Decade by decade – perspectives from six generations of cameramen
Facilities and rentals – how to get the best out of these companies
Source2sea – an account of filming this challenging team-building exercise
LED lights come of age
How to work out which luminaire will give you the right amount of light
Which format – choosing the best format for the job
Zerb Basics: Depth of Field
---
Guest editor: Ian McCann
Paul Stewart on living and filming on the Galapagos Islands
Time-lapse photography
Filming the Battle of Britain Memorial Flight
GTC – the first 35 years
BBC – the Digital Media Initiative
P2 – Andy Portch on using the Panasonic format in China
'Pobol Y Cwm' – goes tapeless
Momin Javaid: impressions of using XDCAM HD for the first time
'Time Team' – through the ages
What's it like to be a staff cameraman at the Chernobyl reactor site?
Silent Witness – shooting on the Arri D-20
ARRI: a celebration of the company's 90 year history
Sony Vegas 7 reviewed
Mako Head – keeping a level horizon on the high seas
Zerb Basics: A Glossary of HD Terminology
Book review: Inventing Digital Television: The Inside Story of a Technology Revolution by Martin L Bell
---
Guest editor: John Rossetti
Peter Eveson on why TV cameramen are ideally skilled to shoot HD drama
John Adderley on filming a time-lapse artwork
Jimmy Jib in the Arctic
How

CMOS sensors

work and what they can do
Tony Grant on the skill of improvisation: lighting
Hogfather – Sky's biggest drama commission to date
Filming in Africa for a wheelchair charity
What does it take to be a cinematographer?
Camera sensitivity: SD vs HD
Filming against windows – tricks of the trade
Crash testing for dummies – high speed photography at Thatcham
Video Ark – ensuring archive video footage
XDCAM HD reviewed
Zerb Basics: Lighting 3 – The Great Outdoors
---
Guest editor: Clive North
Laurie Gilbert: on Mt Merapi during the Indonesian earthquake
Aerial cinematography over Everest for 'Planet Earth'
Sky's first HD documentary
Total eclipse of the sun in Libya
Grass Valley Viper on 'Last of the Summer Wine'
Viper: Filmstream Ultimatte HD
Filming an ascent on Mt Everest
Live and Learn – we all had to start somewhere!
The HD jungle – guide to the current crop of HD cameras
Filming for charity in The Gambia on a Sony HVR-A1E camcorder
Camera menus – a user guide
Health and Safety at Work – what all cameramen should be aware of
Report from the 2006 HD Masters Conference
Zerb Basics: white balance
---
Guest editor: Lee Helliar
Using Edwardian technology to film modern London
Visually Inarticulate part II – Jamie Cairney on shooting 'The Thick of It'
'The Green Green Grass' – HD sitcom
Alien Revolution (AR) – camera stabilization
In conversation with … John Simpson
Jonathan Young on filming in hostile environments
John Tempteton – in Iraq
News from the Channel Islands
Streaming for cameramen
When the going gets rough – coping with the nightmare shoot
Grass Valley Infinity – a new format
JVC GY-HD100 reviewed
Jeremy Hoare takes on a multi-camera shoot after a gap of 21 years
Zerb Basics: Lighting
Book Review: The Focal Easy Guide to Final Cut Pro
---
Guest editor: Alan Duxbury
Tsunami: the disaster and the aftermath
In conversation with… Sir David Attenborough
Around the world with Michael Palin
Diary of ITN's general election coverage
'Tribe' – Tim Butt on filming cannibals for the BBC
HD lenses – how do they differ from SD?
Mailbox – BBC Birmingham's new home
How do directors choose their crew?
Career change – starting out at Ravensbourne College
Richard Hookings on using Polecam at the Athens Olympics
Are you insured? Things to check before you shoot
Digital Production – a new approach to 'collaborative workflow'
Final Cut Studio reviewed
Zerb Basics: Exposure
Book Review: Practical Cinematography
Book Review: The Camera Assistants Manual
---
Guest editor: Jonathan Flanagan
Account of a horrific helicopter accident while filming with Ray Mears
Operating remote cameras
Christian Parkinson on working as a 'Broadcast Camera Journalist'
Shooting Partners test out P2
Clothing for extreme conditions
The HD future – views from camera manufacturers and experts
Sony HVR-Z1E – reviewed
Panasonic AJ-SDC905 road test
David Fox visits the Breda factory
The future's bright – latest lights
Panasonic DVX100A – reviewed
DV Rack software tested
Motion – Apple motion graphics software review
Zerb Basics: Widescreen framing issues
---
Guest editors: John Hoare and Dudley Darby
Moving On – Is there life after camerawork?
How filming techniques have changed over time
Music in Mali – travelling to the middle of nowhere to film an amazing festival
Russian Ark – the ultimate Steadicam shot
Lord Puttnam interviewed
XDCAM road test
Filming ancient sports in Asia on HD
Virtual reality studio
Farewell to the ride-on cranes
Excess baggage – the scourge of overseas shoots
Kisslite – a camera mountable ring light
G-PIXX – the helicopter built for aerial filming
DV – the pros and cons of the low cost formats
Zerb Basics: all you need to know about zoom lenses
---
Guest Editor: Dave Ballantyne
Commonwealth Games 2002
Digital wireless camera systems
OB in Nigeria – filming the Queen
In conversation with Dave Alex Riddett
Muddied but unbowed – filming underground
Garrett Brown – The Moving Camera Part II
Military cameraman
The Hospital – London's newest facility
Griptech – starting up an equipment hire company
TV returns to East Timor
Book review: Location Lighting for Television by Alan Bermingham
Tapeless camera systems
A look at some TV technology ideas that didn't quite make the grade
KE Remote Systems – a profile of the Aussie crane company
Zerb Basics: Setting up your viewfinder
---
Guest editor: Christina Fox
The Grand Zerb lighting challenge – 6 experts choose a £1000 lighting system
The role of the military cameraman
River to Heaven – Laurie Gilbert in India
How to make money from your old footage
Uploading video to your website
What does the colourist like to see in your rushes?
Achieving the required look in camera (rather than post)
A guide to some of the effects that can be achieved in camera
Garrett Brown – The Moving Camera Part I
Steadicam – learning to use the rig on an intensive three-day course
Mac v PC – which is best for editing?
Final Cut Pro 4 – software review
The Twic Olympics – filmed in Sudan
Dmist – a solution for misty pictures
Polecam – the story of how this lightest weight crane evolved
Book Review: Audio for Single Camera Operation
High Definition movies – CineAlta HD cameras
Sony HDW 750P: road test
Adobe After Effects – software review
360º imaging – the BBC's 'Where I Live' project
Getting the film look on tape with Panasonic's AJ-HDC27 HD camera
Zerb Basics – Monitors
Book Review: High Definition and 24P Cinematography by Paul Wheeler
---
Guest editor: John Keedwell
30 Golden Rules of Camerawork
A tour of America for GTC member Karl Lear
DoP Chris Menges interviewed
Richard van Nijnatten - in Norway with NATO
Paul Wheeler on the mistake of cutting crew sizes
Digi-Mitchell - bridging the film/video divide
Peter de Jong on future-proofing movies
Wildlife cameraman James Gray
Optimising the hit rate of your website
The Mole Crane - 45 years and still going strong
Brian Sinclair on the art of editing
Biological Weapons: what should you know about bioterrorism?
The Thomson Viper: a grade above the rest? by Geoff Boyle
Zerb Basics: Filters
---
Guest editor: Karl Lear
Stephen Northcott on the art of the camera flyer
Laurie Gilbert gets his HUET certificate
Desmond Morris - interviewed
Filming vocanoes
Highly Defined: the CineAlta
Charles Teton on shooting with DVCAM
Shooting a feature film on HD
Canon HD: New prime lenses
HD review: Ikegami HdK-790D
From one extreme to the other with cameraman Malcolm Ludgate
Kayak Crazy: Exhiliarating camerawork in extreme conditions
Rhys Williams travels the world following football
Zerb Basics: Aerial cinematography from Laurie Gilbert
Fibertec - the new lightweight tripod from Vinten
Kit Review: the Red Eye wide-angle adaptor
Emtec: A visit to a tape manufacturer in Germany
The Whys and Wherefores of HD
That Elusive Film Look
Non-Linear Editing: The first step
A Closer Look at High Definition TV
Easy Rider - gathering news on a motor-bike
Testing, testing... the Sony MPEG IMX
---
Guest editor: Mac Kenny
Afghanistan: In the line of fire... by Julie Ritson
Making Waves - on the Blue Planet
Afghanistan: For a few dollars more
Mini DV for mainstream broadcast
Stormchaser Alister Chapman on selling footage on the web
How to make a pain-free insurance claim
Fact or Fiction? by past GTC Chairman Peter Ward
Court artist Elizabeth Cook on working with news crews
Two Man Crews - a dying breed?
Trevor Baylis - interviewed
Training crews in Sierra Leone
Get the right vaccinations for your foreign shoot
Back to the Front - Life in the trenches
Zerb Basics - Equipment: hire or buy?
---
Guest editor: Christine Stanley
The GTC ballot on whether we should change our name
Mac Suibhne on the General Election
The lives and views of three camerawoman
Filmmakers for Conservation – by Chris Dickinson
'Handy Andy' interviewed
We're All Broadcasters Now – by Christina Fox
The latest industry-based course from Ravensbourne
Camerawoman Beka Dilworth on becoming a Steadicam operator
Lighting up the Dark Continent: The work of the Mohammed Amin
Foundation in Nairobi
Ged Yeates loses his luggage in Romania
Magnetic Tape: Do you know how to look after your tapes?
Zerb Basics: Paul Sampson on non-linear editing
Pangaea: A new 'Bed and Edit' facility in Devon
---
Guest editor: Ged Yeates
Laurie Gilbert goes supersonic with The Turkish Stars
David Hands on working and keeping safe on the streets of Israel
Rolf Harris – interviewed
Paul Osborne on the potentially excellent DV format
A–Z of digital terminology
The latest widescreen

DV

cameras tested along with a tripod and head from Vinten
A day in the life of a news cameraman in... Asia
Spin that really works – how to keep your lens dry in the rain
The new camerawork – deliberately or really incompetent?
A revolutionary new field editor from Brick House
Mark Capstick on why you shouldn't overdo negative gain
Alister Chapman: storm-spotting in the USA
The widest lenses from Fujinon and Canon compared
Rene Collins shoots hi-def in Brazil
Zerb Basics: Sound for the Single Camera Operator – Part 2
---
Guest editor: Neil Faith
What's in your kitbag?
A wide angle on Ground Force
Mostyn Price at the North Pole
Gerald Kaufman – interviewed
Cee Vee Central – selling yourself on the internet
Desktop editing – does a cameraman need it?
Roger Bolton on BECTU
Creating the look in camera – Geoff Boyle on filters
The post-production house 'Wizardry in Soho' shares a few of its secrets
'Live' from Westminster – televising and lighting Parliament
Zerb Basics: Sound for the Single Camera Operator – Part 1
Hostile environments: Are you ready for them?
---
Guest editor: Paul Mellon
Millennium Moments – how we spent Millennium night
Later than what...? – behind the scenes on the show that takes its music seriously
Kirsty Wark – interviewed
Pete Kelly and Des O'Hare shoot children's drama on a budget
Advice on

buying your own kit

from industry experts
What every cameraman should know... about Electricians
How coverage of the new Welsh Assembly and Scottish Parliament comes to our screens
Developments in Robotic Camera Control
BBC thirty-six camera skiing coverage in Austria
Could a Swedish invention for hand-held camera filming mean the end of back trouble?
Getting trained to cope in an emergency
Road-testing JVC's GY-DV500E
Zerb Basics: The digital camera menu
Peter De Vries turns Summer into Winter with Digital Betacam
---
Guest editor: Ian Nelson
Chris Yacoubian on using minicams in South Africa
A walk up dream street with Caroline Wilson
Alastair Stewart – interviewed
Osteopath Jane Wheeler on keeping your spine in good shape
What every cameraman should know... about Sound
Mike Audick reports on shooting a Husky race
How a cameraman can become a director/producer
David Smith reveals the secrets of shooting a feature on tape
The most helpful sound books for cameramen
Tested – JVC's new DY-90 digital camera
Zerb Basics: Timecode
Book Review: Timecode: A User's Guide by John Ratcliff
Darrell Thornton on the innovative lighting techniques used on Holby City
---
Guest editor: Mike Monks
Watching the Birdies with Bill Oddie
Paul Riley on shooting aboard a submarine
Mike Wood reflects on shooting Floyd Uncorked
Norman Ormal: Creating History with Harry Enfield
Training Tomorrow's Professionals
Stress for cameramen and what to do about it
Lord Puttnam – interviewed
Book review: The Undeclared War by Lord Puttnam
Film and Video: a marriage made in heaven?
Zerb Basics: Lighting in the Dark
Peter Ward talks about writing manuals for the industry
---
Guest editor: Andy Pellett
How the BBC is dealing with the transition to widescreen
Tackling the forest fires of South-East Asia
Andi Peters – interviewed
What every cameraman should know
Zerb Basics: Lighting for the Single Camera
Dave Lawson compares the training he received to what's available today
Part 3 of Mike Winser's memories working around the World
Paul Bowen on the madness of the sportsmen taking part in the Winter Olympics in Japan
JVC's latest cameras tested
The history of Fountain's Studio 5 at Wembley
---
Guest editor: Helen McAdie
Steve Hall on covering the funeral of Diana, Princess of Wales
Experiences while covering the Big Cat Diary
A look back at the career of Ian Stanley
What every cameraman should know
Michael Palin – interviewed
Teletubbies – how it all started and some of the secrets from begind the scenes
Multi-Camera Camerawork by Peter Ward – reviewed
Brian Cave on his coverage of orpahns in Romania and how he continues to help them today
Oceanic UK's underwater image making studio
Zerb Basics: Exposure
Part 2 of Mike Winser's memories working around the World
---
Guest editor: Dick Hibberd
A look back at the first Guild Council 25 years ago
Laurie Gilbert chronicles a shoot in Vietnam
Michael Bond on his days as a BBC cameraman
Dave Rogers avoiding housework in Africa
Michael Buerk – interviewed
Peter Hodges on the move towards digitalisation
Training Focus: Extending one's skills, View from the Trainer and Once a Cameraman...!
Val Sawdy reflects on the problems of her pregenancy pause
Colour Viewfinders – the debate goes on
25 Years of TiCA
Looking back at the challenges in the early days of the Guild
Part 1 of Mike Winser's memories working around the World
Peter Davies recalls making a medical documetary in Wales
Is the Big Screen coming into the home and should you be prepared for it?
Tony Grant clarifies the art of White Balance
---
Guest editor: Steve Hall
Does the HSE include cameramen in their calculations?
Can camerawomen afford to have children?
SX Camcorder – reviewed
Jack Cardiff – interviewed
Father Paul's confessional – stories from the Pros
Steve Hall looks at the list of new digital formats
A look back at the life of Mohammed Amin
Dicky Howett meets Bill Vinten
Tim Felstead on CCDs that switch aspect ratio from 16:9 to 14:3
Paul Hirons gives an account on his company's past, present and future
Howard Dartnell on life on the road as a lone news cameraman
---
Guest editor: Mark Print
Rhys Williams – a welshman abroad
The stories behind staging Les Miserables
A look at the latest camera operating techniques
Vinten's Fulmar pedestal scoops another award
Mark Print on how Mini-cams can be successful
Dicky Howett inside Sammy's
The man behind the National Musuem of Photography, Film and Television
Sky Football – on the road with Ron Seeth
Book Review: Picture Composition for Film and TV by Peter Ward
Phillip's unique approach to 16:9 switchability
Laurie Gilbert's secrets to success as a freelancer
Father Paul's confessional – stories from the pros
---
Guest editor: John Constable
A look back to the pioneering days of television operation
The Evolution of Steadicam
A combat cameraman's view of the Vietnam War
Leo Dickinson talks about filming on Everest
The truth behind British TV – from Canary Wharf

Skillset –

NVQs demystified
The case for keeping analogue processing in cameras
Scentsurround – an exclusive preview
Trouble shooting Health and Safety concerns
A glimpse into the future of cameras
Battle of the Aspect Ratios – the Widescreen debate continued
---
Guest editor: Phill Dobson
An assistant cameraman's POV working in the Atlas Mountains of Morocco
Dicky Howett on restoring ancient TV cameras
On the Edge – An insight into working in dangerous situations
How Widescreen Video Cameras can take us closer to filmic style
Brian Madison takes a look at the life of a Freelance Cameraman
Peter Ward considers Video Journalists, the role of a cameraman and the current state of the industry
Improving the reliability of rechargable batteries
What do 'Widescreen' and 'Digital Television' really mean?
---
Guest editor: Paul Sampson
Demand for crews is up, but can the quality flag keep flying?
Pete Ward sees red of the topic of black-and-white Viewfinders
Frank Biffone on making an antipodean documentary
How BBC News is tackling new technology and new challenges
Ben Cope talks about the human eye
Dutch cameraman Pim Korver – interviewed
An insight into a cameraman's wet weather gear
John Sharp on why he would go back to America if he had the chance
Pye – a piece of television history
A tribute to Bernard Hesketh
Tony Grant discovers Calmar Filters and picks up some tips along the way
An encounter with Ikegami's 'cross-eyed camera'
Chairman-torial – fighting to improve the Art and Craft of Camerawork
---
Guest editor: Peter Ward
Shooting a Hi-8 documentary in Southern Sudan
Tony Grant checks out the 'bells and whistles' available for portable cameras
Andy Hall returns to the 'Street' he left many years ago
Getting into television – the crisis in training
Mike Winser – interviewed
Lamps – cold lighting for hot results
Car insurance hazards
Rugby coverage of television
News coverage on both Film and Tape
A Stills Photographer's view of the Television Cameraman
The volunteers who provide a hospital television service
Bob Ewens in Istanbul
Dicky Howett remembers the EMI 203
A report from a Guild workshop on 'Going freelance'
Police television – Mark Berners and the Essex 'Bill'
---
Managing editor: Alison Chapman
Graham Jaggers shoots drama in the Hebrides
An actors view from the other side of the camera
Stephen de Vere on spending a year in Antartica
A year 'on call' filming Salcombe lifeboat crew
Anchor Marine Services explain why they are a must for production companies filming at sea
Alan Jessop on travelling around Europe for the BBC
The Guild's 21 years communicating with equipment manufacturers
The work of Peter Parks, world expert in Cine-photomicrography
Tales from two months covering cricket in India
A Helicopter Tale – Rex Palmer's lucky escape
Reg King looks back at his earliest encounters with the industry
John Wykes makes the most of current frequency allocations and equipment options
---
Guest editor: Peter Ward
The Guild's 21st anniversary
Year by year highlights of the Guild between 1972 and 1993
Dick Hibberd speculates on the future of the Guild
Gallery from the 1993 AGM
Guild Awards
BAFTA Craft Awards
---
Guest editor: Jill Ranford
The future of the BBC – the Guild's submission to the Department of National Heritage
The story of the British expedition that sent live pictures from 18,000 feet up Mount Makalu
Michael Starks on how 'Producer Choice' works
Sid Perou shoots in the air and below the ground
How Ian Savage picked up a small, desirable job
Crawford Telfer on working for the Christian TV Association
Community TV in Brazil
The secret of Video Diaries
The life of a freelance cameraman in Holland
Gary Buck travels the world with Hi-8
The birth and death of Eldorado, through the eyes of a cameraman
Steve Cowin on training engineers in Asia
The views from a casualty of the latest BBC reorganisation
---
Guest editor: Mark Jerome
How the race was won to manufacture and install dozens of remote heads in time for the Barcelona Olympics
A cautionary tale about the threat of back pain
Dick Hibberd reflects on changes affecting cameramen over the last 10 years
Ira Tiffen's Guild workshop on Filters
The history of the Vinten family business
The 1992 Open Golf
Laurie Gilbert talks about his work in New Zealand, Australia and Europe
A report on the ambisonic sound demonstrations given at the HDTV symposium in Dublin
Reviews of a large range of lighting books
Peter Bower on his involvement in one of Spain's first HDTV studio productions
Keith Gibson talks about covering golf
---
Guest editors: Martin Hawkins & Tony Keene
1991 – The year of change
Stuart Bush on the Jimmy Jib
Mohamed Amin – interviewed
Graham Maunder on a difficult 1991
Russians lighthearted search for the Loch Ness Monster
Learning some lighting tricks from old masters
Alan Cooke's journey to create the ultimate battery belt
Martin Hawkins returns to Siret one year on
Diary of a Challenge Anneka location manager
Graham Brown's lighting approach to Brookside
Mike Dugdale risks his life twice in one day
Audio facilities – how redundancy lead to success
---
Guest editor: Paul Sampson
Differences between video and film camera outputs
VICAL – calibration device for location video shooting
Two independent film makers begin to blossom
Travelling through India with Bobby Robson
PAG and Anton Bauer explain the Ni-Cad battery
25 years of Mark Roberts Film Services
The use of carbon fibre in the Apogee motion control rig
Proposals to ensure predictable standards for all location cameras
A news editor's experiences in Kuwait during the Gulf War
On the move – Cover by FIMBRA
Camera coverage of Branson and Lindstrand's hot air balloon flights
A history of NASA's use of television in space
A Welsh Soap that records each programme on the day of transmission
One man's experiences of Technocrane
---
Guest editor: Steve Hall
The past, present and future of BBC TV OBs
A rough guide to the foreign shoot
The joys of working with silver rather than rust
Mike Winser on the Africawatch Pre-shoot
How the live Africawatch transmissions were covered
Charting the development of the BBC's Radio Camera alongside a cameraman famous for digital communications
A television teaching trip to the Kingdom of Brunei
Rendezvous in Romania
The technology behind the BBC's Cordless Camera
Cinevideo's Robin Tomlin – interviewed
Clive Lovell contacts his optician
Keith Gibson on Bi-focals and looking after your eyes
---
Guest editor: Mandy Moles
Making a programme with the Awfully Nice Video Company
Scorpio – shooting video 3000 feet below sea level
Slim MacDonnell on being an underwater cameraman
Ron Green on working with HDTV
Overcoming the problems of filming Traffik
A look at the achievements of Pierre Angenieux
Behind the scenes of Greater Manchester Police's training school
Whitbread around the world – filming yacht racing
Extracts from Mike Blakeley's diary while in deepest Ethiopia
What is it like for an Englishman working for a Dutch facilities company?
The story behind a documentary on skiing with the physically disabled
---
Guest editor: Deek Rose
A look at Sony's DAT portable audio recorder
Birdwatch – a cliffhanging story
Ian Lewis pays tribute to Peter Wayne
David Hahn looks at some of the latest equipment
David Matthews talks about filming in Africa
The story of Dave Hatter's fight against blindness
Neville Smith on communist Albania
Recent developments of the Betacam SP format
A look at the first year of independent company 'Young Productions'
An introduction to the work of environmental media charity Media Natura
Covering a winter sports endurance competition
Jon Wensley talks about working on a Moscow OB
Keith Gibson on framing for the 16:9 HD aspect ratio
Keith Salmon on some amusing incidents covering live drama
---
Guest editors: James French and Toby Horwood
Covering the Comrades Marathon
Celebrating Concorde's 20th anniversary with the BBC
Ravensbourne – Training for the future
Two Guild members at Montreux 1989
A look at Ted Churchill's Optex Steadicam course
Jill Ranford's impressions of the course
John Barlow's Commonwealth Relations Trust trip to India
Some memoral moments travelling through India
30 years of the Film and Television Institute of India
The making of the first Eureka HDTV programme
The current state of Sony's HD video system
ZIT – Pebble Mill's alternative to Zerb
SSVC – entertaining troops around the world
Holgar Dohn describes the magic of Vinten's Merlin Arm
CCDs – how they work and the latest developments
A Dutch cameraman scales new peaks with a Philips LDK 90
The story behind BBC Newcastle's old and new headquarters
Video Stills Cameras
Martin Hawkins mourns the death of Limehouse Studios
---
Guest editors: David Petrie and Brian Maddison
Salute to John Duncum's work for Zerb
Visiting the North-East's open air 'living' museum
Chris Kelly – taking the first steps into writing for television
Marking 100 years of Barr and Stroud
A look at the RSPB film unit
Still life – A bird's eye view of a cameraman
Ian White on covering cycling for television
David Petrie charts the careers of two men who have spent most of their working lives with Vinten
The background of ITV's 'Get Fresh'
G.S.A.P. – An interesting use for a cartridge camera
Martin Petit takes a busman's holiday in Japan
A look at film in Japanese TV
Montreux and all that Jazz
Poland – behind the curtain
---
Guest editor: Peter Ward
New Techniques in TV drama production
Content v Technique and Film v Tape debated
Single or multi-camera shoots?
Single camera studio drama productions
Brookside – revolution in UK 'soap' production
1984 TiCA Awards
Classic shots by the master of the crane
The television cameraman in 1936
A cameraman's view of the 1953 Coronation
Colour V/F – Dream or Reality?
---
Guest editor: Keith Gibson
A tribute to Dave Swan – by Barrie Dodd
The pitfalls of shooting video drama
Mainline cameras – The Future?
The first video pictures from within a british deep coal mine
Tonight – one part of a 'Two-way story'
Getting the best out of a helicopter shoot
In Hong Kong – That's just not Cricket!
The colouristaion of black and white movies
Heart attack – a personal point of view
Tony Maynard – cameraman
On tour on a motorbike
Telstar – a brief history of the Goonhilly Satellite Earth Station
The Granada TV studios give their first impressions of the Ikegami 323
Network 7 – the lowdown on angles
Freelance cameraman Tony Keene on the perils of answering the phone
A video drama using Prime Lenses
---
Guest editor: Jeff Naylor
Swedish TV's remotely controlled submarine
Roger Bruce – the wrong side of the lens
The different working environments experienced by one freelance cameraman
Zerb photographic competition
A cameraman's view of all that was new at Montreux '87
Getting to grips with Steadicam at the National Film and Television school
Geoff Feld on the past, present and future of video camerawork
An operator's perspective of HD television
BTS LDK90 – reviewed
Why did Granada's 'Flood Tide' look so filmic?
Remote control cranes
Steve Wood investigates Chapman's crabbing crane dolly
How a Granada TV prgamme prompted Reg King to tell us all
AGM 1987
Ron Seath talks about working on the first Western programme broadcast in the USSR
Montreux diary
Richard Lindsay of W. Vinten explains the principles behind the vision range
Walter Lasselly's autobiography – reviewed
---
Guest editor: Graeme McAlpine
Tony Grant looks at operational camera requirements
Keith Salmon – 1986 TiCA Craft Award Winner
Recording Torvill and Dean's 'Fire and Ice'
Russelll Baxter on working in two very different climatic conditions
Harefield Hospital Television
The work of London Fire Brigade's cameraman
The early days of TV sound
How the Philips LDK 90 was designed
ZIT – The National Association of Camera Assistants
Duncan Richmond talks about a 'live' parachute descent
Tyne Tee's cameraman Brian Madison not knowing his left from his right
Brookside's Alan Marsden and the Merseyside wonder
Training TV cameramen at the BBC
TV pictures from occupied Paris
John Henshall unravels the mystique surrounding filters
Paul Kay remembers his experiences with the Mole Crane
CCD Betacam
David Petrie talks about handhelds in large mountings
Tony Grant's views on lens specification
Israel's educational TV
LWT cameraman Andrew Vale with his views on the future of the industry
---
Guest editor: John Duncum
Chairman Lawrie Duley on the Guild of Television Cameramen
Schoolboy Simon Leigh spends a day with an OB camera crew
Mike Winser does location drama much justice
Cameraman Jill Ranford
Hans Essenberg on covering an ice skating tour
TV Optics – Canon's guidebook
Reg Neadles talks about Elstree Aerodrome
Harry the RAF pilot on filming for QED
A tribute to Sir Huw Wheldon
The odd couple – David Sparks and Peter Garland
Sexy Folies
Aaron Ben-David and the West Midlands Fire Service
Data Protection Act – How the Guild and Zerb keep their noses clean on your behalf
Will BBC producer John Shrewsbury ever forgive cameraman Nick Jordan
J. Kingston Platt remembers Hal Minchingtrope and actor Peter Jones knows them both
Reg King reveals his kinky past
Ron Green talks about cranes
A Man with a Heavy Camera
Camerawork - Kiwi style!
Chris Owens gives his views on the Periscope Lens Attachment
---
Guest editor: John Duncum
Night vision broadcast quality cameras
BAFTA – Biased Awards For Television Artisans?
Fuji 44x Zoom Lens
North of the Himalaya
ATN 7 Sydney cameraman Peter Westley on Racecam
The 1986 GTC council members
Is there life after ATV?
A Graphic Account from graphic designer Don Baker
Community Carnet – Free of charge bureaucracy
Vari-Lite – The beginning of sophisticated lamp control?
Zit
Sony BVP 360 – reviewed
Safety – It is your concern or your neck!
Merry Christmas, Mr. Maunder!
Two LWT cameramen take a backwards drive
---
Guest editor: Graham Maunder
Dave Maxwell 'shoots' with the stars
Holography
Supervisor aptitude test
Montreux 1985
Oman – Another tight squeeze by VisionsMobiles
Live Aid 2 – The greatest media event ever?
Live Aid 3 – Harvey Lee, TV critic, gives his views
Let's take safety seriously
New Zealand – Country GP
Giacomo Cerina finds out about Sony's HD TV system
Viewfinders – as two cameramen see them
Batteries – the final word?
Film vs Betacam
ENG cameras
---
Guest editor: Peter Ward
TiCA Awards
Roy Simpler looks back at ATV Elstree
Philips LDK 54 – reviewed
Limehouse Studios – Life in a facility company
The chairman of PAG Ltd talks about batteries
The Economics of Television Productions
Miles Kington examines the mounting of cameras
Working on the Coronation OB
Helen Kingsbury describes her days as a camera trainee
Jane Osbourne writes about the ergonomics of camera design
Tony Grant gives the update on viewfinders
The Old Man of Hoy – Selwyn Cox reviews the latest BBC climb
Donald Aldous tells the story of the BBC's first commercial competitor
Captain Christopher Spencer faces the dangers of ice bergs and Central TV in the filming of 'The Last Place on Earth'
Guild AGM 1985 details
---
Guest editor: Bob Wilson
Graham Maunder gives an insight into Skycam
An update on the facilities available on the Goodyear Airship 'Europa'
Bruce Miller on 'Heli-Tele'
Helicopter pilot Capt. Eric Brown talks about the relationship between a cameraman and his pilot
Geoff Thomas on covering boxing
Sports director Jim Jennett talks about working on both sides on the 'pond'
Underwater film and video techniques
Jim Day recalls working on the D-day celebrations
BBC calling – The secret war of Charles Fraser-Smith
Paul Graham describes the thought behind designing his camera trolley
A contrast in camera techniques between the 1936 and 1984 Olympics
Lawrie Dudley describes how he saw Lime Grove enter the TV era
What can you say about batteries?
Inside CBS operations
---
Guest editor: Peter Ward
BAFTA cameraman nominations and awards
John Henshall speculates on future camera design
The use of TV cameras for motorway surveillance
Techniques which will enable computers to analyse video pictures
John Duncum on covering the Sarajevo winter olympics
Donald Aldous visits the National Museum of Photogrpahy
Alan Martin recalls the early days of Lime Grove studios
How Francis Ford Coppola uses 'video assist' in film production
Dick Hibberd writes an open letter to international members
Dave Davies on restoring a steam road roller
Hitachi SK-110 – reviewed
The definitive viewfinder specification
Laurie Quayle on editing South West Week
Peter Ward reviews a new report on HD television systems
---
Editor: John Duncum
Television cricket – Kiwi style
GTC AGM 1983
Peter Ward argues that TV should be a converstaion with the audience
The move to FEP
John Henshall on lighting
Page and a pram – a true story
Zerb magazine – a case study
Nigel Reynolds, owner of Redapple, talks about how he and his partner found the cash to start their own company
A tribute to broadcaster Stuart Hibberd
Draft outline specification for viewfinders – part 2
---
Editor: John Duncum
Robin Sutherland talks about filming from the back of a motorbike
Keith Salmon on working on 'Boys from the Blackstuff'
Video – Creative stumbling block?
Paul Cheary on macro/micro photography
Lighting training methods – past, present and future
Television producer Heather Mansfield talks about 'Brookside'
The effects of a TV series on the police force
Richard Pilbrow – a personal story
Ex-cameraman Tony Swain talks about following his dreams
Bill Vinten on his past and plans for the future
Draft outline specification for viewfinders – part 1
---
Editor: John Duncum
Zerb's 10th anniversary
The EBU strive to standardise
Mervyn Wilson talks about his years in the film industry
Bob Coles of Tarn describes a rather amazing commerical shoot
Tribute to John Tonge MBE
Dave Ballantyne talks about the BBC's lighting training
Never marry a cameraman unless...
Correspondance between cameraman Dave Hunter and Bill Vinten of W. Vinten. Ltd
Dave Crawley talks about electronic graphics
J.C.A Chaimowicz on the basics of light measurement
Does TV impacts a hostage situation?
Michael Collcutt on the changes occurring within the TV industry
Bruce Miller talks about a rather clever helicopter camera mount
The American market excuse
RCA TK47 – reviewed
---
Editor: John Duncum
Light-weight portable cameras and the changing future of video
Underwater wonderland – TV underwater
The new two man low angle dolly from Vinten
The story of Mark Hume McCormack
The British Amateur Television Club
Peter Mcintyre – interviewed (part 2)
Barry Stevens answers some FAQs on video editing
Is the TV industry heading in the right direction?
Peter Ward suggests TV has lost its ability to discriminate between fiction and reality
Maurice Gorham on the struggles of re-opening the British Television Service after the war
Paul Harding talks about working on the BBC's 'Triangle'
Why is make-up so important?
Mike Winser talks about his life
---
Editor: John Duncum
A look back at Mike Soloman's time as chairman of the guild
The dangers of working near microwaves
Live on the rocks – filming climbers
The Open University – Student and Teacher P.O.V.s
Peter Mcintyre and his LVP company
Aspheric optical surfaces
The Adventures of Niko – competing against the big boys
New Guild chairman Lawrie Duley takes a trip down memory lane
The Cost of Camera Mobility – New possibilities
Bill Barry on Ireland's national radio and TV service
Tim Watson of Westward TV recounts a trip to India
How do you get a journalist's job in radio or TV?
Mike Solomons and two colleagues visit the Angenieux lens factory
Simon Fone on his time as a mature student at York University
---
Editor: John Duncum
John Mayhew explains why his companies uses film cameramen instead of TV cameramen
Geoff Greenslade talks about working on two completely different productions
Should we watch TV's watchers more than we have in the past?
EBU on ENG lenses
Heather Mansfield takes the editor to task over the image he perpetrates with Zerb of cameramen
Kevin Kavanagh – Film cameraman and editor of the magazine Eyepiece
Survive a plane crash – part 2
The most exciting TV show since the embassy siege
Alan Brill gives his personal thoughts on 'Talkback'
Cameraman Mike Hobbs has discovered that there is more to life than work
BBC Lighting Supervisor Hu Cartwright – interviewed
Mike Baldock – Getting to know the he man behind the camera
How do you spend your days off?
A brief history of mechanical television
Sportsfocuser – Automatic focusing
The bare essentials forgotten during recent camera development
---
Editor: John Duncum
GTC AGM 1980
The BBC's supplementary coverage of the 1980 Olympic games in Moscow
John Thornton – photographer
The EBU's thinking on camera lenses for ENG
The Guild – the story so far
Cameraman Iain Nowell on his lucky escape from a helicopter crash
Your ideal camera department?
Deciding what's News – reviewed
A short story about a BBC ENG seminar
How to survive a plane crash
Mike Winser looks back at 18 months working on location drama
Sid and Mary Sidebottom talk about their personal experience of vasectomies
What really makes a cameraman a cameraman?
TV cameraman goes filming
Part 2 of an extract from the biography of Kenneth Horne
Do you want to go to America?
Editor John Duncum is taken to task by Vernon Dyer
Raymond Brooks-Ward recalls the lighter side of his broadcasting career
The secret Paris of the 30s
David Dimbleby – interviewed
Dave Hunter, Phil Jones, Roger Prior and Martin Wyatt prove they are more than just zoom and focus merchants
Susan Mayer talks about going through a marriage breakdown
---
Editor: John Duncum
Colour V/F – Dream or Reality?
Cameraman Alistair Watt talks about ENG in Scotland
John Radley talks about life in Canada
A Westward Television production crew talk about their new purpose-built Sony OB unit
A different girl every night – Sci-Fi by Dr. John Pierce
Just for you – A high fibre diet
A message to broadcasters from Leo Sturgess
Part 1 of an extract from the biography of Kenneth Horne
Pope John Paul's visit to Ireland
Freelance sound engineer Chris Wolf deescribes his way of life
The production side of lunchtime show 'Pebble Mill at One'
Buying early cottage furniture – What should you be looking for?
Nigel Renolds – interviewed
Director Roger Gage looks at life from both sides of the camera
---
Editor: John Duncum
Coverage of the San Diego air disaster
Stuart Orme – The Mersey Pirate
Live current affairs TV – What could go wrong?
Covering a total solar eclipse
Alan Marsden talks about his travels in Asia
The ITN ENG Technical Evaluation Period
Tony Astridge tells a tale of TV coverage in Oman
Philips LDK 514 – reviewed
Rambling Dick Hibberd
Montreux '79 – report
Bob Coles on the design and modifications of future portable cameras
The secret Paris of the 30s
Mike Baldock – A tribute by Mike Solomons
HMI Lighting
Tommy Hodgson describes climbing the Lake District's second highest peak
Canned laughter – Good or Bad?
Back pain
The IBA and the Future
ORW-EL Television Inc.
Simon Fone talks about life as a mature student at York University
John Pett discusses whether the 'fun' as gone out of television
Protecting your eyesight – An experts advice
VTR editing – The future?
---
Editor: John Duncum
The 1978 GTC AGM
Bob Turner talks about working as a Newsfilm cameraman
Miniaturising the Louma Camera Crane
Multi-camera shooting
A glimpse into the private life of Douglas Birkinshaw OBE
Freelancers' success with ENG
Society of TV Lighting Directors
Nigel Fitzhue reveals almost all
'What became of the Telepole idea?'
The Future of the GTC – Point of view answers to Rod Allen's opinions
An excerpt from the late Henry Longhurst's autobiography
The GTC – What do you think so far?
TV in New Zealand
Portables – Five different cameras reviewed by the professionals that use them
CCD Chips for Tubeless TV Cameras
Mike Solomons on the new Health and Safety Act
---
Editor: John Duncum
John Henshall on Dick Hibberd
Harry Storey tells of a time of heavy camera gear
Packer Cricket
Part 2 of an excerpt from the biography by Richard Dimbleby
Who wants to be ENGenius?
Will Wyatt describes another way to produce a programme
VTR Animation
Vintage TV cameras
Gore-tex – The future of waterproof clothing
The low down on the Institute of Broadcast Sound
American ENG
Le Patomane – A tribute to the unique act which shook and shattered the Moulin Rouge
The new Vinten 'Post Head' – Opinions from the pros
Back pain – A doctor osteopath's approach
Why I dislike cameramen by Mike Wilson
A Canadian view of NAB
Simon Fone on the BBC Location Production Unit
Film director Bernie Lewis discusses cameramen
Angenieux – The problems/The solutions
Brief first impressions on the Marconi Mk. 9
Steve Jellyman on Phonographs
To train a cameraman
Philips LDK 15 L – reviewed
Wimbledon as seen through the eyes of John Duncum
The GTC – Of value to manufacturers and users of cameras alike
---
Editor: John Duncum
Reports on the first all ENG programme produced in the UK
Swedish Radio
Bob Coles talks about RTS's 'Light revolution' symposium at Pebble Mill
Jon Rees column – The problem of foreigners on holiday
The work of a TV cameraman
History of the Zoom Lens – part 2
Ronnie Wladman – A brief tribute by Robin Scott
Sheila Hocken tells us about how she can see after years in the dark
A TV and film lens testing system
Dave Rogers on his initiation tour of BBC's Lime Grove studios
Geostationary satellites and communications
Part 1 of an excerpt from the biography by Richard Dimbleby
Ron Tufnell – A 'behind the scenes' man who has acheived much with little recognition
Microprocessors
A Guild guide to cameraman training? – by Dick Hibberd
IVC Portable on Vinten Ped
Ros Storey checks out some new vision mixing equipment
Thin Film TV Panel – How soon the end of the Cathode Ray Tube?
The Cancer Puzzle by Robert F. Weaver
Sheer enjoyment – by a sound engineer
First impressions of the Thomson Microcam
A brief report on the Scorpion Dolly
---
Editor: John Duncum
GTC AGM 1977
There's not many people know this by Reg King
An International Ideal – The future of the Guild
Burt Betts – His life and times
IVC – The first 12 months
Swiss-French ENG
Angenieux – The problems/The solutions
NECAM – The Neve Computer Aided Mixing System
John Duncum's first impressions of Steadicam
Run for your life – Why you should take up athletics
Jon Rees column – My holiday
Citizen's Band radio
Using films in the classroom
Lulu Whittlesea achieves fame through the BBC's 'It's a knockout'
Vinten's Peregrine crane
New techniques in TV drama production
History of the Zoom Lens – part 1
T.C. 6 & Link – Part 2
Lasers – present and future
Weekend in Europa by Chris Williams and Robin Sutherland
The work of a TV cameraman
---
Editor: John Duncum
Pocket Television
Ideas to increase AGM attendance
ITN's two camera range rover
Television – A career?
Vinten's Mk. 5 pan and tilt head – reviewed
Plains goes to Washington – The first BBC ENG documentary
John Bliss looks back at how TV has changed during his career
Was Paul Revere a minute person?
Calculating the width of shot – the easy way
Bill Vinten on the Vinten Peregrine
Murphy's law – if it can happen, it will!
Philips LDK 25 at Yorkshire TV
Film or Television cameraman?
John Glenister on his career
Portable TV lighting control system
John Duncum on fluid heads
Avoiding back trouble at work
New directions for cameramen
Jim Atkinson 'Hell on Wheels' – TV drama from the cameraman's point of view
BBC Television Studio 6 and the Link 110 camera
Seaside Special by a sound engineer
The prototype Canon 25-1
---
Editor: John Henshall
Perspective – The editor's thoughts on equipment, packaging, entertainment, a new magazine title, and the next issue of the magazine
How two ITV companies came to cover the same football match
An engineer comments on professionals in the industry
Vinten Petrel pan and tilt head – reviewed
Philips LDK 5 – reviewed
The 1974 March GTC council meeting report
Did you know – discussions about camera hardware
A tribute to Dave Rogers
Keith Salmon on the Vinten Peregrine
Love and lust behind the camera
Profile 3: Vernon Dyer
The 1974 June GTC council meeting report
The Marconi Mk. 8 portable camera – reviewed
---
Editor: John Henshall
The last 1973 GTC council meeting report
The aims and means of the GTC
A visit to Rank Optics
Heard and seen – the first camera
Profile 2: Ted Cocks
Waterbound – HTV Scanner takes to water
David Bull – interviewed
LDK 15 Mk. 2 – reviewed
Vernon Dyer on Zoom vs Turret
Thermal underwear for cameramen
Book review – TV Camera Operation by Gerald Millerson
---
Editor: John Henshall
Being a cameraman – It's easy if you have fourhands!
Profile 1: Peter Sargeant
The ACC 5000 Portable Colour TV Camera – reviewed
Link's Series 110 Colour camera – reviewed
The Flying Pod – transporting portable cameras from one shoot to the next
John Scarrott on Granada's Studio 8
The June 1973 GTC council meeting report
Peter Jones at the AGM
---
Editor: Dave Rogers
Being a cameraman – Point and Focus
Is an ITV exchange scheme for cameraman a good idea?
Poem – The Television Cameraman by George R. Wood
Credits for cameramen
Experimenting with new lightweight OB equipment
Television cameramen and their Guild
Thoughts on Television and its future from the early pioneers
The Philips LDK 15 prototype – reviewed
Geoff Plumb takes a look at London Weekend Television's move from Wembley to the South Bank
---
Where to next?