Exclusive discount from Lumolist for GTC Members only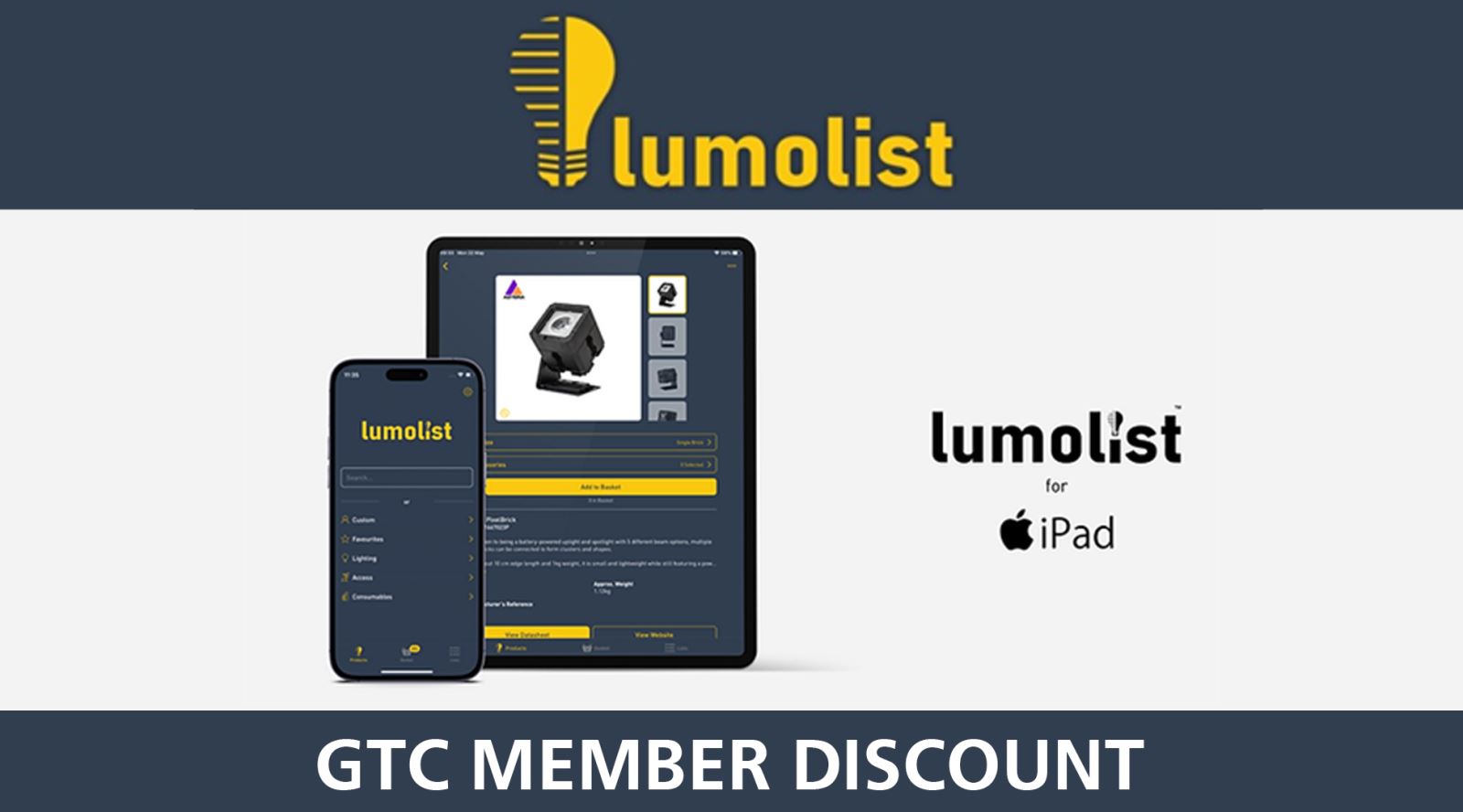 GTC members are being offered an exclusive discount from Lumolist, a ground-breaking new app for iOS iPhone and iPad.
Lumolist addresses key areas that impact the day-to-day activities of anyone involved in lighting:
Continuous product evolution makes it difficult to keep up with technology
Lack of readily available product information, images, specifications & support
Inefficient and outdated methods for ordering equipment from rental companies
What Lumolist offers is a comprehensive app-based catalogue of lighting equipment and accessories with instant access to images, key specifications & product datasheets and tools for creating equipment lists and sharing directly with colleagues and rental companies.
Through its user-friendly UI, Lumolist offers an impartial, up-to-date database of over 7000 lighting fixtures with offline access and the ability to share and collaborate with colleagues making the process of selecting fixtures easier and more efficient.
As well as helping with selection, Lumolist can also ensure safe rigging on set by verifying appropriate accessories and fixture weights. It can help enhance the knowledge of trainees by allowing them to identify lighting fixtures and accessories, and with product updates sent straight to your device, you will be kept informed of new launches and product updates.
The app is free to download with the Basic plan and includes:
searching and browsing the extensive catalogue
viewing product images
descriptions and basic specifications
browsing related products and accessories
creating and saving unlimited templates
The Premium plan (monthly or annual) includes:
all the free features and many more
including creating your own kit inventory
automatically saving previous orders
viewing datasheets and photometrics
saving your favourite products
exporting lists via email and messaging apps
---
Lumolist is offering all GTC members 30% Discount on Yearly Subscriptions
(First Year Only)
For more information about the Lumolist App, please visit www.lumolist.com or visit the App Store to download for free.