BB&S Introduces Reflect 4-Bank Remote Phosphor Lighting System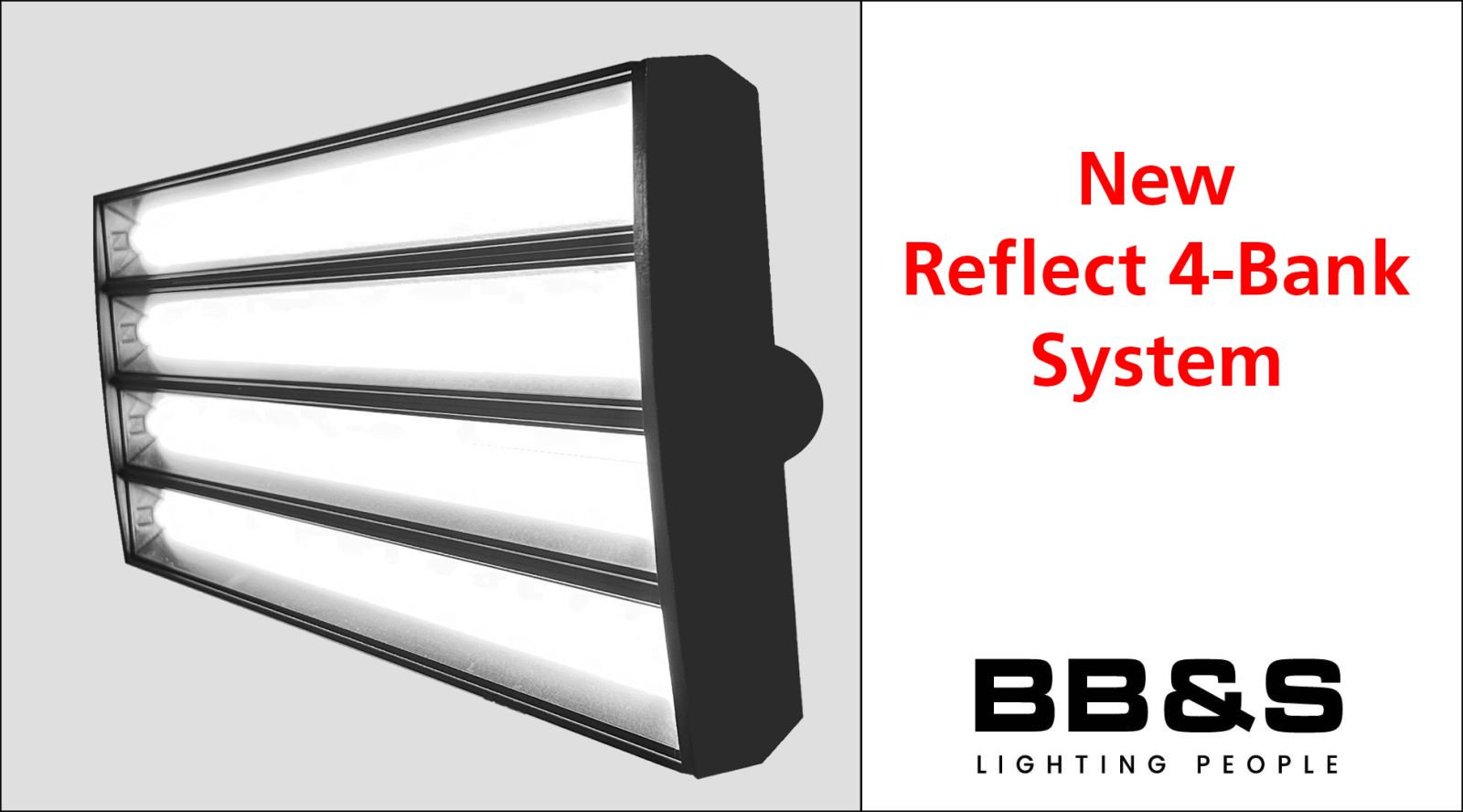 GTC Sponsor, BB&S Lighting adds the new Reflect 4-Bank System to its family of studio lighting. This line was created in response to LDs lighting sets and newsrooms who requested the colour rendering and longevity benefits of remote phosphor technology in ultra-efficient, lightweight fixtures that fit grids and walls.
Visit BB&S at the NAB Show, Booth #C3746 - 16-19 April
The BB&S solution is a family of Reflect fixtures:
1' 4-Bank comes in 3200°K and 5600°K remote phosphor fixtures.
2' 4-Bank is offered in 3200°K and 5600°K remote phosphor and Bi-Color 2700°K-6000°K.
With convenient rectangular form factors and flat profile, these modular plug and play lights fit right into multi-lamp reflector banks or grids. Featuring extreme efficiency and high output (60 lux at 10/feet) coupled with consistent colour rendering of 95 TLCI, they produce stable, colour shift-free output over time for which remote phosphor is known.
Reflect 2 and 4 Banks' new housing is designed using the latest engineering techniques emphasizing efficiency in power and output.
Additionally, BB&S has carefully sourced the highest grade new Blue LEDs which produce at least 10% extra output over other types. The new fixtures emit 1100 lumens a foot versus 1000 lumens a foot. As combined semihard and soft lights, their superior reflectors utilize a semihard reflective surface to project 90-degree directional light pattern. Optional diffusion slides into a side slot, resulting in a soft surface with 140-degree dispersion.
BB&S Reflect 4-Banks are designed to meet all the critical specs for newsrooms requiring extreme accuracy combined with control that's fully dimmable without flicker or colour shift. Their remote phosphor LEDs produce soft beauty light that's requested by LDs for modeling faces and excellent for illuminating backgrounds.
Reflects offer low power draw, high light output, 90-degree light dispersion, with heatless and fan-less operation. A new optional 4-Channel Controller provides 8/16-bit DMX 512/RDM with internal 48V power supply offers control. They come with full length adjustable yokes plus TVMPs. In addition, optional new louvers help produce directional light, for added drama or impact.
---
For more information about BB&S 4-Bank Reflect Lighting in North and South America visit bbslighting-com.myshopify.com/collections/reflect-4-banks/products/reflect-4-bank or www.bbslighting.com.
In Europe, Africa and Asia visit: www.brothers-sons.