bebob launches 4- or 8-channel wall chargers for complete battery portfolio
The new 4- and 8-channel charging stations from GTC Sponsor, bebob are particularly aimed at rental companies, but are also ideal for customers with larger stocks of batteries. Easy to mount on the wall and cascadable, they are perfect for storing and charging batteries that are currently not in use. The wall-mounted chargers are available in five versions, with different mounts: for normal-sized A-Mount (Gold-Mount compatible), V-Mount and B-Mount batteries as well as for Vmicro and Amicro batteries. The wall chargers for the latter can charge eight batteries in parallel instead of four.
Batteries ready for use at any time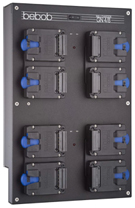 The 4-channel or 8-channel Li-Ion parallel chargers with wall mount each provide 168 watts of output power and a total of 16.8 volts or 10 amps (four channels at 2.5A or eight channels at 1.25A). For extra fast demand, parallel charging of two batteries with 5A is also possible. For example, two V45micro batteries can be charged to 100 percent in less than one hour – or two B480s to 80 percent in slightly over five hours. For eight micro batteries, the times are correspondingly longer, depending on the capacity – for eight V45micros, it takes just under four hours to charge them to 100 percent.
Thanks to the AC loop-through connection, several wall charging stations can be connected in series – with a standard 16A AC fuse, this can be up to 15 pieces. A charging indicator shows the charging status through different colours.
The different wall chargers weigh approximately four kilos each and have a maximum circumference of 270 x 89.7 x 410 mm. A practical carrying handle is attached for transport.
---
Price and availability
The recommended retail prices for the wall chargers are between 1,090 and 1,690 Euros/1,190 and 1,845 US Dollars. The chargers are immediately available from all established bebob dealers.


For more information, please visit: bebob.tv