Introducing Matthews' Mini Boom Rolling Kit
26 August 2023
Matthews Studio Equipment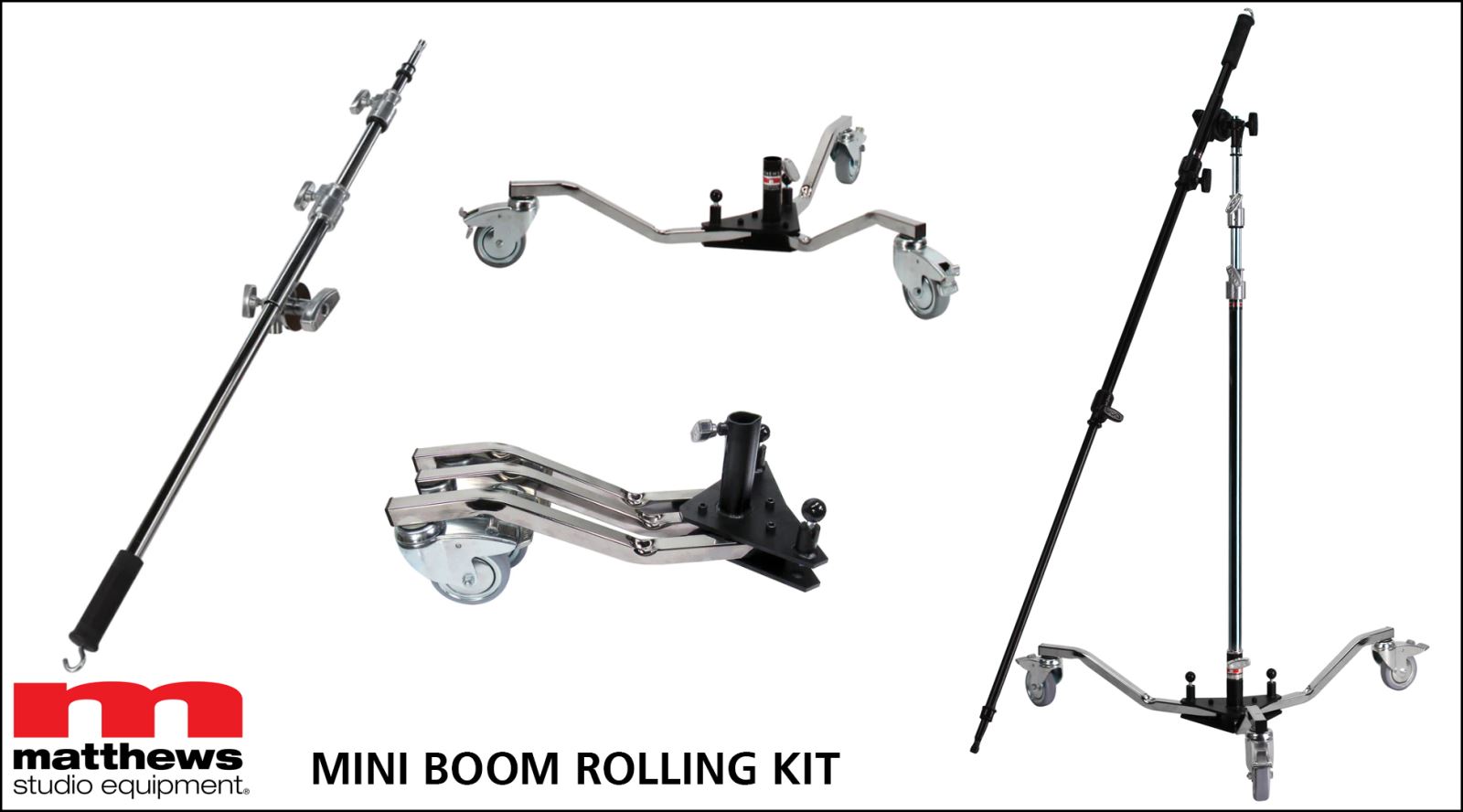 GTC Sponsor, Matthews Studio Equipment's Mini Boom Rolling Kit caters to the unique on-set needs of still photographers and content creators. The Mini Boom Rolling Kit package is designed to add speed and ease to repositioning the key light throughout a shoot so the photographer can better maintain flow and momentum. There's a smooth rolling 3-wheeled base with multi-direction locking casters carrying a 40" C-Stand riser. Atop it a 5/8" Baby Pin holds a sleek mini boom and all the goods needed to adjust lighting.

Inspired by renowned photo artist, Jeremy Saffer, he calls it:
The solution to many potential problems. The versatility of the base, riser, and arm means I can set the light anywhere in the room at any direction even 10+ feet above the subject or lighting them in a balcony above. When that heavy light needs to be moved, I can do so with just a slight push of my finger as the Rollway Base takes on all the weight and moves smoothly in every direction.
The Kit is a combination of four essential tools:
Runway base
40" C+ Riser
Mini MatthBoom
10lbs Boa Bag
The components may also be individually used. The low rolling Runway Base (6"/152mm) supports light fixtures (up to 250 lbs/113kg) mounted directly to its Posi-V-Lock Junior Receiver. Three non-marking, locking Tente casters provide straight tracking and secure locking. Weighing 20-lbs. (9kg), It expands to 32"/812mm, yet folds to 20"/508mm.

The 40" C+ Riser offers the hallmark strength and reliability of Matthews renowned steel C-stands with ergonomic T-handles, steel reinforced threaded collars, and a knurled 5/8" Baby Pin featuring a 3/8"-16 threaded tip. It extends from 45.5" to 110.5".

The accompanying Mini Matthboom is the solution for easy light fixture and strobe adjustment. Built of steel to remain rigid, even loaded with accessories, it can mount on a 5/8" Baby Pin and telescopes from 45"/115cm to over 80" 203cm at full extension, terminating in a 5/8" pin. Steel reinforced threaded collars ensure a solid bite from t-handles while set-screws and V-shaped brass brakes enable durable 3-point contact. A rear hook is ready to grab a sandbag for balancing while the knurled baby pin ensures safe mounting.

To help stabilize, Matthews includes a 10 pound/4.5kg Boa Bag. This versatile steel shot bag quickly wraps around the base of any stand, column, brace, T-handle, arm, or boom.

Matthews' equipment is built tough from top grade industrial materials including steel components which are welded, coated, polished, and assembled. Caster wheels are non-marking and lock in the caster position as well as rotationally. Brakes ensure 3-point secure locking. Equipment's Mini Boom Rolling Kit is manufactured, and quality controlled in Matthews Burbank, California headquarters.
The Mini Boom Rolling Kit will be on display at Matthews' Booth #228 at the BILD Expo in NYC, 6-7 September
---
For more information visit: https://bit.ly/MSE-MBRK for these smart solutions. For information about Matthews Studio Equipment visit www.msegrip.com