Matthews - Gatorbuddy
3 August 2023
Matthews Studio Equipment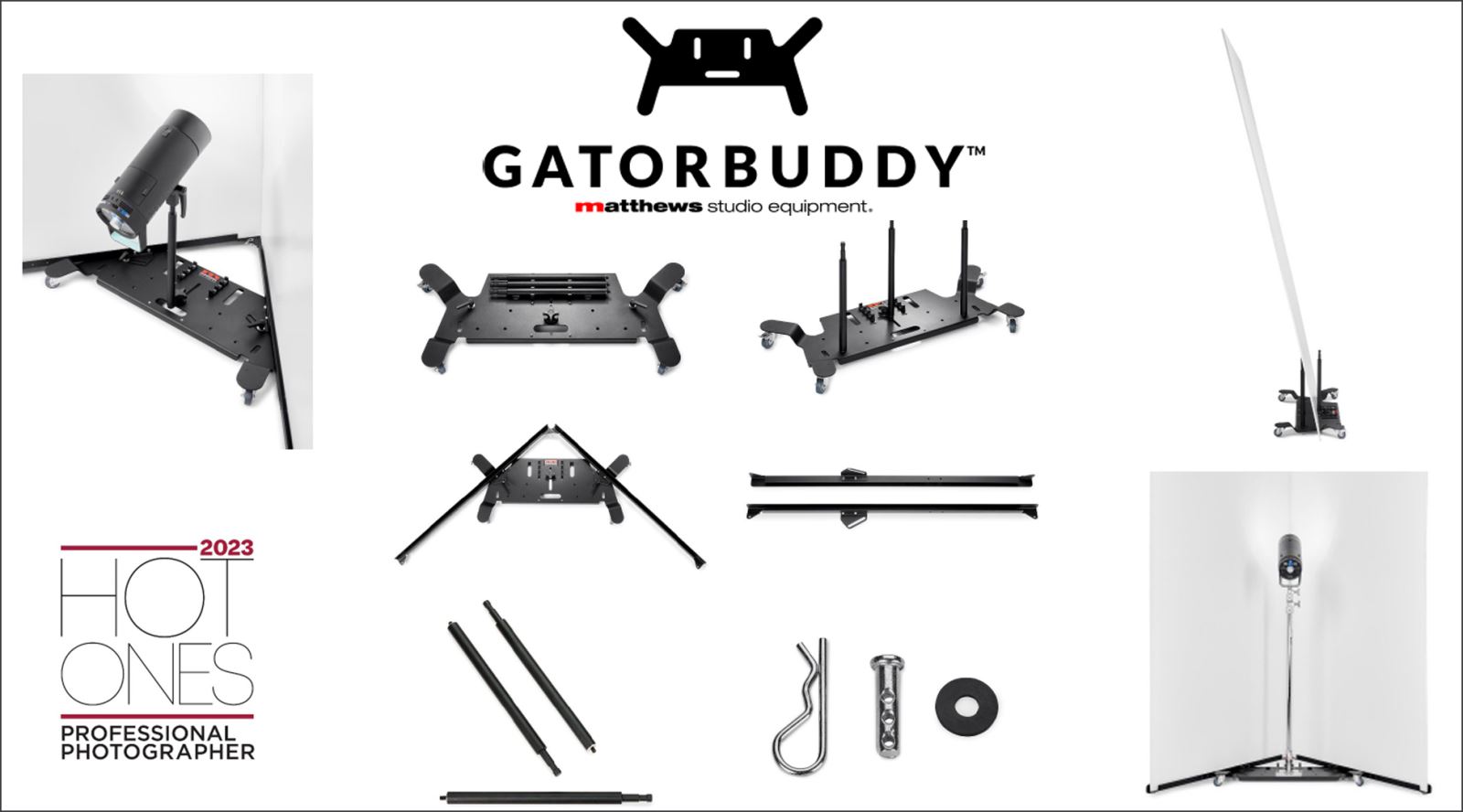 GTC Sponsor, Matthews Studio Equipment, Gatorbuddy was designed by a photographer as a better way to handle the bounce and fill cards that are a mainstay on photo shoots. It can also help create instant walls and dividers and be equipped with a laptop for use as a portable viewing station. Gatorbuddy contains a rugged wheeled base with a low center of gravity that keeps it stable. With a stable steel base and four Tente caster wheels, Gatorbuddy glides, and swivels then locks safely in place. Like a dolly, it can help move panels and V-Flats easily in and out to swap backgrounds.
Gatorbuddy ships complete with rolling base, three baby risers, and two V-Flat holders that are attached with three washers, 3 screws, and one pin. Gator Board / V-Flat not included.
Selected for the Professional Photographer Magazine's 2023 Hot Ones buyer's guide.
Available to ship now.
Characteristics
Low profile steel base with black powder coat finish
Center slider knob allows positioning gator board angles up to 15 degrees
Adjustable angle V-Flat channel accepts up to 3/4" thick foam core
Four 8/32" threaded inserts configured to accept a Jr Wall Plate
Aluminum baby risers snap-in to base via durable black plastic clips
Eight 3/8"-16 tapped inserts
Durable Tente casters
Pegboard slots for easy wall storage
Dimensions
Base: 39.2"x18.3"x.85" (99x45.7x2.1cm)
Risers: 16" with 1" diameter (410mm with 25mm diameter), 5/8"pins
Base Weight: 26lbs (12kg)
Base Capacity: 50lbs (23kg)
V-Flat Holder: 49"x2" (122x5cm)
V-Flat Holder Weight: 2lbs each (1kg each)
For further information please visit: gatorbuddy.com
MSE products are available in the UK through Cirro Lite.