Matthews - Mini Boom Rolling Kit
16 November 2023
Matthews Studio Equipment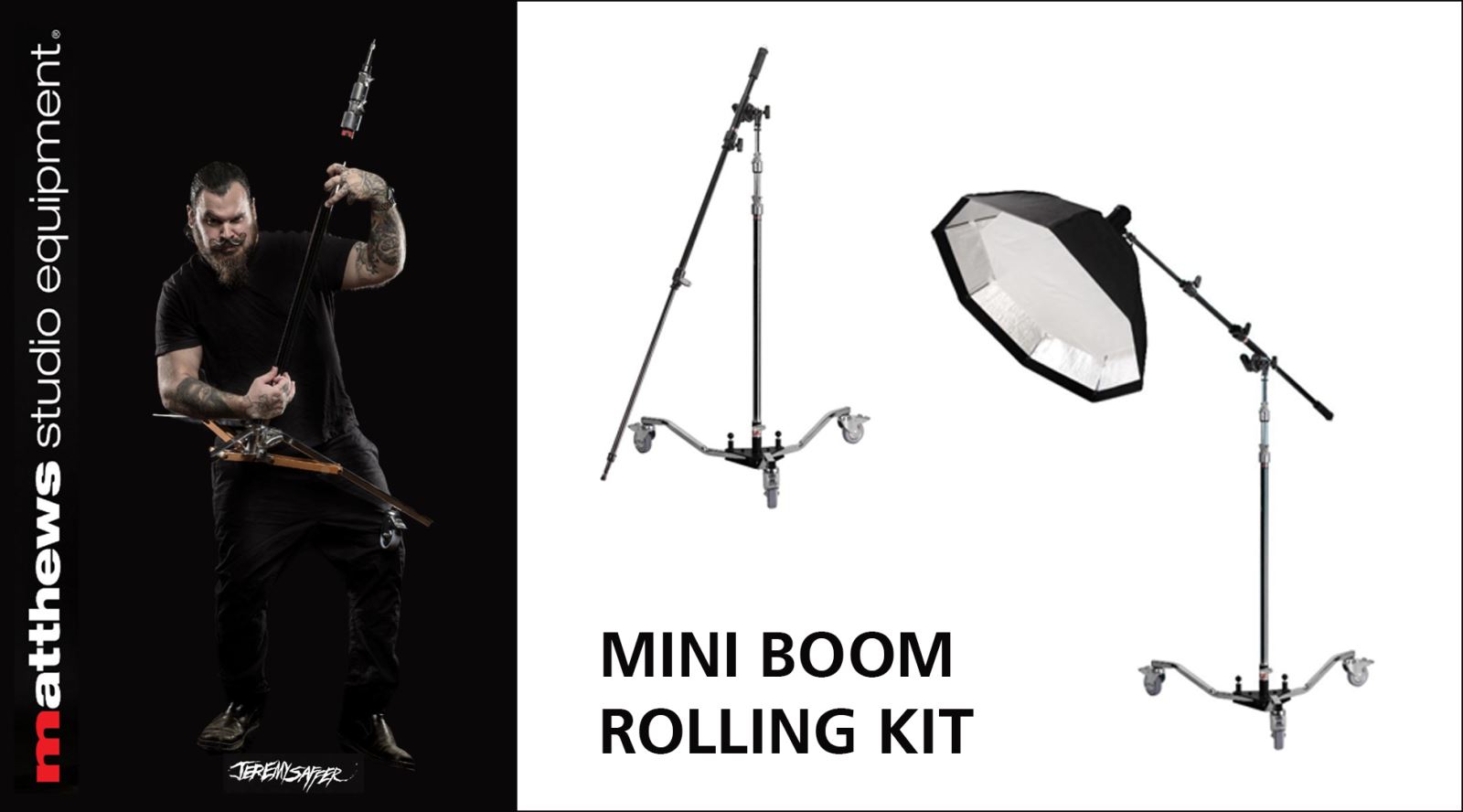 The Mini Boom Rolling Kit by GTC Sponsor Matthews Studio Equipment, was inspired by renowned photo artist, Jeremy Saffer, who says:
The Matthews Runway Base with a 40" C+Riser and Mini Boom Arm is a game changer
A booming lighting setup package that adds speed and ease to repositioning the key light throughout a shoot, allowing the photographer to maintain flow and momentum. The Mini Boom Rolling Kit components are interchangeable with standard size grip and lighting mounts and may be individually used, allowing for increased versatility and flexibility, meeting a variety of set needs.
---
COMPONENTS
Runway Base, 40" C+ Riser, Mini Matthboom, 10lbs Boa Bag
FEATURES
Knurled baby pin ensures whatever is being mounted stays put.
V-Shaped brakes ensure strong 3-point contact.
V-Shaped Posi-V-Lock junior receiver ensures strong 3-point contact.
Thick threaded collars ensure solid bite from t-handles and set screws.
Rear mounted hook on the boom accommodates Boa Bag or other sand or shot bags for counterbalancing
Straight tracking, multi-direction locking, non-marking Tente casters – best in the business.
Shot bag wraps around stands, columns, bases, jib handles, t-handles, booms, arms and more.
Textured neoprene sewn directly into the center boa strap prevents unwanted slippage.
SPECIFICATIONS
Weight: 47.5 lbs (21.55kg)

40" C+Riser: 10lbs (4.54kg)
Mini Matthboom: 7.5lbs (3.4kg)
Runway Base: 20lbs (9.07kg)
10lbs Boa Bag: 10lbs (4.54kg)

Footprint: 32" (81.28cm)
Folded base: 20" (50.8cm)
Min height base only: 6" (15.2cm)
Min height base + column: 49" (124.5cm)
Max height base + column: 113" (287cm)
Min height base + column + boom below grade: 26" (66cm)
Max height base + column + boom: 186" (172.4cm)
---
For further information visit: msegrip.com/products/mini-boom-rolling-kit. For information about Matthews Studio Equipment visit www.msegrip.com