Mediaset migrates live production facilities to IP with Sony XVS-7000 switchers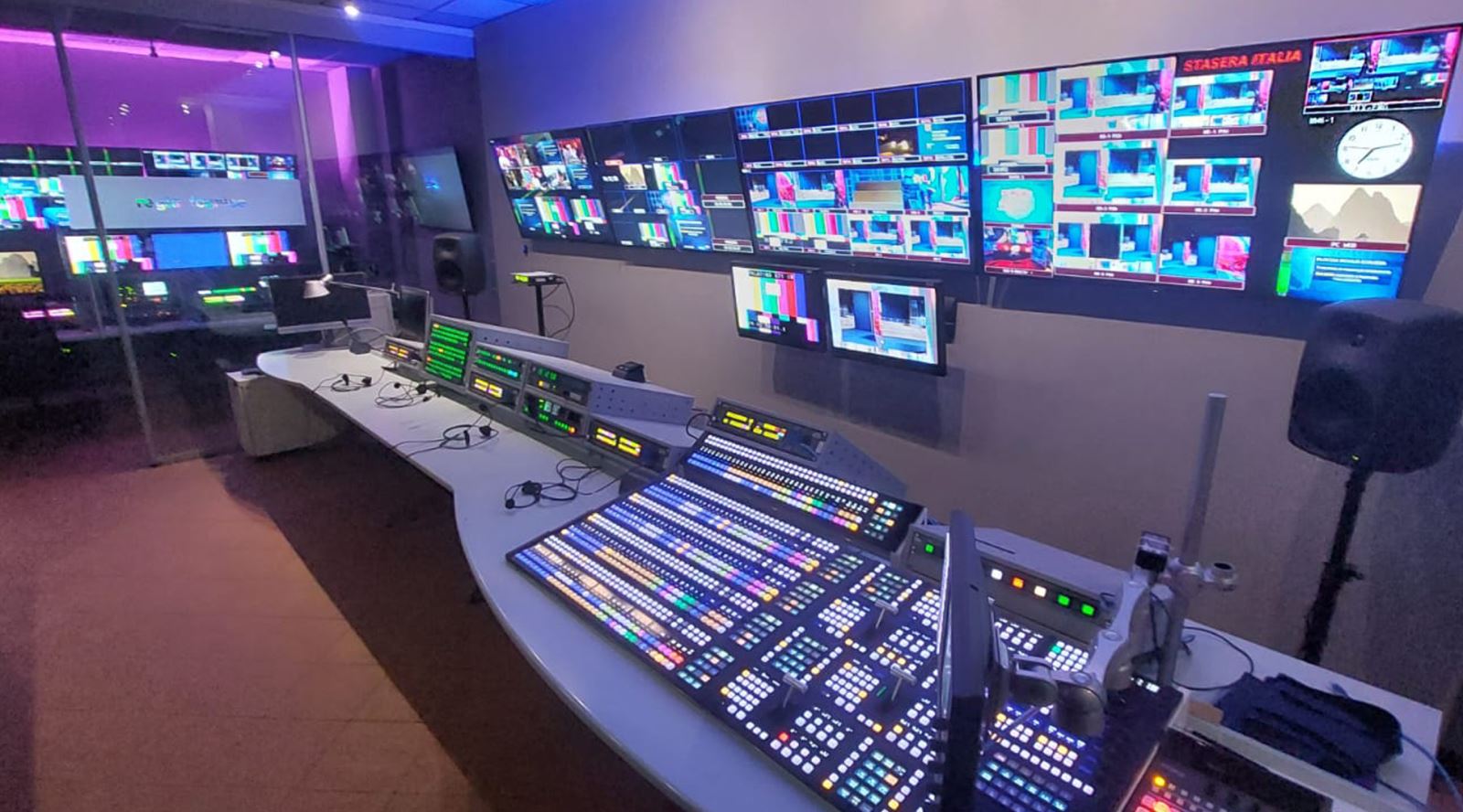 Italian broadcaster Mediaset is future-proofing its TV production infrastructure with a progressive migration to ST.2110 open standards. As part of this IP evolution Mediaset has equipped production centres in Milan and Rome with GTC Sponsors, Sony's XVS-7000 video switchers as well as PVM-X2400 24-inch 4K HDR TRIMASTER monitors for high-grade picture quality control.
Offering a wide range of free-to-air DTT, SAT, as well as free and SVOD OTT channels, the multiplatform media provider is transitioning from its legacy SDI infrastructure to the benefits of IP production workflows.
Compliant with ST.2110 and NMOS standards for IP media production, the multiformat switchers are fitted with 100G input/output boards to support simultaneous 4K and HD working in a single stream with on-board format conversion. A total of five XVS-7000 units have been supplied and commissioned by Padua-headquartered integrator Professional Show who has been assisting Mediaset with its IP upgrade plan, including system installation and training.
Marco Di Concetto, Head of Broadcast Production Systems at Mediaset, says:
We've been familiar with the quality and reliability of Sony vision mixers for a very long time, and the XVS-7000 was a logical choice for Mediaset. As the first production switcher with 100G I/O capability – as well as support for both ST.2110 and NMOS – it fits smoothly into our new IP-based studio infrastructure that's based on open standards.
Enrico De Capitani, Key Account Manager, Media Solutions, Sony IPSE, says:
In the pre-competitive phase for Mediaset's selection of technologies, Sony and Professional Show cooperated closely in the careful evaluation and interoperability of equipment with respect to SMPTE and AMWA standards.The positive results demonstrate how efficient Sony was in implementing the standards specifications – and how the close working partnership between Professional Show and Sony has enabled the best integration of the IP solution for Mediaset.
In addition, Sony has delivered twenty-five PVM-X2400 24-inch 4K HDR TRIMASTER high grade picture monitors that are installed in studio control rooms and OB vehicles at the broadcaster's Milan and Rome sites. Replacing Mediaset's previous monitors, the PVM-X2400 offers exceptional image quality with highly accurate grey scale reproduction. While the broadcaster is currently producing content in 1080P HDR, the new monitors also offer a future-proofed path to 4K working. Complementing the PVM-X2400, Mediaset is also using Sony's LMD-A170 and LMD-A220 Full HD high-grade LCD monitors to maintain optimal colour consistency throughout the production workflow from shooting to distribution.
Enrico Beoni, Sales Manager EMEA at Professional Show, says:
At the outset of this project Mediaset set the goal of selecting the most reliable technology, together with the involvement of partners to guarantee efficient operations as well as a clear evolutionary path. With Sony, we have found the ideal partner to best meet Mediaset's requirements and look forward to developments counting on a first-class vision.

For more information, please visit: pro.sony