Symply unveils High-Performance Ethernet-connected LTO Appliances at IBC 2023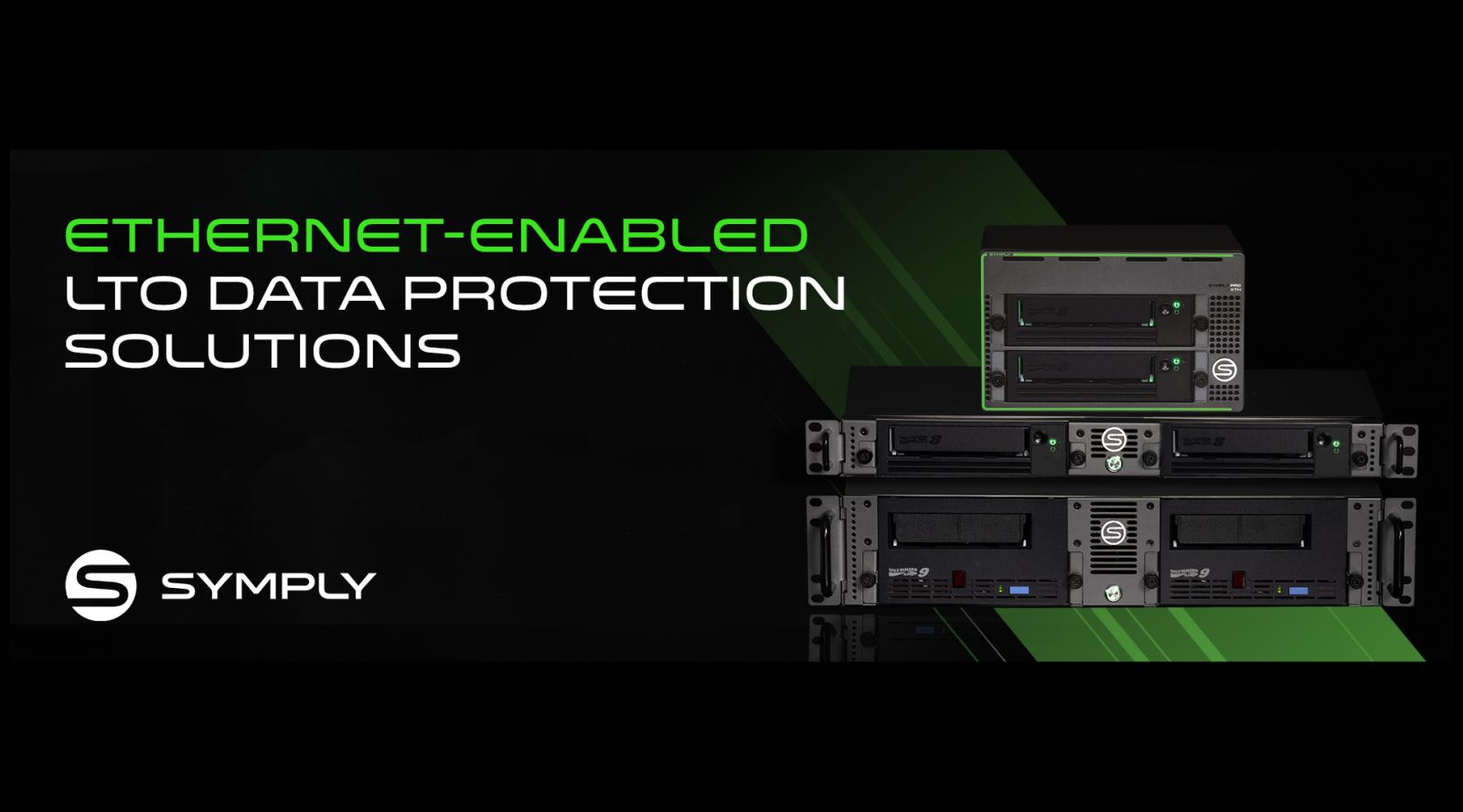 GTC Sponsor, Symply, specializing in professional storage solutions, announces the launch of a new range of cutting-edge LTO appliances with Ethernet connectivity that expands the SymplyPRO family. Designed for Ethernet-based and Hyper-converged environments including media & entertainment, enterprises and datacentres, the SymplyPRO Ethernet LTO appliances provide secure, shared access to LTO tape drives over a 10Gb Ethernet network.

Please visit the Symply stand at IBC 2023, Hall 7, Stand C21

Elevating Data Protection with Network Efficiency
By deploying the appliances on a network, organisations can reduce reliance on dedicated and expensive servers by dispersing and de-centralising data protection tasks with readily available highspeed access to Linear Tape-Open (LTO) technology.
Unparalleled Configuration Flexibility
SymplyPRO Ethernet LTO appliances are available with half-height LTO drives in single and dual-drive desktop and 1RU configurations, with 2RU rackmount configurations featuring full-height LTO drives offering native performance up to 400MB/sec per drive. Dual 10Gb Ethernet SFP+ interfaces offer flexibility in network connectivity. The appliance can support either an additional two LTO drives via a SymplyPRO SAS LTO making a total of four LTOs, or the appliance can be connected to a LTO tape library installed with one or two LTO drives, providing maximum flexibility.
The Heart of Performance: A Potent ARM Processor
At the core of these appliances lies a potent ARM processor, enabling lightning-fast command processing and data traversal on distinct pathways. This results in maximum block transfer sizes to the LTO drives across the Ethernet network, while integrated data acceleration technology ensures optimal performance without straining host system compute resources. Resultantly, SymplyPRO Ethernet LTO appliances provide a remarkable 20% performance increase over conventional SASconnected LTO drives. With dedicated Dual 10Gb Ethernet network connectivity, client systems can achieve aggregated performance of up to 2,000MB/sec when reading from or writing to the LTO appliances.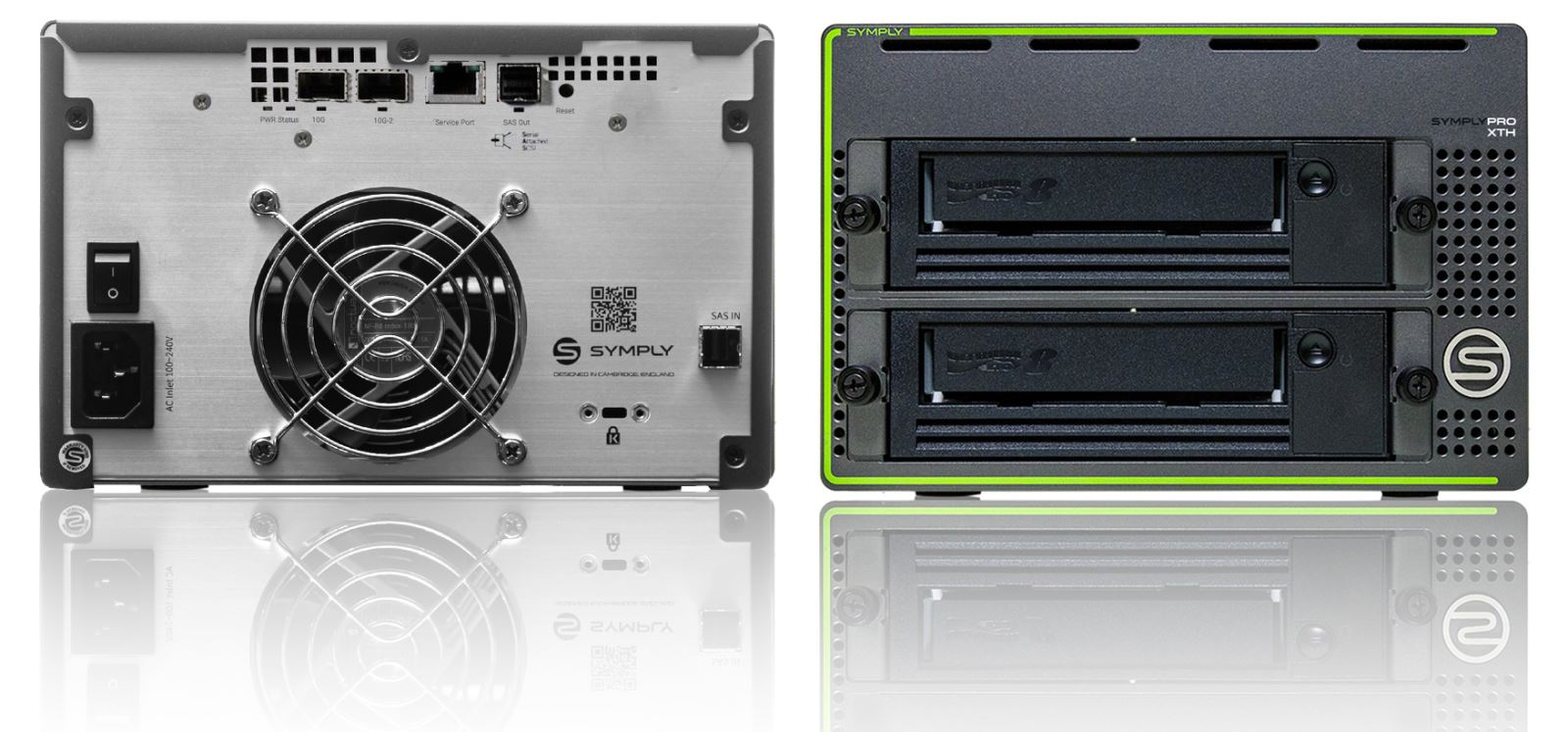 Keith Warburton, CEO of Symply says:
Our vision for these new Ethernet-connected appliances is to make enterprise-class LTO storage readily accessible for organizations of all sizes. By moving LTO to a dedicated Ethernet fabric, a user experiences a new level of performance, scalability, and dispersed ease of use for important data protection initiatives.
Key features of the new SymplyPRO Ethernet LTO appliances include:
Dual 10Gb Ethernet SFP+ modular connectivity
Powerful ARM processor for optimized performance and reduced host-CPU load
Up to 2,000MB/sec aggregate performance across 10Gb networks
Built-in LTFS support for easy data interoperability
Support for leading Data Protection ISVs
Intuitive interface and diagnostics for easy setup and troubleshooting
---
The new SymplyPRO Ethernet LTO appliances are available to order now starting at $7999 and can be seen on the Symply stand at IBC 2023, Hall 7, Stand C21.

More information can be found at gosymply.com/item/ethernet-lto