The Stars align to create dynamic new studio space for Aragón TV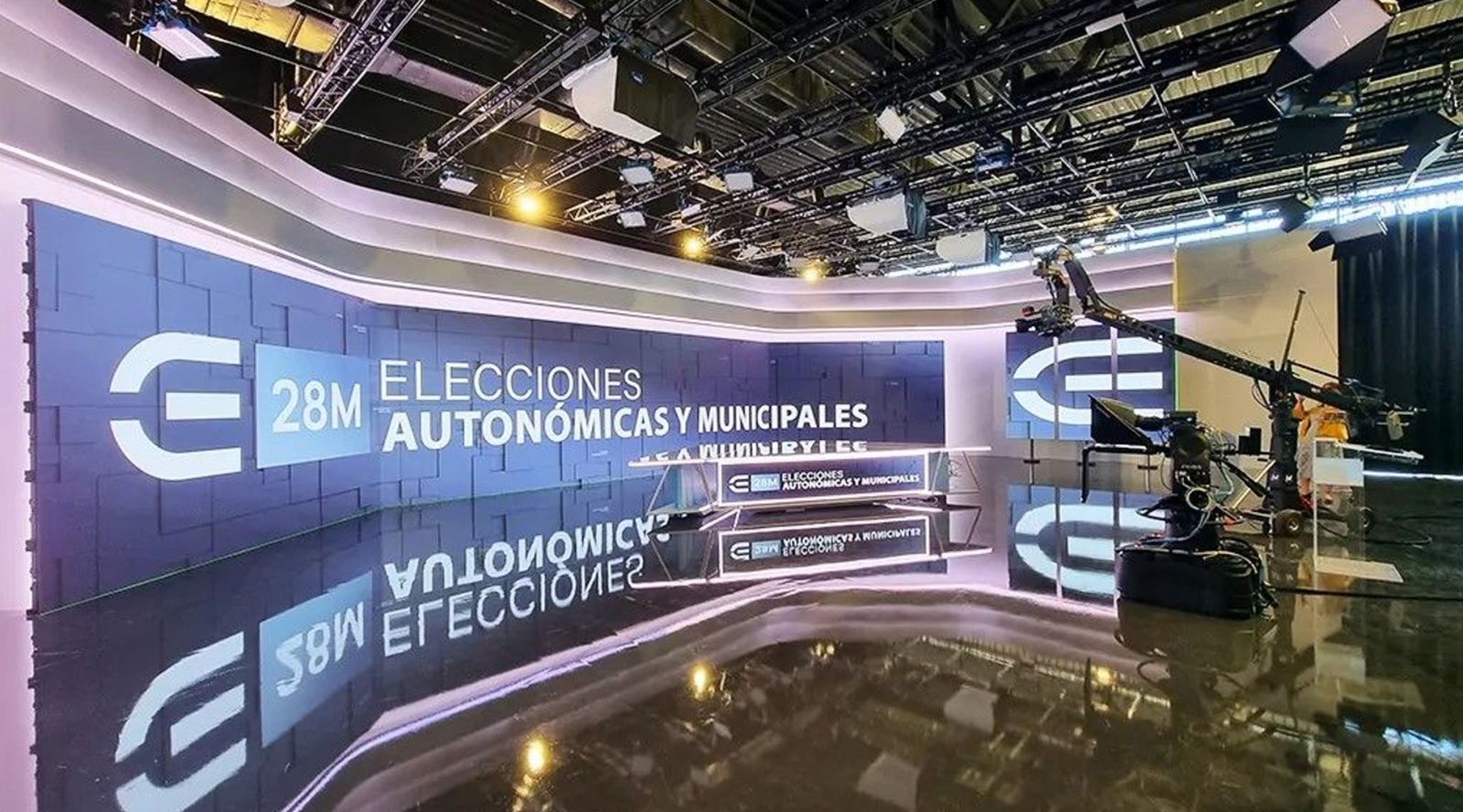 GTC Sponsor, Vinten, has provided advanced robotics solutions to Spanish regional broadcaster, Aragón TV, in the recent upgrade of its studio facilities in Zaragoza. Recognising the importance of incorporating the latest broadcasting technology into their production workflows, Aragón TV engaged Madrid-based Moncada y Lorenzo to commission new robotic camera systems and teleprompters.
Advanced robotic systems from Vinten, including robotic heads, height drives, and pedestals, were selected to enhance Aragón TV's studio capabilities. With these robotic systems, the studios gain precise control over camera movements and positioning, enabling smooth and dynamic shots.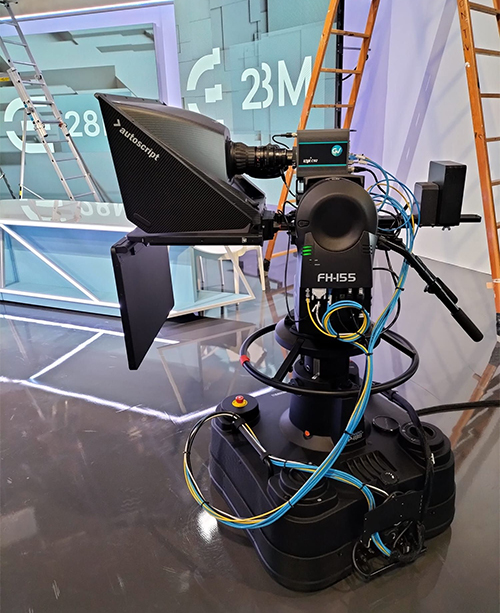 Another crucial component of the upgrade was the adoption of an IP-based teleprompting solution. By implementing Autoscript's IP-based WinPlus-IP intelligent prompting software, Aragón TV can share control across their facility. In the studio, the EPIC-IP prompters integrate talent and prompting monitors to further enhance the overall experience for presenters.
One of the key features of the Vinten robotics system selected by Aragón TV is the inclusion of a StarTracker optical camera tracking system in the FH-155VR heads. The unified solution enables seamless tracking of camera positions in real time without the need to add extra equipment to the camera package. A StarTracker camera built into the head references reflective stickers on the studio ceiling and provides precise tracking information.
Juan José Ramos, Technical Director at Moncada y Lorenzo, explains:
The high level of accuracy offered by the integrated StarTracker solution removes the need to target the robotic equipment each morning, saving time and resource. It also gives production staff the freedom to move the cameras around the studio in manual mode and change quickly back to robotic control in any position.
The enhanced studio setup at Aragón TV includes distinct spaces dedicated to different program production. Studio 3, covering an area of around 400 square meters, primarily focuses on news production. It boasts a brand-new, expansive LED wall and advanced AR capabilities to help bring every story to life. As the largest studio, it features four Vinten FP-188+ robotic pedestals fitted with four FH-155VR StarTracker robotic heads. This robotic support system also allows manual operation, making it perfect for dynamic production. The camera setup is completed with four EPIC-IP19XL teleprompters, which combine a 19 inch prompt monitor with a large integrated 24 inch talent feedback monitor. The prompters each include a CLOCKPLUS-IP to display time, tally, and camera number, ensuring all information is clearly displayed to the presenters for easy reference.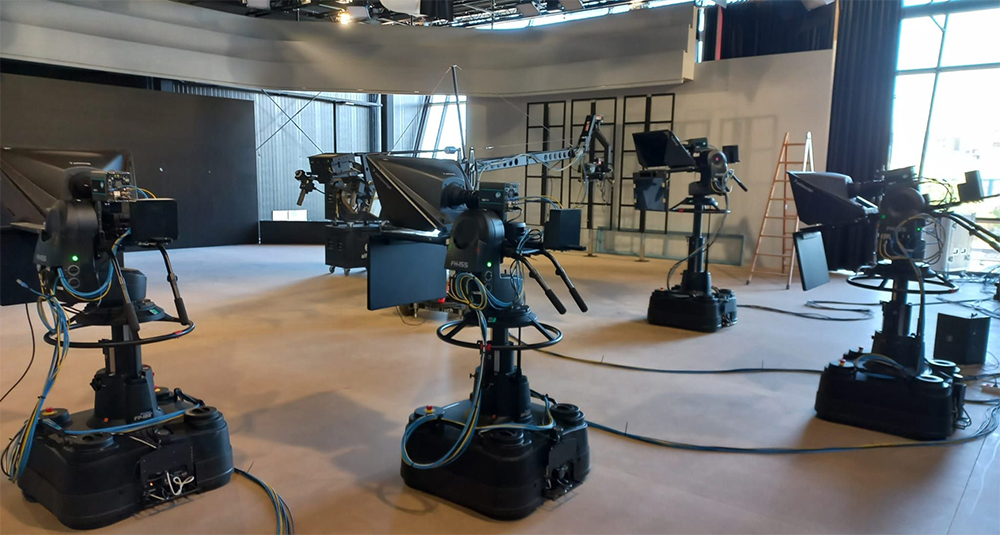 Measuring approximately 100 square meters, Studio 4 is dedicated to virtual productions. To suit its smaller size, Aragón TV selected Vinten FE-165 Height Drives that offer exceptionally smooth robotic elevation where there is no need for XY movement. Studio 4 can effectively leverage the advantages of robotic automation, including encoded tracking for VR within a more compact space.
Integrating third-party equipment was a critical aspect of Aragón TV's upgrade. The robotics system seamlessly integrates with Brainstorm and Avid Maestro engines, enhancing AR capabilities to enable immersive visual effects. Autoscript's WinPlus-IP prompting software automatically receives instant script updates from the facility's iNews NRCS system. They also use a Tallyman server for Tally over IP signalling for both the robotics systems and prompters.
Through this comprehensive studio upgrade, Aragón TV has achieved increased operational efficiency and improved production quality. Integrating advanced robotic systems, AR/VR capabilities, and IP-based teleprompting solutions has revolutionised their program production.
Philip Dalgoutte, Product Manager Robotics and Prompting at Videndum Production Solutions, says:
Building automation that improves the efficiency and creativity of a broadcaster's production capabilities is key to our ongoing roadmap. By adopting technology such as Autoscript's IP control for added flexibility and Vinten's integration of StarTracker technology for improved accuracy, Aragón TV has shown how our products can help broadcasters maximise resource while continuing to develop ever more engaging content.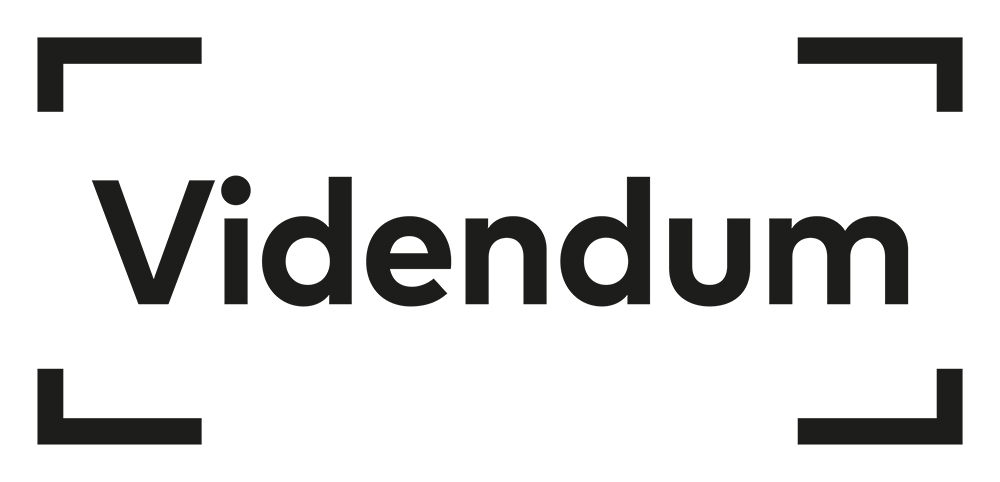 More about Vinten robotic studio automation solutions: www.vinten.com