University of the Arts London invest in new Sony Crystal LED VERONA displays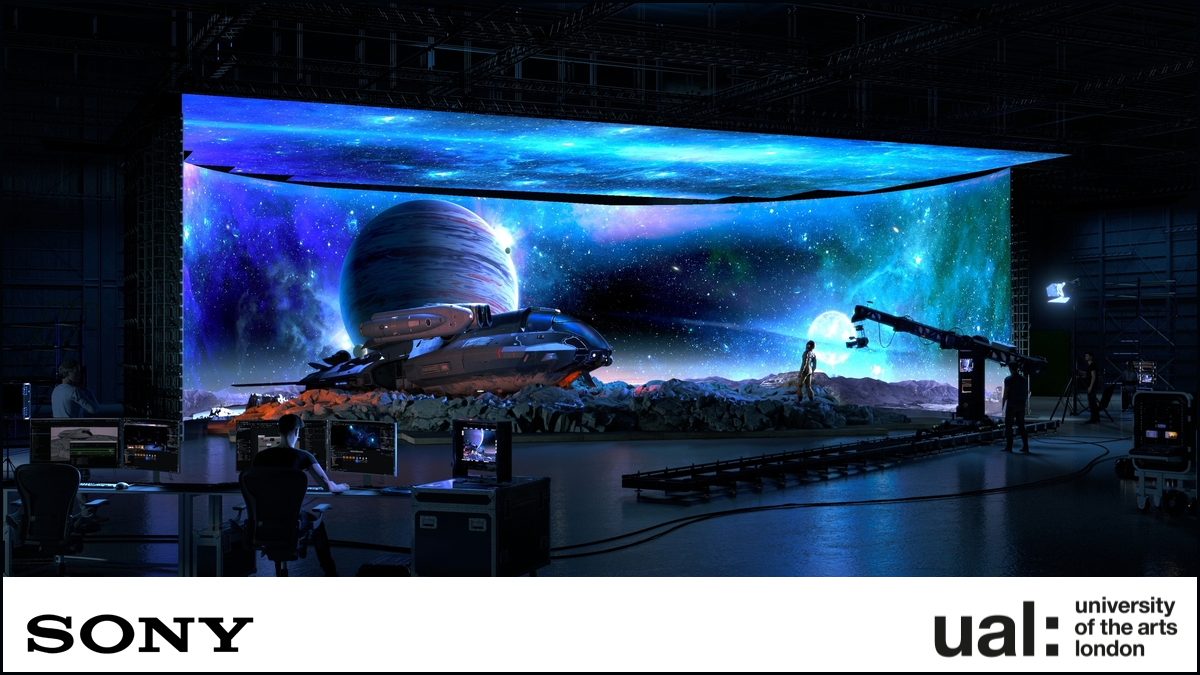 University of the Arts London (UAL) has signed the first deal to install GTC Sponsor, Sony's new Crystal LED, VERONA Displays, to create a state-of-the-art, research-grade Virtual Production Stage for frontier exploration of ambitious creative possibilities.
In June 2023, University of the Arts London (UAL) announced the development of a specialist Virtual Production (VP) research volume - via its Fashion Textiles and Technology Institute (FTTI) - to create capacity for innovative, trans-disciplinary practice-led research in VP/XR textiles and dress. To support this new facility, UAL went looking to outfit a space with a robust yet cutting-edge, future proof display solution.
UAL worked with Lux Machina, specialists in display technology, to test all major brands and were impressed with the unmatched brightness of Sony's Crystal LED technology and the Deep Black Anti-Reflective Surface Technology from VERONA. This new technology delivers both deep black image expression and low-reflection performance that greatly reduces the contrast loss caused by light from adjacent LED panels and studio lighting equipment. The University will also benefit from Sony's Virtual Production Tool Set, a software-based solution that allows users to design the picture they need for virtual production and serve their creative projects.
Researchers will be able to pre-visualise scenes and creative concepts using Virtual VENICE for Unreal Engine to develop, pre-visualise and configure the Crystal LED displays for rapid deployment of VP projects.
Marcus Saunders, Associate Director, Technical Resources, UAL says:
We are thrilled to be partnering with Sony for our incredible new Virtual Production Research Volume, delivering a frontier focused capability through the lens of textile, archive, and movement in a creative context. Sony have an extraordinary legacy operating at the intersection between cinematic imaging, colour science and advanced display technology. The VERONA display is strikingly different and will deliver a huge leap forward in our research aims, pushing at the very fabric of what if visually possible in the exciting emergent field of in camera visual effects (ICVFX).
Peter Hill, Technical Manager, 3D and Material Science, UAL says:
In our search for a display partner, we undertook an extremely thorough and demanding series of camera and screen shoot-outs, bringing both our in-university knowledge and the incredible expertise of Lux Machina to find the best displays for this project. We had tremendous support from industry providers and suppliers in bringing everyone together - something perhaps only an entity as independent as a university can achieve. Ultimately, the Sony Crystal LED stood out in so many of our scoring categories, and then proceeded to get even better with this latest generation, VERONA. The new displays in 1.5mm and 2.3mm pixel pitch fulfil our remit of creating a fantastic, flexible VP stage with incredible quality, unbelievable low reflectance, and flexibility.
We expect an incredibly broad and diverse range of projects to spring from this exciting new space - both in terms of offering virtual production to creative forces that may not have explored this technology yet (contemporary dance, costume and archive) as well as technology focused researchers working with industry partners. We are incredibly grateful to Sony for their ongoing support, expertise and appreciation of this project's goals.
Sebastian Leske, Head of Cinema Business Development at Sony Europe says:
We are delighted that UAL are the first customer in the world to install our brand-new Crystal LED VERONA Display, making a huge statement in the Education sector about the use of virtual production to aid research and learning. Our partnership with UAL has been over 12 months in the making and through rigorous testing, VERONA came out on top thanks to its 1.5mm and 2.3mm pixel pitch paired with the new modular tiering cabinets, allowing the digital wall to be built and rebuilt for each project. Sony is the only company who can support this type of project end-to-end from a solutions and workflow perspective, which has allowed us to gain critical technical expertise and are committed to moving virtual production forward in close collaboration with industry leaders and partners like Epic Games and Lux Machina.
Professor Jane Harris Director of UAL's Fashion, Textiles and Technology Institute says:
We're thrilled to announce the development of UAL's specialist VP and XR lab facility. These technical advancements, paired with ambitious research and development planned for the longer term, will present a world of opportunities – not only to the fashion and wider dress and textiles sectors, but also for the UK's cultural and XR industry more broadly.