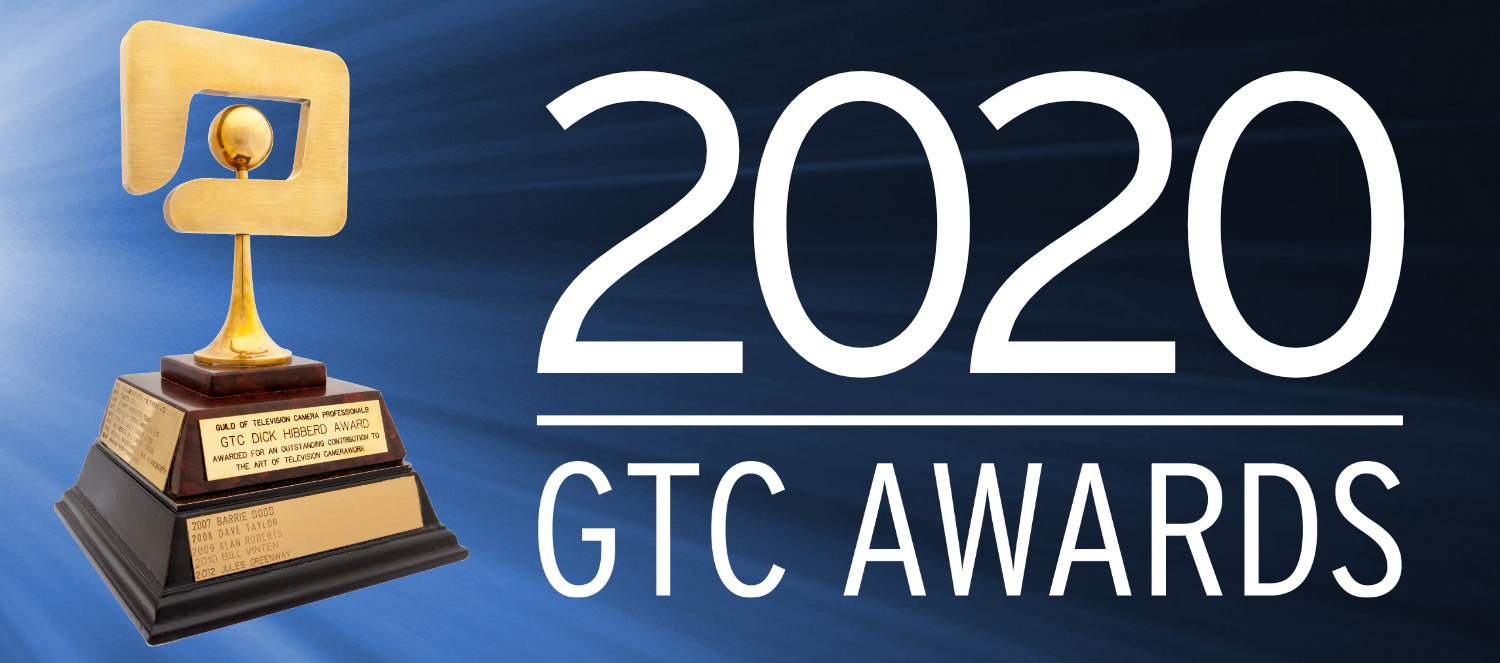 ---
---
And the 2020 nominations are ...
GTC Awards for Excellence
Seven Worlds, One Planet, BBC1
The Camera Team
TX date/time: October/November 2019

Reason for nomination
Just when you thought wildlife programmes couldn't get any better, Sir David Attenborough's latest nature series has to be the best wildlife show ever – and we are only two programmes in! It's visually magnificent and has photography that is almost abstract in its beauty. I lost count how many times I said "Wow" during Sunday evening's transmission. Another beautifully filmed, landmark series from Sir David with such an important message about how we look after this earth and worthy of a GTC Award.
---
Meat: A threat to our planet?, BBC1
Director of Photography: Alisdair Livingstone
TX date/time: 21:00 25/11/19

Reason for nomination
A very important and relevant subject matter in a presenter-led format, shot beautifully in some challenging locations and situations. The standard of camerawork was superb. An example was totally engaging coverage from up in a very high tree canopy, featuring the presenter and guest, and also some excellent long-lens shots of the eagles being discussed; all perfectly static and sharp etc, presumably done whilst on ropes.

---
Rise of the Nazis, BBC2
Director of Photography: Duane McClunie
TX date/time: 21:00 02/09/19

Reason for nomination
Innovative use of aspect ratio, LUTs and lenses/lighting, in two different styles, one for the talking heads, the other for the dramatic reconstructions. The way in which the reconstructions featured actors who looked like the real people, but were never seen actually talking, was very clever, engaging and novel, enhanced by the 4:3 aspect ratio and grading to match with film stock of the period. Likewise, the talking heads style was equally engaging.

---
Ben Fogle: New Lives in the Wild, Morocco, Five
Director of Photography: Geraint Warrington
TX date/time: 23/04/19

Reason for nomination
I would like to nominate Geraint for his work as DoP on this New Lives in the Wild episode in Morocco. The programme looks stunning: great actuality coverage combined with some amazing GVs that work with the narrative to produce a great documentary.

You can view the programme online:
https://www.my5.tv/ben-fogle-new-lives-in-the-wild/season-9/morocco
---
I'll Get This, BBC2
Director of Photography: Olly Wiggins
TX date/time: 19/12/19

Reason for nomination
This programme just looks stunning. It's shot "in the round", 360 degrees but there is not even a hint of another camera in shot – they are very cleverly hidden. Due to the nature of the show, filming five celebrity diners in a fly-on-the-wall manner, but making it look so slick and stylish, is very clever.The lighting looks amazing too. It has a warm and cosy dinner party feel, but without feeling dark and unlit. As a viewer you feel that the celebrities are enjoying their dining experience and have forgotten about the cameras.

---
Hippos: Africa's River Giants (Natural World), BBC2
Director of Photography: Brad Bestelink
TX date/time: 26/07/2019 21:00

Reason for nomination
The film shows how Africa's most dangerous animal is the 'architect' of the Okavango Delta itself, shaping its waterways. Brad Bestelink's photography captured rarely seen sequences using all the modern camera technology including underwater camera traps, traditional aerial and drone footage. The last 10 minutes display the lengths his team went to in dangerous situations in order to get the footage.
---
The Last Igloo, BBC4
Camera: Christian Collerton
TX date/time: 31 Dec 2020, 7.30

Reason for nomination
Resembling the style of 'slow TV', this 90-minute film for BBC Four featured creeping close-ups of frosted ravines and soaring shots of glistening glaciers in Greenland, but specifically the life of modern-day Inuit hunter Julius Nielsen as he tries to maintain the hunting traditions of the Inuit in a 'climate-changing' world.

For Christian Collerton, director, producer and cameraman, a moving moment came at the end of the gruelling filming process, in which his main camera had seized up in the cold after filming the construction of an igloo. He was filming the nightfall and looked up above the stars to see, and capture on camera, the huge dancing sheets of blue and green of the Northern Lights. He had never seen them before and they made an extraordinarily powerful climax to a moving film.

---
Sex Education, Netflix
DoP: Jamie Cairney
TX date/time: 2019

Reason for nomination
Unique look and feel to the show and worked so well along with the production design. Looking forward to seeing series 2!
---
Jools Holland's Hootenanny, BBC2
The Camera Crew
TX date/time: 31/12/19

Reason for nomination
Yet again the camera crew on this show produced what looks like a seamless two-hour show, with many different performers, bands and interviewees around the studio. Despite the deception of almost being a 360 studio shoot, the clever choreography of the cameras never misses a beat. The whole show is a credit to the crew working on it. (Big up for the amazing sound crew too!).
---
Sacred Wonders, BBC1
Camera: Peter Keith, Russell Leven and Alistair McCormick
TX date/time: 07/08/19
Reason for nomination
Beautiful aerial and ground photography covering the Angkor Wat temple cleaning sequence in extremely challenging citcunstances.
The photography team had just one opportunity to film a team of temple climbers as they scaled the 170m ancient structure without ropes or safety equipment in order to remove tree growth. The weather was extremely challenging and the site was filled with more than 5000 worshippers and sightseers. The site was also home to over 500 birds, around which the aerial work had to be done. The team triumphed in captured a never before seen sequence.
---
Dancing on Ice, ITV
Icecam (Steadicam on ice skates): Dominic Jackson and Jordan Cowan
TX date/time: Sundays between 6/01/19–10/03/19
Reason for nomination
A whole series of brilliant teamwork bringing some spectacular shots that fitted in seamlessly with the live performances and the rest of the camera coverage. The addition of the Icecam to the show helped audiences get closer to the action and feel as though they were on the ice with the skaters. I don't believe anything like this has been done on an ice-rink on a live broadcast before and the skill and synchronization required of Dom and Jordan deserves an award.
---
Flirty Dancing, Channel 4
Camera: Chris Yacoubian
TX date/time: Saturday nights 2019
Chris Yacoubian was nominated by two different GTC members for his work on this show.

Reason for nomination
Beautiful cinematic filming of dance sequences. Wonderful lighting and also Chris looked after his crew so well, dealing with the overall production and pushing for the best quality and working conditions all the time. The whole series is wonderfully shot and lit by Chris.
Reason for nomination
Chris not only served as DoP to these beautiful sequences within the main show, but brought his own vision of how this crucial element of each episode should play out editorially, working closely with the production team and choreographers to choose the best areas within each stunning location to get the most out of each dance. His ability to work under time pressures and adverse weather conditions to produce stunning results in lighting, camera placement and beautiful shots was inspirational, and created a brilliant working atmosphere. This in turn helped lift the whole crew, and the results on screen are testament to his tireless enthusiasm and attention to detail. There couldn't be a more fitting tribute to how appreciated and highly regarded he is than for him to be trusted to direct the charity special episode, which was again a huge success. A true inspiration I'm humbled to have worked alongside.
---
Flirty Dancing, "The Dances" Series 2, Channel 4
Jimmy Jib Operator: Dave Emery
TX date/time: 08/11/2019 8PM
Reason for nomination
Dave's input from a jimmy jib perspective gave the show such a beautiful lift and put into images the visions I had when putting the dance sequences together. His skill and use of the jib added a layer of beauty and complexity to the series and I feel this should be recognised for how brilliant it was!
---
Coldplay Sunrise and Sunset, You Tube
Camera Team
TX date/time: 22/11/2019

Reason for nomination
A live transmission shot on Sony Venice cameras, where the team worked closely together to capture some beautiful images in a documentary style. Not your average multicam live music broadcast.
I was the supervisor on the job and so probably slightly biased – however, I think the camera team should be recognised for their work on what was a challenging yet special production.

---
IAAF World Athletics Championships / BBC State Opening of Parliament, BBC1
Steadicam: Dan Kidner
TX date/time: Doha – Sept & October 2019; BBC State Opening of Parliament 14/10/19 and again on 19/12/19

Reason for nomination
Excellent 'live' Steadicam work under difficult conditions.
Dan was one of the Steadicam operators on the IAAF World Athletics Championships from Doha, for ITN's host coverage to the world (including the BBC). The temperature in Qatar made his endeavours all that much harder. His endurance and quality of camera operation was fantastic.
Also this year he was the Steadicam operator on the BBC Events coverage of the State Opening of Parliament. Many will have seen his skilful walks at the beginning of the shows and also walks with Boris Johnson and Jeremy Corbyn from the Commons to the Lords.

---
The British Legion Festival of Remembrance 2019, BBC1
Camera: Nigel Saunders and Camera Team
TX date/time: 09/11/19 – 21.00

Reason for nomination
The Festival of Remembrance is broadcast from the Royal Albert Hall with a small delay.
This 16-camera event is tightly camera-scripted by RTS Award-winning director Bridget Caldwell and needs every member of the team to deliver a brilliant performance, with little room for error.
From the music numbers, the military displays and the complex muster sequence to the emotional entrances of the Chelsea pensioners and bereaved families, the shots and camera work need to complement the event without distracting from it.
This is achieved with flowing technocrane and jib moves, a real sense of involvement with the steadicam in the arena, and stunning wide shots carefully detailed with close-ups from the long lenses. All these elements help to convey the feeling from the hall.
With a technocrane, two jibs, a radio steadicam, two radio handhelds, two radio peds, a hothead, 5 long lenses and 2 wide cameras with one on track, all aspects of multi-camera operation are encompassed in this one programme.

---
The Real Chernobyl, Sky News
Camera: Andy Portch
TX date/time: 18/06/2019

A really beautifully and thoughtfully shot documentary on a difficult subject and under difficult conditions. As well as the challenges of shooting in a high radiation zone (limited time allowed on site at a time), the whole thing was shot and edited in only two weeks.

---
World Athletics Championships, Doha 2019, BBC1
Camera: Aerial Camera Systems
TX date/time: 27/09 to 06/10/19

Reason for nomination
I nominate Aerial Camera Systems for their exceptional work as part of the host broadcaster operation at the World Athletics Championship, Doha 2019.
Tracking cameras seem now to be a ubiquitous part of top-level athletics coverage, but ACS fulfil their remit so expertly and seamlessly, we may sometimes forget what high standards they are consistently achieving.
The two-dimensional Wirecam covering the back straight was skilfully executed, adding a new dimension, while the Pico mini-cameras produced superb slow-motion replays right up close to the athletes' action. All in all, the shots ACS produced were tremendous.

---
Giri/Haji, BBC2
Directors of Photography: David Odd and Piers McGrail
TX date/time: 17 October 2019

Reason for nomination
Beautiful artistic compositions, colours and lighting throughout every scene. Impressive yet understated.

---
Ashes, Headingley 2019, Sky Sports
Camera Operator: Dave England
TX date/time: 25/08/2019
Reason for nomination
Hi-motion shot of Ben Stokes' winning run: initial framing with scoreboard telling the story, still including Australian cricketer falling over, then zooming to mid-shot with Jack Leach entering frame for hug. Just excellent camera operation and proof that being tight is not necessary when trying to paint a picture.

---
The Proms: The Sound of Space, BBC4
The camera team, but special mention for David Brice (jib)
TX date/time: 9 August 2019, 22.30

Reason for nomination
The proms camera team is always excellent but this programme with the London Contemporary Orchestra showed just how good their timing and understanding of music really is. Specifically, David Brice (and assistant Peter Newman) on jib performed some shots that were so exquisitely timed they could almost have been rehearsed for days!

---
Cricket World Cup Final 2019, SKY
SKY cricket camera crew
Credited for: Camera
TX date/time: 14/07/2019

Reason for nomination
As someone who is a fairly 'lightweight' cricket fan (i.e. I am interested in the high-profile international matches and understand the basic rules but not all the finer points having never played the game myself), the detailed and accurate coverage of this complex game was quite superb in allowing you to really understand what is going on.

On top of the absolutely comprehensive coverage of all the action, whenever the commentators set out to explain a detailed point about say a catch, an LBW decision, or just the way the batsman positions his hands on the bat etc, there seemed to be a selection of pin-sharp very tight close-ups available to illustrate the point. Bearing in mind the size of the pitch and speed the ball travels at this surely demonstrates very high levels of skill from the camera crew.

Coupled with the excellent graphics and stats from the production, I found myself gripped by the coverage of both the semi-final and final, feeling for the first time that I really understood some of the technical points of the game that were so well captured and explained, with wonderfully detailed images to demonstrate exactly what was happening at any point.
Where to next?