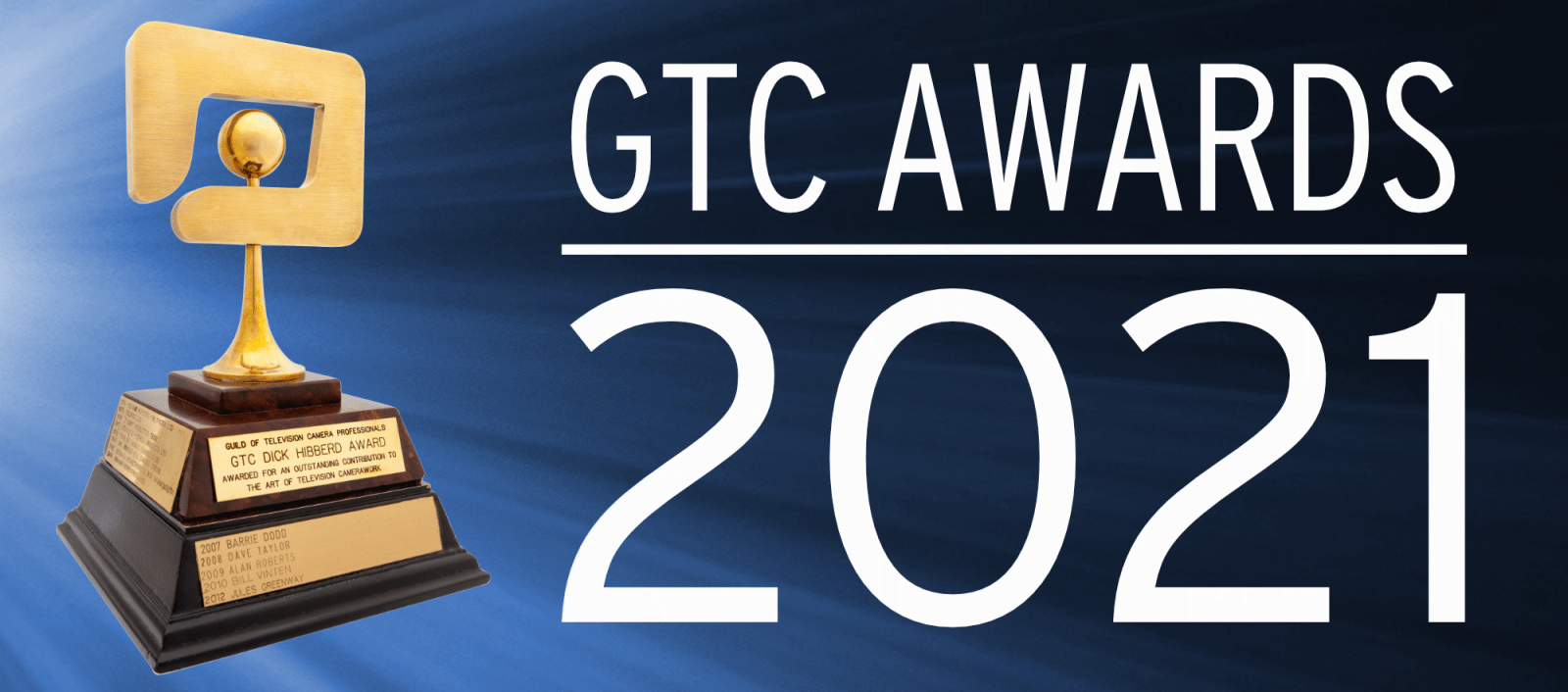 ---
And the 2021 nominations are ...
GTC Awards for Excellence

Lock Down Rock Up, Amazon Prime
Camera: Nicolas Hambleton
TX date/time: 1 January 2021

Reason for nomination
Lock Down Rock Up is a beautifully shot story by Nico Hambleton that uses a range of camera techniques, lighting, aerial drone and rope access to take viewers on a personal journey. The COVID-19 pandemic is the most well-known global story this year, yet Nico captures the film's character's own personal trauma in a way that makes it seem so untold.
The film is of two opposing parts. Starting with a dramatic illustration of Jerome's experience as a paramedic, Nico shows the viewer the day-to-day hardships in a very practical way. The audience immediately understands the daily grind that Jerome undertakes through the use of imagery and sounds that they can relate to. Nico's camerawork makes Jerome an immediately warm and likeable central character; his use of intimate lighting and friendly dialogue allows the viewer to feel connected to him as though he is telling his story to them, friend to friend. Nico builds tension and emotion through overlapping camera shots and background sounds to encapsulate the audience in the emotional climax, so the eventual calm composition of the outdoor sequence is powerfully peaceful.
The second sequence of the film takes the viewer on a different journey. The combination of low-angled camera work and close frames allow the audience to follow Jerome despite the switch in environment and atmosphere, while the aerial images capture the juxtaposition of his working and personal life. The film ends with a dramatic, yet peaceful drone shot that emulates hope and achievement.

---
Top Gear and The Grand Tour, BBC1 and Amazon Prime
Drone and FPV drone camera work: Lec Park and Andrew Lawrence
TX date/time: Various, see below for examples

Reason for nomination
Whilst all the camerawork is excellent, Top Gear has embraced drones brilliantly, and Lec and Andy work independently and together (Lec flying larger drones with Andy as his camera/gimbal op, and Andy as FPV drone flying and camera, with Lec as his spotter). Superb flying with exciting, high-octane shots that ramp up what is already an incredibly well-shot series.

Some examples from Top Gear:
Series 29, Ep5, 01/11/20. Alton Towers race sequence starts at about 28mins:
https://www.bbc.co.uk/iplayer/episode/m000p4pr/top-gear-series-29-episode-5

Series 29, Ep 4, 25/10/2020. A sequence with presenters driving each other on top of cars starts around 37 mins and goes straight into an end piece that involves a race up a slate mine in the Welsh mountains that is now the site of a Zip Wire experience:
https://www.bbc.co.uk/iplayer/episode/m000nxht/top-gear-series-29-episode-4
---
Multiple News items, BBC1/BBC News Channel
Camera: Davy McIlveen
TX date/time: Various, see below

Reason for nomination
Although each of Davy's major works deserve nominating, below are a sample of his work for BBC News during 2020. Apologies if it should be just one item, but I think it would be as fair to nominate him as a superb cameraman based on his ongoing body of work?

'London in the Shadow of a Virus - BBC News' 28/06/20
https://www.youtube.com/watch?v=FmuckwTO2Dc
Extraordinary, heartbreaking and hard-hitting coverage under the most challenging, restricting and harrowing circumstances. Davy's skills shine through, matched by the producing, journalism and heroes and victims whose stories they told.

'Echoes of Empire' BBC News 09/07/20
https://twitter.com/fergalkeane47/status/1281360666658582528
Beautiful footage of Ireland, and all the shots, including those that had to deal with social distancing requirements with interviewees, in one instance a 1+4, were crafted with artistry and real care to illustrate the subject

Story: 'Our Lives: We don't have to be shooting each other' 16/12/20
https://www.bbc.co.uk/news/av/uk-55267995
Again, such high-quality crafting of imagery that is appropriate and sympathetic to the narrative.

---
SKY NEWS: A Coronavirus Special, SKY NEWS
Camera: Garwen McLuckie
TX date/time: 19/03/2020

Reason for nomination
2020 will be forever remembered for the impact of Coronavirus on the world and this incredible piece of news filming was the first to capture the true horror of the epicentre of Coronavirus in a ward at the Papa Giovanni XX111 Hospital in Bergamo, Italy. Up until this point, no television crew had been allowed into any hospital treating COVID-19 patients and Bergamo was in a critical and desperate state. Garwen McLuckie, the cameraman, at great personal risk – as well as the reporter and producer – had to film the unfolding tragedy in 90 minutes.
This one story became the most watched and read SKY story of all time, with more than 100 million views on SKY NEWS platforms alone. The images were powerful and disturbing, and speak for themselves. They forewarned the world of what was to come for all of us.

---
BBC News at 10, BBC1
Camera: Francesco Tosto
TX date/time: 12/04/2020

Reason for nomination
Having seen Francesco Tosto working, both as Lighting Camera and Shoot/Edit for the BBC, also having worked with him on the BBC exclusive interview with the Italian Prime Minister, and knowing Francesco's relentless efforts to always show the story in the best possible way with the best possible look, I would like to nominate him for an Award. As if the Pandemic wasn't already enough, he then went on to cover the migrants' arrival in the southern Sicilian island of Lampedusa and the migrant crisis in Lesbos.

BBC Rome Correspondent Mark Lowen says about Francesco: "As the BBC cameraman based in the first country in the west to be overwhelmed by the Coronavirus pandemic, Francesco Tosto has shown exceptional commitment to the biggest story the world has faced for decades. He and his team were at the edge of the town of Codogno on the night of the first outbreak in February and continued to cover every angle of the story, from the red zones in Lombardy to the world's first nationwide lockdown, and from the economic and social impact of Coronavirus to the infiltration of organised crime groups in the south. Francesco's camerawork led the BBC's main news bulletins for days on end. And he filmed the first English-language broadcast interview with the Italian Prime Minister of the pandemic."
His work has been creative, powerful and original. We believe he would be a worthy recipient of a GTC Award for Excellence.

---
Dancing On Ice, ITV
Steadicam: Jordan Cowan and Dominic Jackson
TX date/time: 08/03/20

Reason for nomination
Jordan and Dominic worked together in unison on Steadicam on ice to follow a 3-minute long ice skating performance in a single take, getting a hands breadth away following each twist and turn of the dance. They not only had to choreograph around Torvill and Dean but also another five couples on the ice to complete a breathtaking routine, making it one of the standout performances of 2020.
---
Race Across The World Series 2, BBC2
Director of Photography: James Anderson
TX date/time: 08/03/20

Reason for nomination
James used the full range of his experience to help create a BAFTA-winning series. He combined beautiful landscape photography with dramatic and exciting footage as teams raced across Latin America. The opening set piece of the series in Mexico City was incredibly well shot, combining crafted Steadicam shots with great composition and pace to build the start of the race.

James created an aspirational signature look and feel to the series, using well-considered and framed GVs to showcase the variety of the South American landscape and its people, along with epic drone shots to present the magnitude of the scenery the teams travelled through.

The finale of the race showed a great combination of beautiful photography with careful planning, capturing the sense of urgency and drama of the final two teams making it across the finish line just seconds apart. This sequence shows great handheld camera work from James as the winning team crosses the finish line.

---
Pete Tong and the Heritage Orchestra Ibiza Classics, Live Now
Steadicam: Dominic Jackson
TX date/time: 19 December 2020

Reason for nomination
Filming a full orchestra with the biggest household DJ in the world at one of the best UK venues proved a difficult venture during the COVID pandemic. Camera positions were limited and compromised but thanks to Dom's effortless skill he was able to bring some much needed energy to the show using his Steadicam to full effect.

---
Gordon, Gino and Fred: Desperately Seeking Santa, ITV
Aerial Camera: Steve Peters
TX date/time: 9pm 16/12/20

Reason for nomination
Stunning drone camerawork, beautifully executed by Steve Peters. This made Finnish Lapland look magical in sub-zero conditions with very short days and a tight schedule.

---
Mortimer and Whitehouse – Gone Christmas Fishing, BBC2
Camera: Toby Wilkinson, Alistair Upcraft; Aerial Photography: Andrew Seggins
TX date/time: First TX 13 December 2020, then repeated on Christmas Day.

Reason for nomination
It was such a wonderful programme and the camerawork complimented the relaxed conversations between the two comedians in such a lovely way, I was compelled to nominate it.
The use of slow motion on the water and when the chaps were casting for fish, along with the superb drone photography made it a joy to watch. The whole series was beautiful, but this particular episode put me in the perfect Christmas spirit.

---
Huey Morgan's Latin Music Adventure, BBC4
Shooting PD: Clare Tavenor and team
TX date/time: July 2020

Reason for nomination
Lovely images of Latin-American life. Probably done on a tight schedule in tight spaces, it's well-observed and really enhances the music and mood that comes through in each episode.

---
Dawn Days, IGTV and Vimeo
Photography: Mike Guest
TX date/time: May 2020

Reason for nomination
This is a project that Mike undertook to keep himself occupied during lockdown on his own in Edinburgh. He went into the sea every day before dawn with his camera and put together these short films with music from friends, each one posted along with his daily journal. They are raw, beautiful and meditative – and struck a chord with many people at such a difficult time for their mental health.

---
BBC Proms, BBC4
Jimmy Jib: David Brice
TX date/time: 30/08/20 20:00

Reason for nomination
An amazingly elegant seven-minute piece covered in a single continuous and enthralling jib shot. Transmitted live on BBC4, Dave had his jib rigged on 30ft of track in the splendour of the Royal Albert Hall and in a space normally filled with Prommers.
The tracking, swinging and operation of the camera head was all Dave on his own.
This breathtaking shot had seven cues over the duration of the piece and, due to the pandemic, there was only time for ONE run-through as a rehearsal. I think this one shot alone just shows how fantastically skilled Dave Brice is and I'd love him to receive some recognition from the people he respects the most.

---
I'm a Celebrity, ITV
Camera Supervisor: Dean Clish
TX date/time: Nov–Dec 2020
Reason for nomination
Good to see a young cam sup taking on such an established show.

---
I'm a Celebrity – The Trials, ITV
Camera Supervisor: Dean Clish
TX date/time: 5 Nov to 3 Dec

Reason for nomination
It's inspiring to see a young Camera Supervisor looking after a big primetime show (I'm a celebrity – The trials) with massive new setups everyday. I thought the coverage was exceptional and beautifully shot. I feel his effort should be recognised and hopefully inspire younger cameramen/women. His many years under Chris Owen's guidance has proved that the training he received has allowed him to grow in the industry and keep up the standard shown to him in his training.

---
I'm a Celebrity – the Cyclone Trial, ITV
Camera Supervisor: Dean Clish
TX date/time: 3 November 2020

Reason for nomination
After a excellent run of shows, the biggest and best was the Cyclone Trial. Using a minimum number of cameras they managed to tell the story and not miss a moment. It had an epic feel.

---
Carols from King's, BBC Two
The Camera Crew
TX date/time: 24/12/20 5.30pm

Reason for nomination
I would like to nominate the camera crew of this year's Carols from King's multi-camera outside broadcast, for a GTC Award for Excellence. The programme was shown on BBC Two on Christmas Eve having been recorded earlier in December.

The coverage and execution of images was outstanding, with excellent camerawork and dedication to the art of our craft. The world-famous King's College Choir sang carols old and new, all filmed without a congregation and with the choir socially distanced to protect against coronavirus.

The camera crew were:
Camera Supervisor – Bruce Miller, with operators Rob Barker, Chris Martin, David Oliver, Andy Parr and Wai-King Cheung.

---
Dua Lipa AMA, Live Stream
Director of Photography: Nat Hill
TX date/time: 22/11/2020

Reason for nomination
This live stream was inserted into the AMAs. The Royal Albert Hall was turned into a planetarium. The performance was filmed all in one shot by Steadicam operator John Clarke, with the kit to fly the camera provided by Alan Wells. It looked amazing and was achieved during Lockdown 2.

---
Dua Lipa 'Studio 2054', Streamed
Director of Photography and crew: Nat Hill and the Camera Team
TX date/time: 28/11/2020
Reason for nomination
An epic team effort to create a groundbreaking virtual event for this global recording artist.

---
Small Axe: Lover's Rock, BBC1
Director of Photography: Shabier Kirchner
TX date/time: 22/11/20
Reason for nomination
The extended party scenes in this were filmed with such beauty and attention to detail. In what looked like a very crowded room, the camera moved constantly between and around the dancers for long shots in such a poetic way, picking out beautiful close-ups and moments, it was like a constantly-moving artwork. The lighting was a beautiful mix of 80s-style colours and tones, complementing the writhing mass of party-goers. The focus-puller should have a special mention for keeping up with those constantly moving and changing long shots in a dark setting!

---
The Holocaust, My Family and Me, BBC1
Camera: Mike Robinson, Tom Hayward and Grzegorz Gaj
TX date/time: 16/11/20
Reason for nomination
Sensitive, subtly stylish imagery. Particularly the highly emotional meetings at Teblinka. The camera positioning and reaction to the emotion was highly engaging. If I weren't already a DoP this would have inspired me to become one.

---
Remembrance Day Ceremony from the Cenotaph, BBC1
Entire camera crew
TX date/time: 8 November 2020

Reason for nomination
Superb and sensitive camera work throughout the entire broadcast. Not one shot out of place, everything fitted in with the spirit of this rather different ceremony this year.
Timing, framing, operation was frankly 'invisible' which is how things should be.

---
2020 World Snooker Championship from the Crucible, BBC1
Camera: Jim Cemlyn-Jones and the camera crew
TX date/time: August 2020

Reason for nomination
Jim Cemlyn-Jones and his camera crew for their constant outstanding camerawork and coverage of this year's World Snooker Championship from the Crucible. Year in and year out they bring superb shots into our living rooms and definitely contribute to the atmosphere and the excitement.

---
Talking Heads, BBC1
Camera Team
TX date/time: 23/6/20

Reason for nomination
The series consists of individual monologues that are uniquely lit for each story and beautifully majestic lighting created atmosphere for each accompanying story. I also noticed that the production must have taken place during the lockdown, and sometimes innovative and subtle camera movement added to the production value. I was curious as to how they managed this production at this time. Apparently, this was achieved by utilising the Eastenders sets and infrastructure, and camera operators who are experienced in pedestals so that they could do their own movement. I think this is a creative achievement by people's best effort using their knowledge and skills on many levels, despite the difficult situation. As a result, it managed to create a unique product that reflects the strange time we currently live in.
I had a chance to hear some behind-the-scenes stories from the camera department. This is what they said: "Approximately 7 hours of TV shot over 12 days under strict lockdown protocols. The restrictions required the 2m distancing rule to be adhered to at all times necesitating the use of pedestals and the associated skills from the operators so that there were only ever two people on set at any time. Each take could last anything from 5 to 10 minutes which made it hugely challenging for the operators to reproduce very precise moves over a long duration while finding new and interesting ways to frame the narrative."

---
The Great Mountain Sheep Gather, BBC4
The camera crew
Camera
TX date/time: 14/04/20: 01.30

Reason for nomination
Beautiful photography in a challenging landscape with exquisite drone footage that was both totally immersive and very unobtrusive. Old-school landscape photography with moving pictures.

---
Where to next?