GTC Award Winners 2016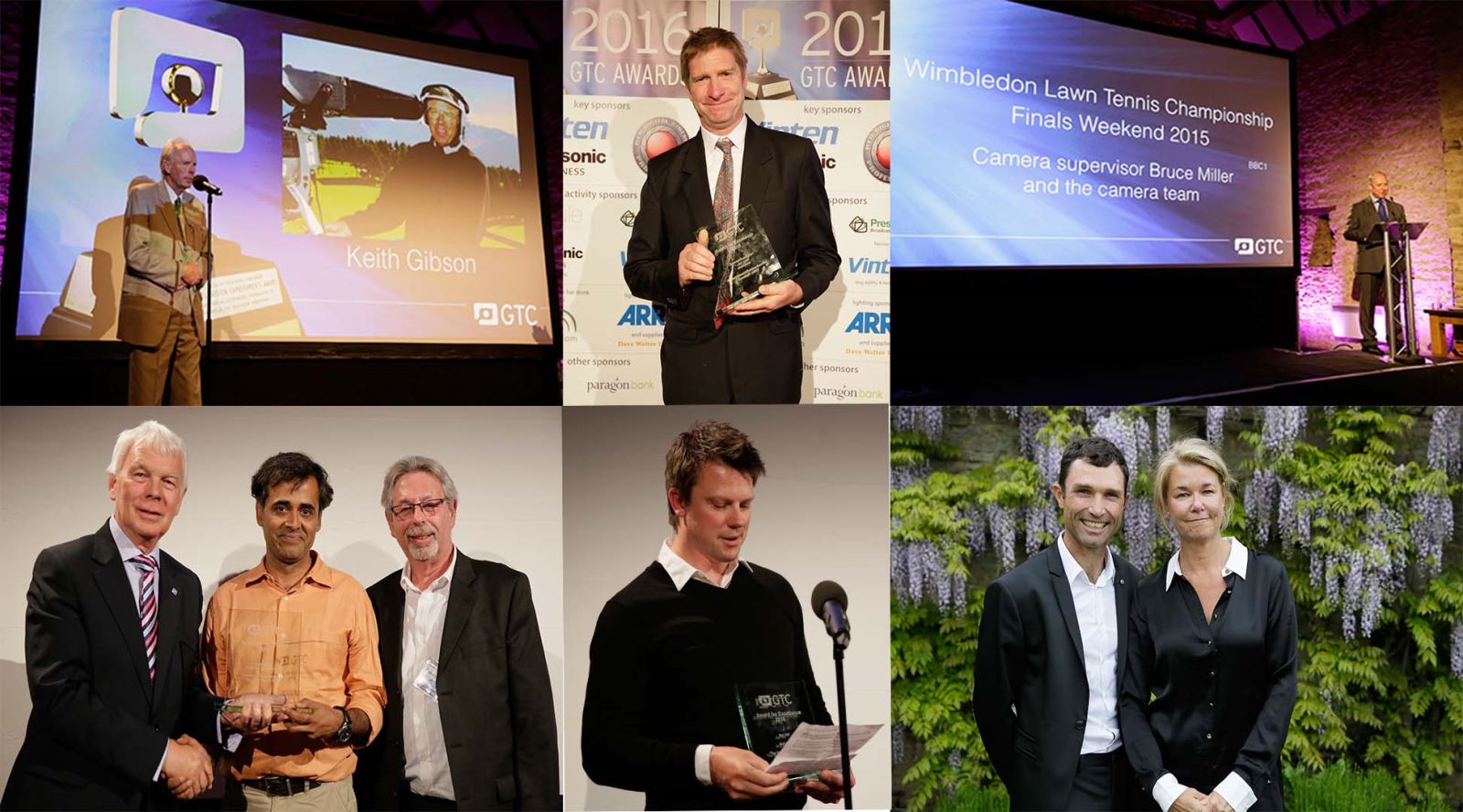 The GTC's 2016 Awards were presented on Sunday 22
May at The Great Barn, A Day in the Country in Upper Aynho, Oxfordshire.
The evening started with an introduction by retiring GTC Chairman Dr Keith Massey, who reflected on his four-year term at the helm of the GTC as well as a long and fulfilling career as a cameraman.
Next, Honorary President John Henshall paid tribute to three very important people to the GTC who all sadly passed away during the past year: Founder Member and President Dick Hibberd; long-standing sponsor and friend of the GTC, Bill Vinten; and our European representative Richard van Nijnatten.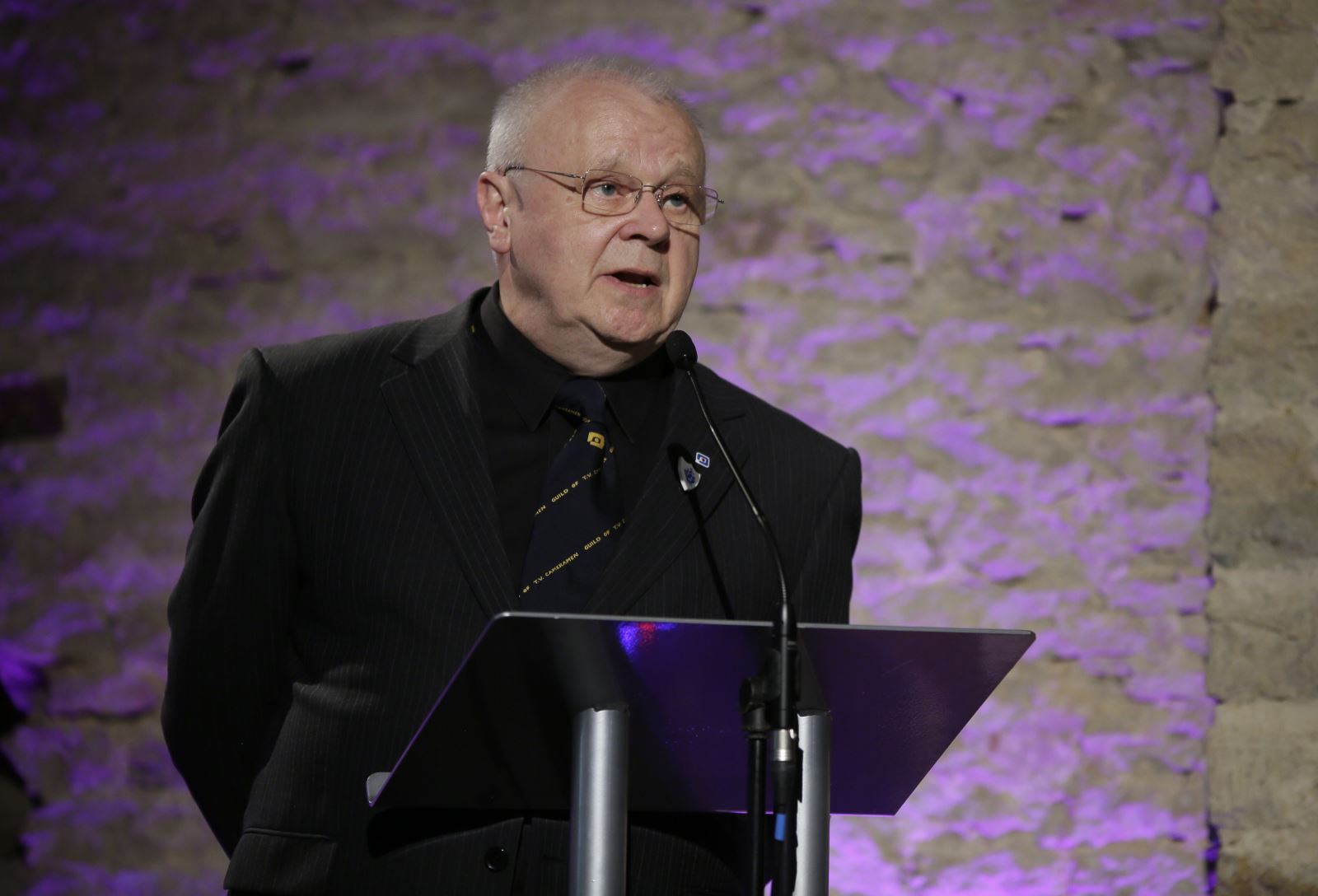 John had also uncovered some wonderful footage, not viewed in 40 years – including the GTC's summary of IBC1974, featuring a demo of probably the most unwieldy portable camera you've ever seen; the very first use of Steadicam ever filmed; and the presentation of the first TiCA for 1974–75 to W.Vinten Ltd, which was collected by none other than Bill Vinten, along with Ted Gallione, inventor of the Fulmar ped. Bill Vinten was visibly touched and thanked the GTC for its recognition of a sector of the industry which he said often felt like "mechanical Cinderellas in an electonic world". This strong relationship continues today through the sponsorship of the GTC by Vinten, now part of the Vitec group, and indeed Vinten were major sponsors of the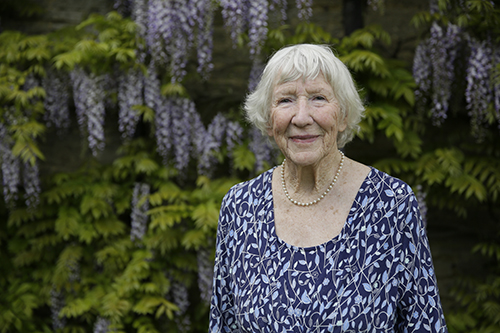 GTC Awards event this year. The GTC and Vinten also remain connected through the Bill Vinten GTC University Awards.
The keynote moved on to a presentation of Honorary Membership of the GTC to the "First Lady of the GTC", Dick Hibberd's widow Jean, who has done so much over more than 45 years to support Dick while he initiated, then built the GTC to the organisation it is today. The GTC was delighted that Jean was able to attend and to enjoy the event with all three of her children, Melanie, Steven and Richard.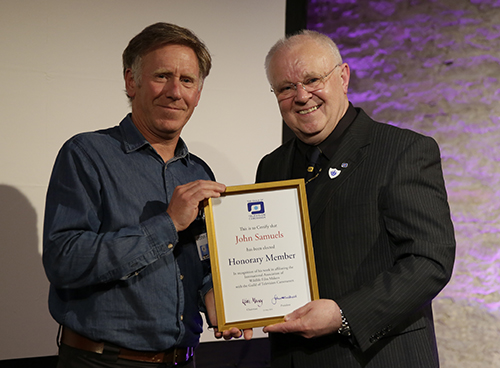 John Henshall concluded with presentation of Honorary Membership to GTC and International Asssociation of Wildlife Filmmakers (IAWF) member John Samuels, who initiated the idea of the recent amalgamation of the IAWF with the GTC.
Fellowship of the GTC was also presented to the retiring Chairman Keith Massey - a well-kept secret that Council had managed to hide from Keith.
GTC Awards Officer Chris Owen then took to the podium to announce the GTC Awards for Excellence and other Awards.
---
TiCA Winner: Keith Gibson
The GTC's top award, the Television Cameraman's Award (TiCA), was presented to Keith Gibson.
Jim Storey, Senior Director of European Golf Tour Productions, who has worked on golf for more than 25 years, much of this time with Camera Supervisor Keith as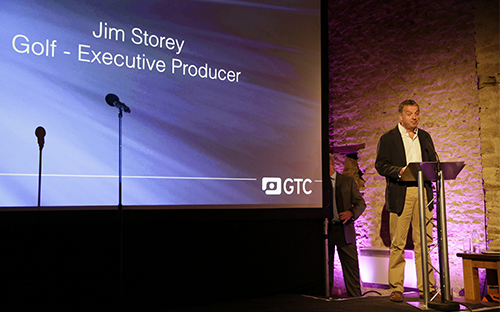 his "go-to" man, paid tribute to him. Jim explained that first and foremost Keith is a "lovely man, who you would always trust to lead by example, patient and unflustered." He added that he was one of the most honest people he'd ever known – with a strange fetish for silver flight cases! Keith is logistically brilliant, utterly reliable and great with younger guys, being always prepared to give advice.
As a cameraman Keith would never let you down - usually manning Camera 18 (the money shot) he could be absolutely relied on to always capture those all-important shots. Jim ended by wishing Keith a happy retirement and stating he was very proud to have worked with him.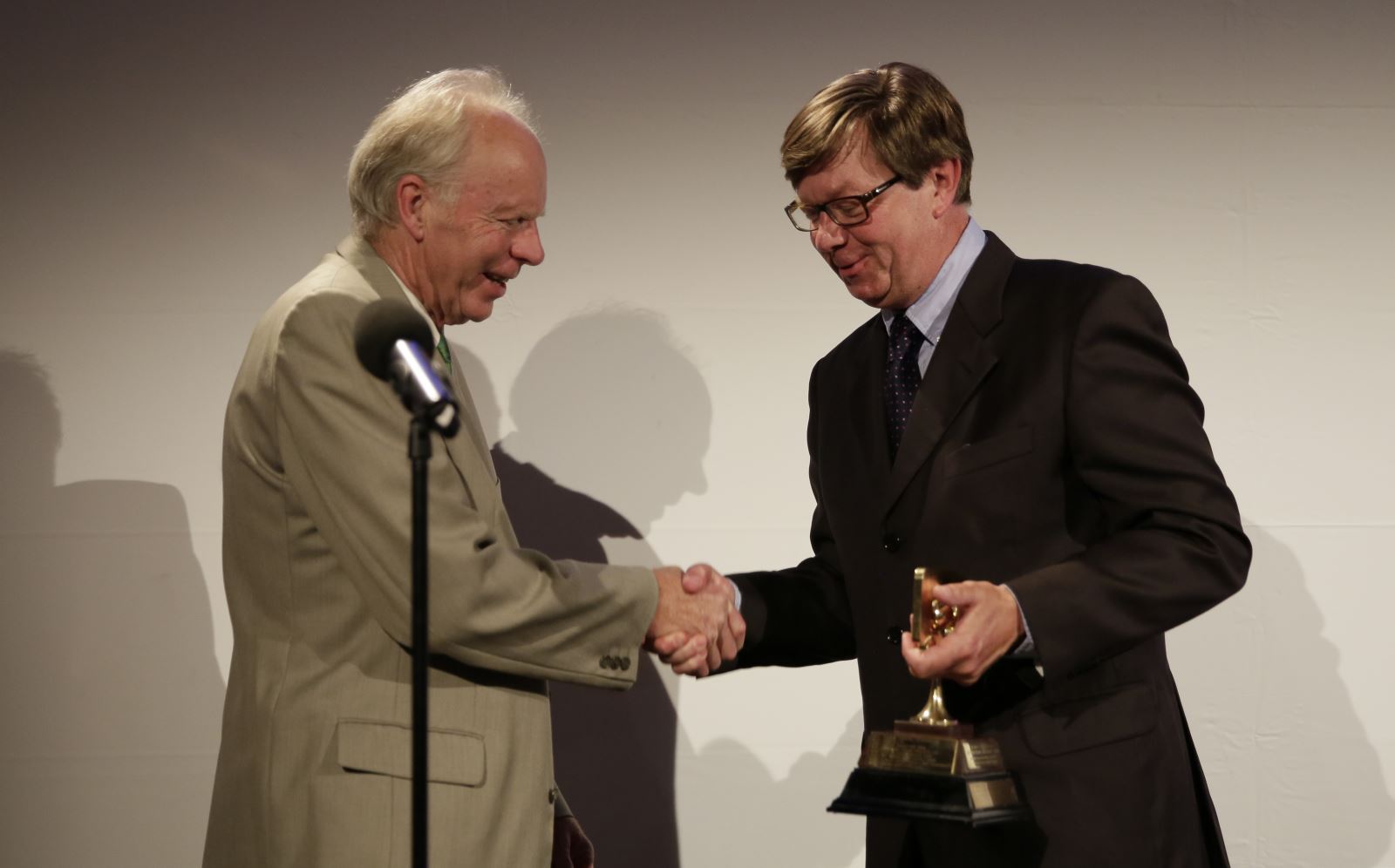 Thanking the GTC for the Award, Keith said he was delighted but surprised to receive it as he had always considered himself just a "jobbing cameraman". However Keith views his own career though, others fully appreciate that he has always done whatever he did superbly well - and for many years. The TiCA was presented to Keith by last year's winner Martin Hawkins.
---
GTC Awards for Excellence
The Hunt, BBC1
The Camera Team – collected by Graham Hatherley and Robin Smith
Superb camerawork under very difficult circumstances and conditions ... beautiful photography of the highest standard with only one chance to get it right.

Graham Hatherley paid tribute to the families of wildlife camera crew, who have to cope with long periods of absence while their partners are away waiting to capture those images.

Syrian Migrants in Greece and Turkey
Garwen McLuckie
Filmed under great hardship in a lorry and boat bringing the reality of the life-threatening dangers migrants experience in order to reach the Europe.

Garwen had flown in from South Africa to collect the Award, as had Sky correspondent Alex Crawford, whom Garwen thanked, along with his editor and producer. Alex joined Garwen on stage and paid credit to the skill and bravery of her "unsung hero" for his remarkable secret filming; his strength of character, attitude and ingenuity under adversity; and for making her "look good".

Warrier Cossacks of Ukraine
Chris West and Owain Rich

An excellent range of camera techniques (drone shots, circular tracks, slow motion, timelapse and great closeups of action) – very well used to enhance the story-telling and to compile a visually interesting piece.

Chris and Owain were both able to attend to collect the Award and thanked the GTC, stating that it was a great honour to have their work recognised by fellow cameramen.

Japan – Earth's Enchanted Islands: Honshu
The Camera Team

Unfortunately no one was able to attend as the camera team has disbanded; at short notice John Hunt, who was due to attend, was called away to film in India.

Wolf Hall
DoP: Gavin Finney

An exquisite scene from this overall superbly filmed drama series was picked out to demonstrate the skills of the Director of Photography.

Gavin Finney paid tribute to his crew, and in particular his focus-puller, for their work on this exceedingly demanding drama which was shot largely handheld and used hundreds of real cameras for light sources.

The Proms
Vince Spooner for The Camera Team

All the camera work was outstanding and quite invisible, taking the audience through the music and performers in a totally natural way. Every camera was on cue. One can't help but believe that everyone involved understood and enjoyed the music.

Vince Spooner collected the Award on behalf of the crew and said he was "humbled" to be recognised by his fellow cameramen.

Detectorists
DoP: Jamie Cairney

Simple but stylish camerawork with each frame beautifully composed. If you like to see photography that is completely in tune with the script, then this is it.

Jamie Cairney was shooting on location in Kuala Lumpur, so the Award was picked up by Producer Adam Tandy, who paid tribute to Jamie, including for his previous work on The Thick of It. On that series the camerawork had been deliberately "bad" (which is hard to achieve on purpose) – but on Detectorists Jamie was simply allowed to show his skill with excellent camerawork.

Handmade - Metal
DoP: Andrew Muggleton

Beautifully and lyrically shot, with no commentary at all, this programme concentrates on the subject itself, without the camera intruding for one moment. The series Slow TV really shows how the camera can be used to create beautiful, totally watchable images: art artfully shot.

Unfortunately Andrew Muggleton could not be there on the night.

Remembrance Sunday from the Cenotaph 2015
Jon Lord and Scott Stephens

Special mention was made of the high-angled shots and their perfect timing manned by Scott Stephens.

The Award was collected by Senior Cameraman Jon Lord who commented that all cameramen "do their best – and they do it for the viewers".

Wimbledon Lawn Tennis Championship Finals
Camera Supervisor: Bruce Miller
Steadicam Operator: Howard Woosey

All camera work was superb and the average viewer was never aware of the expertise of the television cameramen. As it should be! On the corridor walk to the Centre Court, down the stairs and through doorways, the framing remained steady throughout, and deserves an award in its own right. Superb steadicam operation.

Bruce Miller had planned to be there but had a last-minute booking; Howard Woosey will be presented with his Award for the Steadicam work on a suitable occasion soon.

India's Frontier Railways – The Last Train To Nepal, BBC4
Camera: Apal Singh (Principal Photography), Anhur Ahuja (Additional Camera)

The camera engages with the incredibly poor people who use this amazing rail service to eek out a pitiful living on this narrow-gauge, worn-out beyond words track. There are beautifully composed shots and angles on what is a photographic paradise of a world so far removed from the familiar. The camera emotionally observes but never intrudes and tells a real story of survival.

Principal Cameraman Apal Singh had flown from India and collected the Award with Producer Gerry Troyna. Apal dedicated the Award to the spirit of the remarkable people who run the train. Apal had managed to get a visa at two days' notice. Gerry paid tribute to the remarkable all-Indian crew who worked on the film.

Ireland's Wild River – The Mighty Shannon
John Murray

A beautiful piece of work from John Murray of Crossing the Line films in Ireland, which was made for RTE and shown on BBC2.

Unfortunately John Murray was not able to be there on the night.

The Sound of Music Live, ITV
Camera Supevisor Nat Hill, Rob Mansfield and DoP Zac Nicholson for The Camera Team

This superbly photographed programme was shot in the time it took to perform just once, with no chance for retakes, by a camera crew that worked together as though it had done so for years. With many sets across many studios, this production amazed anyone who understood the complexities involved. Yet the camerawork was a real example of the finest unobtrusive creative storytelling from a crew working seamlessly together in the finest traditions of television camerawork.
---
The Mike Baldock Award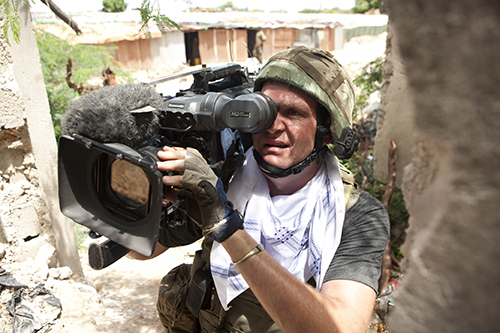 Jonathan Young is a true example of the core principle of the GTC "to foster and improve the art and craft of professional television camerawork".
With his consistently high standards of work and professionalism, Jonathan has had a career that anyone entering the industry would aspire to. Reading his CV shows involvement in bringng to the screen a wealth of memorable factual programming ranging from accessible and quirky Louis Theroux documentaries to hard-hitting current affairs investigations reporting worldwide injustices. He has worked in over 100 countries including regularly travelling to some of the world's most challenging and inhospitable environments. Jonathan has also led by example in actively seeking trainees and apprentices to work alongside him.
The GTC wanted to recognise Jonathan's work that is helping sustain the role of the cameraman both through his exemplary camerawork and through the efforts he makes in training the next generation of camera crew.
Extreme World presenter Ross Kemp says: Jonathan Young is a consummate professional with boundless energy, even at the end of the day. He truly cares about people and is extremely cool under fire. I am very proud to call him my friend.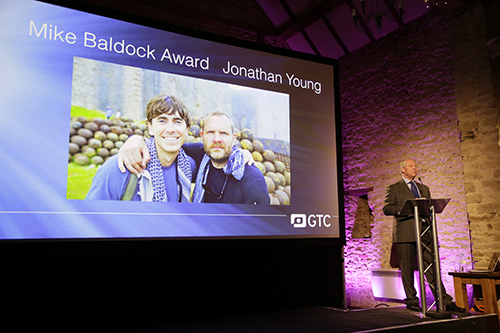 And BBC travel presenter Simon Reeve: I've worked with Jonathan Young for what seems like decades, and many of the trips we've been on together have been some of the most exciting and fulfilling journeys of my life. He's brilliant at filming in 12 different styles during one day, magnificent at keeping kit working in extreme situations, sturdy company in tricky places, and a lovely bloke with an encyclopaedic mind.
On the night Jonathan was away filming in Siberia so the Award was picked up by Keith Massey who paid tribute to the Jonathan who he has known since he was a boy.
---
GTC Seal of Approval
The GTC Seal of Approval was awarded to Hillrigs for their innovative, affordable and beautifully manufactured Kliktrak and Kombidolly system. Hillrigs MD Dave HIll, who lives in France, was unable to attend but sent his thanks, stating that the Award is a "huge feather in their cap and a pinnacle in the company's history".
---
Honorary Membership of the GTC
Honorary Membership of the GTC was presented to John Samuels.
---
Fellowship of the GTC
As well as the Fellowship for Keith Massey there were also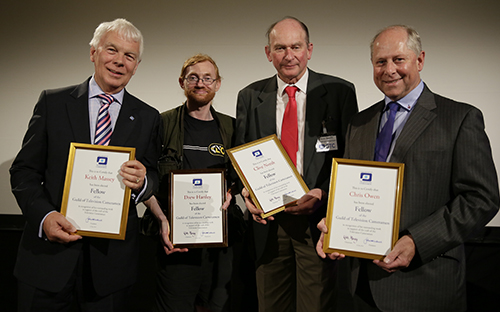 surprise Fellowships for GTC Workshops Organiser Clive North and outgoing Council Members Chris Owen and Drew Hartley.
---
Prize Raffle
The funds from the day's Prize Raffle were presented to the industry charity the Cinema and Television Benevolent Fund (CTBF).
Prizes had been generously donated by GTC sponsors and supporters:
---
GTC Awards judging
The GTC Awards are each year judged by a different panel of invited GTC members and colleagues. With the shortlist also consisting of nominations made by GTC members, the GTC Awards are truly recognised as an accolade from peers from within the camera department. This particularly valued aspect of the GTC Awards was mentioned by many of this year's recipients.
This year's judges were (l to r): Alan Duxbury, Nigel Walters BSC, John Waters (IAWF), Drew Hartley, Keith Massey, David English, Chris Owen, Adam Docker.