Bill Vinten GTC University Award Winners 2013

At the ITV London Studios on Thursday 24 October 2013, the first winners and runners-up of the new Bill Vinten GTC University Award, set up by the GTC in association with Bill Vinten to encourage camera skills in students hoping to enter the industry were announced.
The winner for 2013 is Ed Gammie of University of York
The two runners-up are Jack Harrison of Bournemouth University and Oliver Hadlow-Martin of University of York.
The winning university was University of York.
On 24 September, the short list for the individual paid work-experience prizes for the first Bill Vinten GTC University Award 2013 had been announced as:
Tomaso Aramini, Northern Film School
Adam Broder, Cambridge School of Art
Ed Gammie, University of York
Oliver Hadlow-Martin, University of York
Jack Harrison, Bournemouth University
Jack Reynolds, Kingston University
In this first year, the Bill Vinten GTC Award attracted 24 entrants from eight universities:
Birmingham City University
Bournemouth University
Cambridge School of Art, Anglia Ruskin University
Kingston University, Faculty of Science, Engineering and Computing
Northern Film School, Leeds Metropolitan University
Staffordshire University, Media (Film) Production Course
University of the West of England
University of York, Department of Theatre, Film and Television
Background to the Bill Vinten GTC University Award
In early 2011, there was a good-natured discussion about an increasing perception of a lack of camera skills within the industry. Whether this is an actuality or merely a manifestation of the proliferation of instant news, multiple channels and competition from other types of media, was unclear. But what is fairly clear is the relevance of the picture to content has become too undervalued, with the result that, gradually, the quality of pictures becomes less and less important.

This led to Stuart McKears suggesting, in 2011, the idea of a GTC University trophy which would be awarded to the university that exhibits excellence both in content and in craft skills by submitting a single portfolio of film or video in at least three different genres. These would have been wholly produced, created, shot by current or just-graduated students, who would also receive an award.

What Stuart didn't know at the time was that Bill Vinten OBE had, some months previously, indicated to the GTC his willingness to support a student award.
Now in his 90s, Bill is the youngest son of the founder of the Vinten camera support manufacturer whose innovative products have undoubtedly changed the world of broadcasting. Not only have the family and the company provided cameras and cameramen with 100 fantastic years of support but Bill has also been a reliable and solid supporter of the GTC for over 40 years.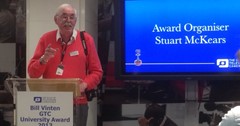 In early 2012, Bill and Stuart met up and the format of the award was finalised due to thegenerosity of Bill Vinten who agreed to fund paid work-experience prizes for the leading students.
On May 11, 2012, the Bill Vinten GTC University Award was launched with prizes of a prestigious trophy for the leading University and paid work experience of worth £2,500 to the leading student and two runners up prizes of paid work experience worth £750. The three winners would, also, receive one-year membership of the GTC.

Funds to pay these awards will come from The Television And Video Camera Craft Educational Trust which has been created both to handle Bill Vinten's five-year funding for the awards and to promote, maintain, improve and advance the education and training of the public in the arts, in particular through but not exclusively, camera craft and related media skills.

In this first year, the Bill Vinten GTC University award has attracted entries from eight universities with 22 camera operators vying for the work-experience prizes. As Dick Hibberd, President GTC, says: "The breadth of the productions has been most heartening, and bodes well for the future of the industry. Whilst some entries have still some way to go, there have been others which have been truly excellent.It is most encouraging to see the skills that have been mastered by the graduates."

Work-experience for the graduates will be available from GTC members such as:
Martin Hawkins, a leading director of photography in the field of comedy who received the Lifetime Achievement Award last year from the Royal Television Society. He is currently working on a new series of 'Derek' with Ricky Gervais and has recently completed filming the Mrs Brown's Boys movie.

Pete Edwards, a very experienced lighting cameraman. He was director of photography on the BAFTA-winning children's series 'Horrible Histories' and 'Trapped'. Recent credits include 'Ministry of Curious Stuff' (with Vic Reeves) and 'The Armstrong and Miller Show' for the BBC, 'Toast of London' for Objective Productions and 'Yonderland' for Sky.

Jonathan Young specialises in documentary and factual programmes, contributing regularly to 'Panorama' and 'Newsnight' for the BBC and 'Dispatches' for C4. Jonathan received two Awards for Excellence this year from the GTC for his work on 'Indian Ocean with Simon Reeve' and 'Extreme World' with Ross Kemp, and has since completed another series with Simon Reeve in Australia.