Bill Vinten GTC Award runner-up Jack Harrison enjoys his work experience with DoP Martin Hawkins
Jack Harrison entered the first Bill Vinten GTC University Award film competition in 2013. As runner-up he won work experience with GTC member DoP Martin Hawkins on a new pilot The Delivery Man. Jack explains the value of this special experience.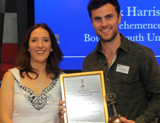 First and foremost I'd like to thank Bill Vinten and the GTC for providing this fantastic opportunity, and also Martin for offering his time and wisdom. It really does mean a lot.
Since graduating from Bournemouth University, I've been building a network of contacts in London where I'm based and have picked up some interesting jobs. These have included camera assisting on E4's new magic show Troy and a Samsung commercial in Iceland.
It was at the London Studios in October last year where I learnt I'd received the award for my camerawork and would be working with DoP Martin Hawkins. Prior to starting on The Delivery Man, he also invited me onto the set of Derek for a few days. Seeing how Martin and his team worked from the sidelines was inspiring and I knew from this point that I'd been dealt a good hand.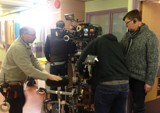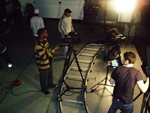 Then, during March 2014, I had the privilege of working as a camera trainee on The Delivery Man with Martin. The ITV comedy pilot is based around a male midwife and the day-to-day hurdles he has to overcome.
My initiation began at the kit check in Hemel Hampstead with Martin (Blink) Blinko (1st AC) and James Abbot (2nd AC). Martin and Blink have had an illustrious career together and are a close knit duo! Never have I met a man as thorough as Blink. He knew his kit inside out and was a great source of knowledge. It was on this kit check that I learnt the importance of organisation. You never know when you'll be asked to fetch some kit from the van, and knowing exactly where it is will save the production waiting around whenever that time comes.
Possibly the most important lesson I learnt from my experience was an unexpected one . In order to be a Director of Photography, you not only have to creatively light, frame and capture images, you also have to be diplomatic, be able to manage a team and be cooler than The Fonz!
Martin and the whole camera team made me feel very welcome from the outset. As well as picking up many invaluable tips, I also had a great laugh. I'm sure most will agree when I say that working with people who you get along with enriches the experience of any production (along with top-notch catering of course!). I can safely say I was lucky enough to have both.
The closing date for this year's awards is 29th May 2015.