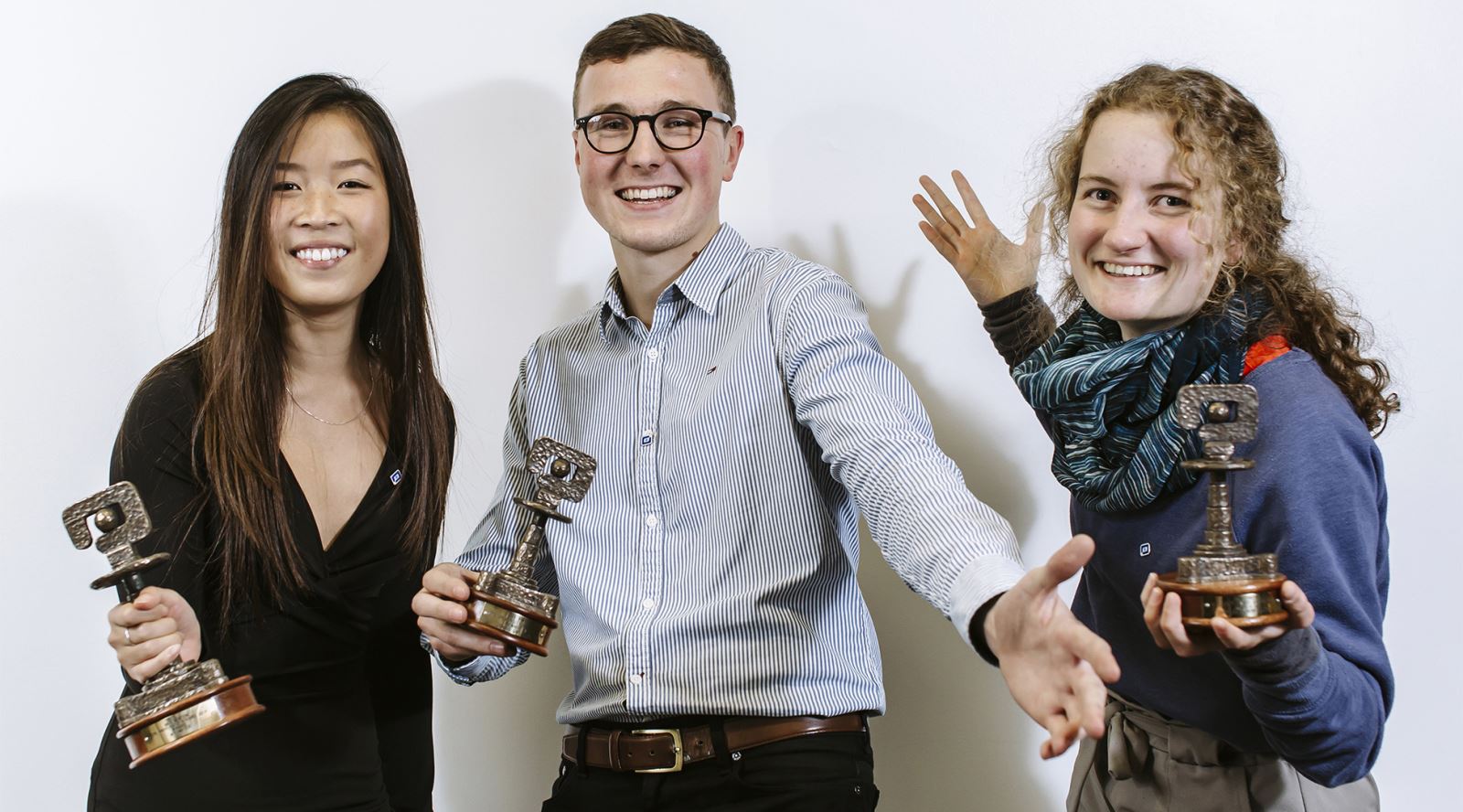 The 2019 winners: (l-r) Mylinh To, Dennis Griscenko, Boryana Dzhivdzhanova
This year the University of Portsmouth was the venue for the presentation of the Bill Vinten GTC University Awards at the end of a successful GTC TV Academy Day. Professor Trevor Keeble, Dean for the Faculty of Creative and Cultural Industries welcomed the shortlisted contenders, guests and students before introducing the GTC President, John Henshall.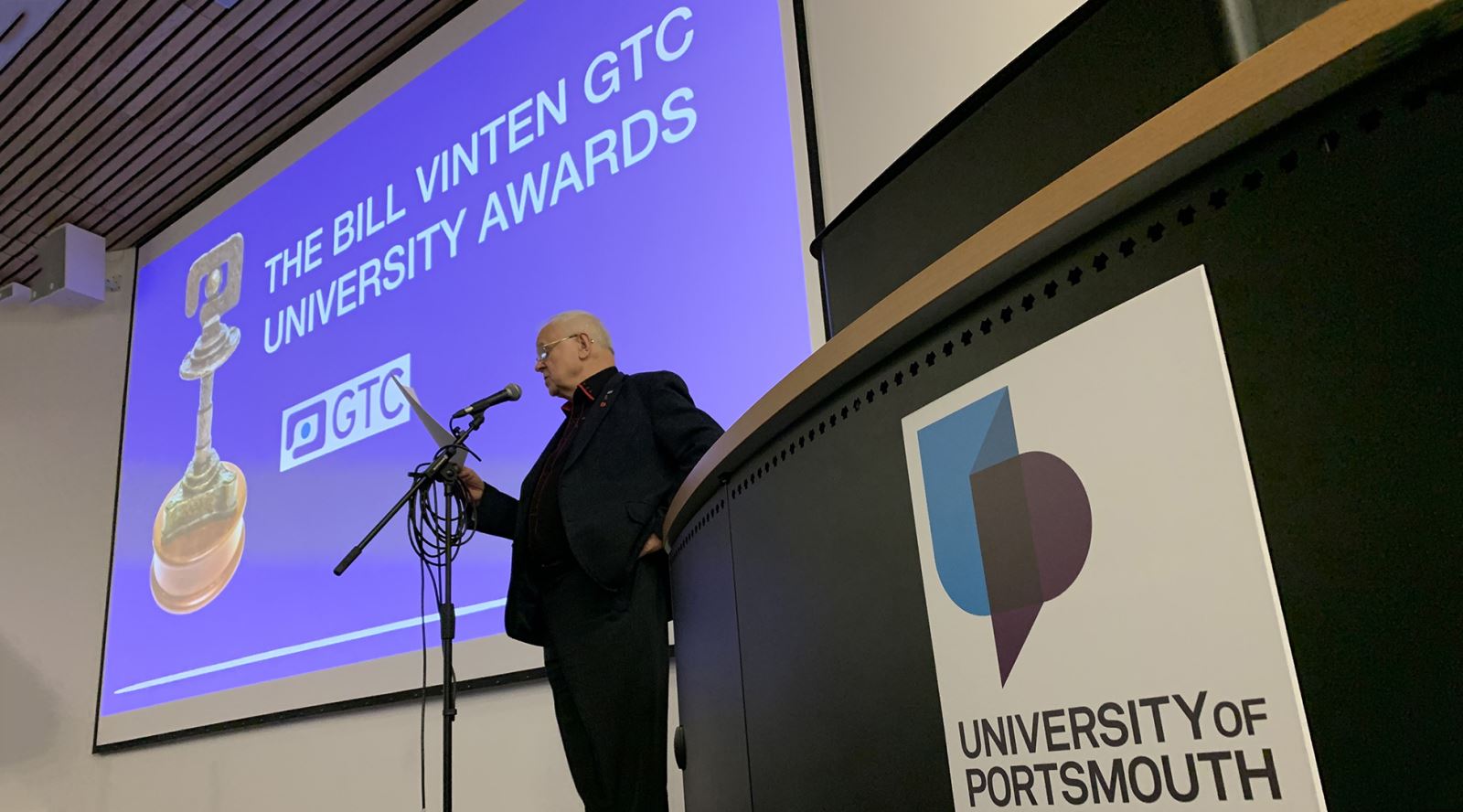 As a founding member of the GTC and someone who knew Bill Vinten well, John was able to explain Bill's importance to, and impact on, our industry. Using many of his own photographs from his time behind camera and during his days lighting promo videos and programmes such as the satirical puppet show Spitting Image, John illustrated many early Vinten innovations such as the prototype Heron Crane and not so successful Peregrine!
Alan Duxbury then took over where John's expertise ended to introduce more recent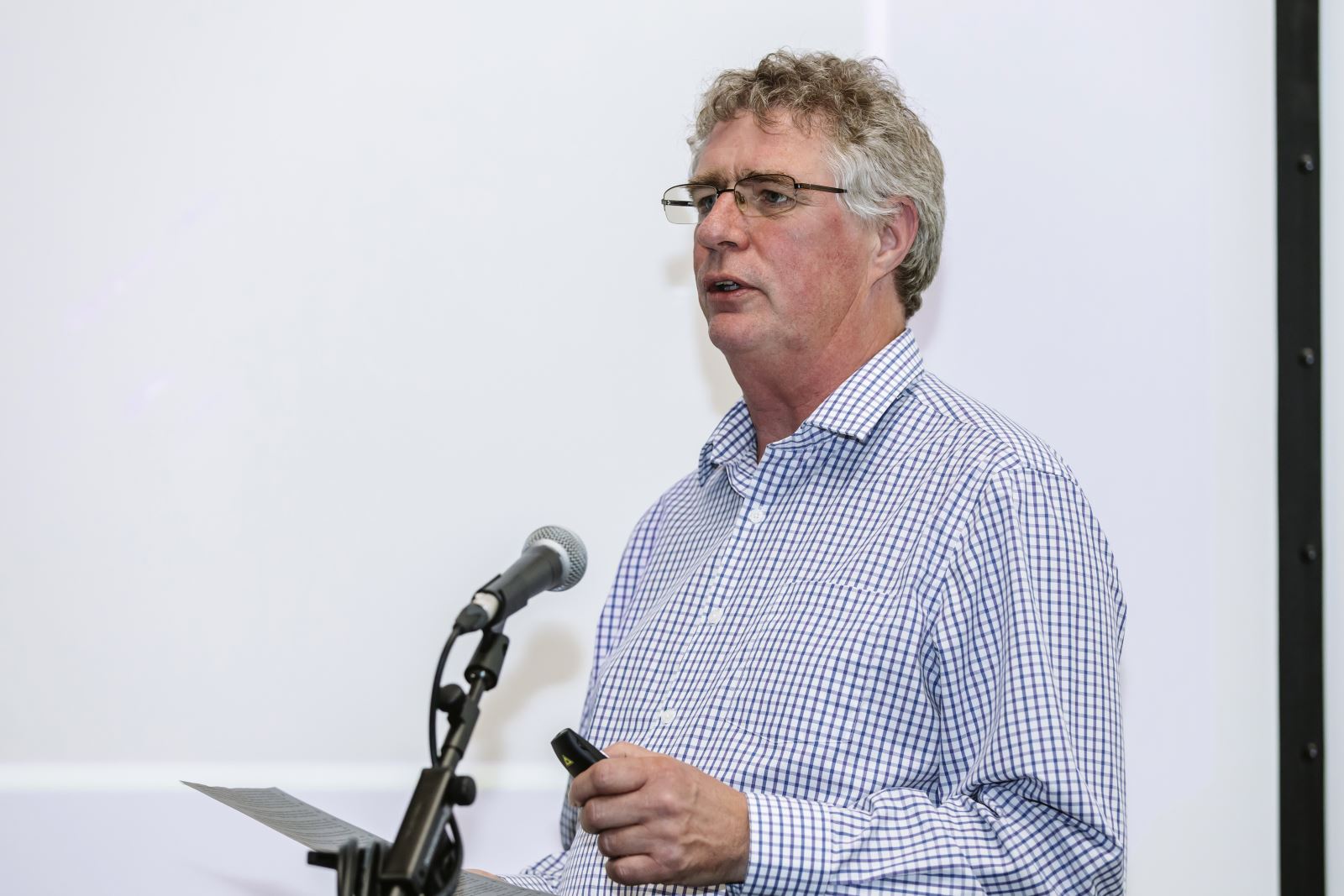 Vinten developments after Bill left the company at the age of 72. These included the Quattro Pedestal, the Vision range of panning heads with their 'perfect balance' system and robotic systems that enable virtual and augmented reality.
However, the main point of the evening was to allow students and lecturers to see and enjoy the work other universities have been producing for their final undergraduate projects. John introduced several montages of the shortlisted films before announcing the winners of the competition, each of whom receive paid work experience plus a year's GTC membership.
---
Winner: Mylinh To, Bournemouth University

The winner of the Bill Vinten GTC University Award 2019 was Mylinh To from Bournemouth University for her work on Firing Line – The Coward. Set in the trenches of WW1, the movement of the camera and shot selection particularly impressed the judges.
---
Runner-up: Boryana Dzhivdzhanova, University of Chichester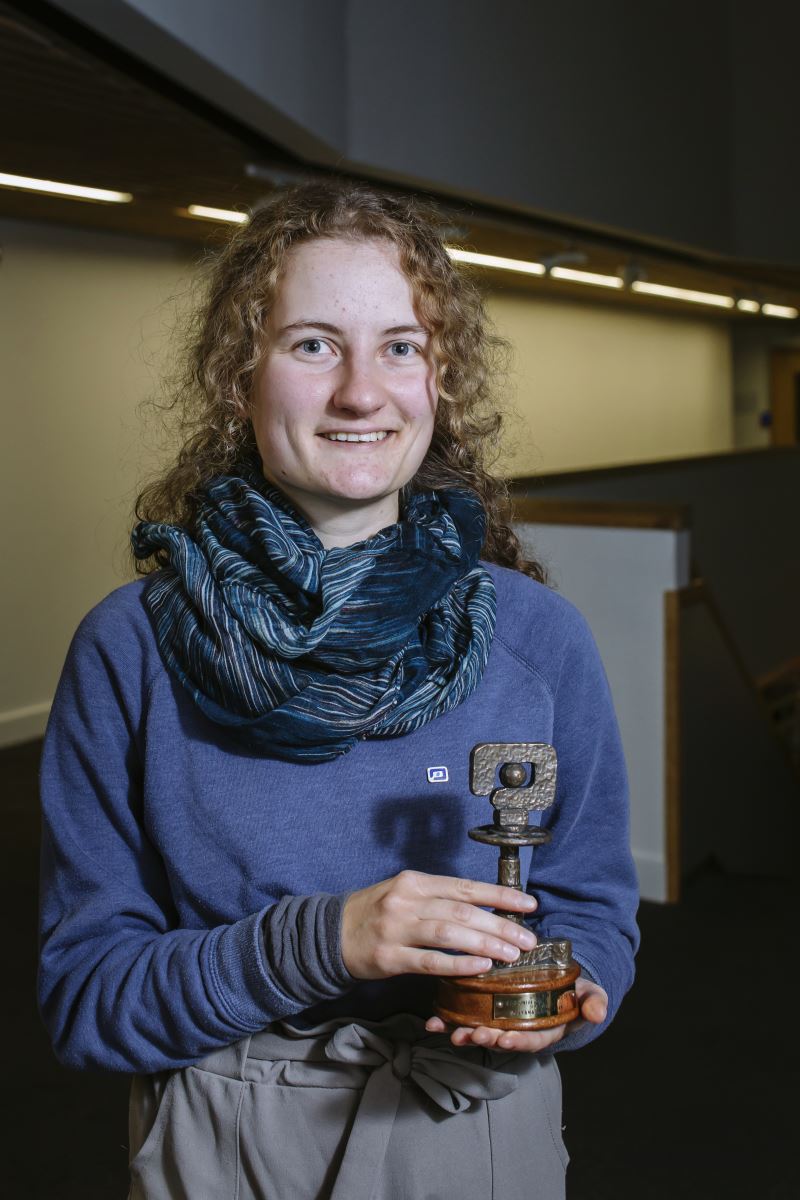 Boryana's film Relevé shows a girl struggling to fit in to a new community but finding escape and confidence through her dancing. One of the awards judges particularly liked the use of colour describing it as 'gloriously bold'.
---
Runner-up: Dennis Griscenko, University of Portsmouth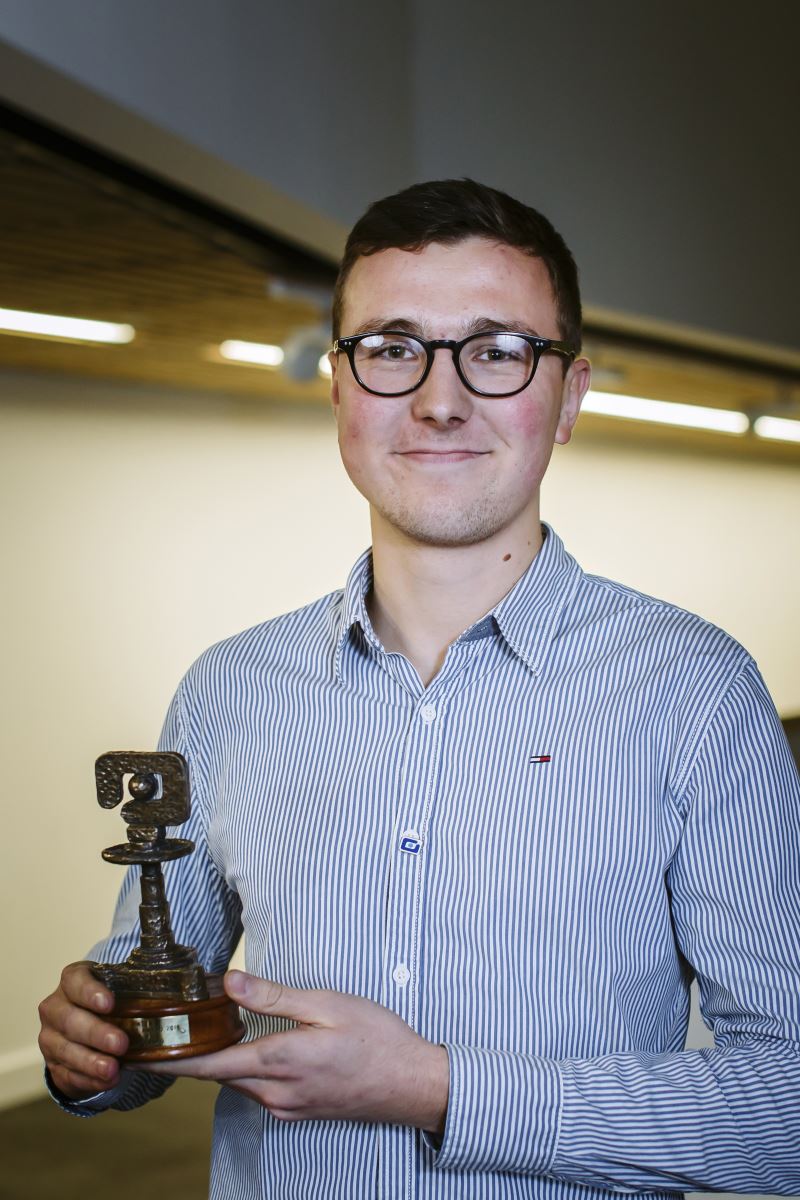 Dennis's camerawork on Before Nightfall was thought to enhance the horror film with appropriate camera moves, adding to the atmosphere and heightening the drama. He was also praised for his interior lighting of the Elizabethan set.
---
Bill Vinten GTC University Trophy
Winner: Bath Spa University
The Bill Vinten GTC University Trophy is awarded in recognition of the teaching across genres at a university or institution and is awarded for the accumulated scores for three films submitted by the university.
This year was the first time that the winning university, Bath Spa University, didn't have a film in the top three and yet its accumulated score beat the competition. The Award was collected by Bath Spa FTV Course Leader, Mark Adams. The films that contributed to the win, coming fifth, sixth and eighth respectively, were: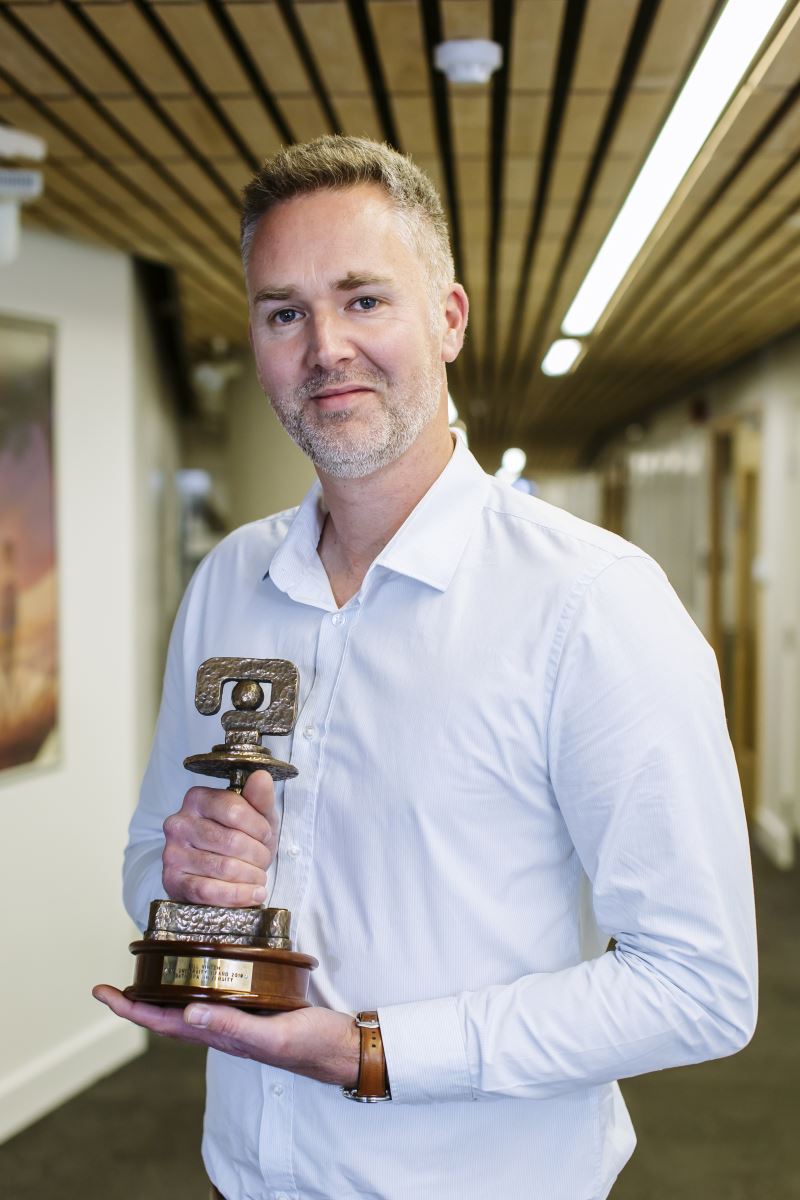 Mavic Pro 2, a mock commercial for the drone, shot by Valeri Lyanguzov
Sally, a documentary about retired competitive runner Sally Gunnell, shot by DoP Max Weston
Another Story, DoP Luke Ward: about a child who imagines her father coming to pick her up from school as a knight and a cowboy with amusing results, cleverly using spaghetti western influences in framing and lighting for part of the film.
Second place went to the University of Lincoln whose three films were My Pet Fox, DoP Chris Brown; Shelter, DoP Lucy Robbins; and Flint Moore – Gangrene, DoP Sam J Lance.
In third place was the University of Chichester with films Out of Water, DoP Elen Liigus; Anaethetise, produced, directed and filmed by Sam Truckel; and Boryana's Relevé.
Bill Vinten GTC Awards 2019 Shortlisted Films
This year was a very close year for the films entered in the Bill Vinten GTC University Awards. A total of 31 submissions from 11 universities were judged, and this year the shortlist of eight films featured a heavy drama element.
Factual
There were plenty of entries in the factual category but only two made it to the shortlist. Mavic 2 is a creative advert for the DJI Mavic 2 Pro by Val Lyanguzov, which really shows us what a drone can do in the hands of a skilled pilot. Sally is a documentary shot by Max Weston, focusing on athlete Sally Gunnell and her rise to glory and drawing on original footage of Sally winning the European, World, Commonwealth and Olympic 400m titles.
Drama
There were six drama films in our shortlist this year, starting with Misty, shot by Sebastian Body, a brilliantly paced drama where a blind girl sneaks into a practice room and starts a performance with a gentleman practising on a piano. This was contrasted by Relevé by Boryana Dzhivdzhanova, which reveals the central character's heritage through interpretive dance.
War was the subject in several of the films entered this year, a prime example being Firing Line – The Coward, which explores life in the WW1 trenches, showing some well-lit night sequences and good use of location from DoP Mylinh To. The theme of war was also explored, this time from a journalist's perspective, in Depth of Field, where we see another great use of exterior locations by Zach Hewitt.
Before Nightfall is a horror film set in the 17th century, where a young girl's friend gets taken by a monster in the night – with some beautifully lit indoor sequences and great camera moves showcasing Dennis Griscenko's vision. Another Story by Luke Ward is a film in which a busy father forgets to collect his daughter from school. It features some great sequences imagined by the daughter writing a story, including a classically shot spaghetti western scene.
The 2019 shortlisted entries
Mavic Pro 2, Val Lyanguzov, Bath Spa University
Sally, Max Weston, Bath Spa University
Misty, Sebastian Body, University of Surrey
Relevé, Boryana Dzhivdzhanova, University of Chichester
Firing Line – The Coward, Mylinh To, Bournemouth University
Depth of Field, Zach Hewitt, London College of Communications
Before Nightfall, Dennis Griscenko, University of Portsmouth
Another Story, Luke Ward, Bath Spa University