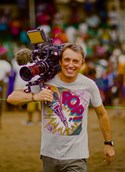 Graham Maunder
Lighting camera/DOP
Aerial/Drone Operator
---
Multi-skilled cameraman as happy on the back of a motorbike or skiing with the camera as lighting a drama or operating on a L.E. show. Owns and uses wide range of HD & 4K cameras including Sony F55, RED, ARRI Alexa, Alexa mini and Amira as well as Panasonic Varicam and P2 cameras. Also owns a range of Prime, PL mount zoom lenses, HD and specialist lenses.
Work Area
London, National, International (Worldwide)
---
Showreel
https://vimeo.com/50367100
Recent Work
Many promos for BSkyB including Prizefighters, Premier League, Royal Wedding, Heineken Cup and 20 Years of Sky Sports.
Commercials for BA, Rolls Royce and DAZ amongst others.
Ewan McGregor – Cold Chain Mission, David Beckham - For The Love Of The Game, Last Word Monologues (dramas) and Operation Ouch! for BBC
Gary Barlow in Afghanistan, Dancing on Ice, Fearne and..., An Evening With..., Pop Star to Opera Star and Harry Hill for ITV
Access Hollywood, Winter & Summer Olympics for NBC Sports
Gadget Show for five
Motorbike camera work for the Great Run series & Olympics
Skiing Camerawork at World Championships and Winter Olympics
Charity films for UNICEF, Sport Relief and Comic relief
Royal Wedding films for BBCtv
Additional Info
Trained at the BBC then employed by TVi, Trilion & Limehouse before setting up Awfully Nice Video which has grown into one of the leading providers of single camera units in the UK.
Awards include 6 EMMY awards for camerawork, 2 BAFTAS, GTC Award for Excellence (2013), GTC Certificate of Merit, and an IVCA award.
Also provide a competitive rental service to fellow GTV cameramen.