Sarah Smither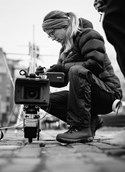 I'm a DOP with over 20 years experience across all kinds of genres and formats. I'm passionate about lighting and storytelling and always keen to improve my skills. I have bases in Bristol and London with access to great kit hire rates as well as my own FS7 kit, lenses, lighting and transit van. I also like to work with the Sony Venice, Alexa Mini and Arri Amira, and am confident with both spherical and anamorphic lens formats. I can supply my own camera and lighting team and can also source sound crew if necessary.
Recent Work
- 'Sacrilege' indie horror feature film
- 'Steve' Feature-length documentary film
- Patient Protection Insurance TVC for Happy Hour
- Dell Technologies TVC (US broadcast) for Home
- 'I Am The Prize' independent comedy feature film
- NBC Universal 'Sing!' promo for Future Fusion
- 'Work Safe Home Safe' drama shorts for Mitie
- 'Being Human' with Dr Alice Roberts for BBC Horizon
- Kirstie's 'Best of Both' for Channel 4
- 'Great Dinners of the World' for Asian Food Channel
- Grand Designs various series 2004-2018
Additional Info
*My kit:
Sony FS7 4k Camera kit
XQD cards
V-lock batteries
Samyang cine-primes (14,24,35,50,85mm)
Canon EF zooms (24-105mm, 70-200mm)
Tokina 11-16mm
Selection of filters
TVLogic 5.6" HD monitor
Miller tripod
575 HMI
2x 800w Redheads
650w Arri Fresnel
300w Arri Fresnel
Swit PL-E90 2x1 bi-colour LED panel
Felloni 1x1 bi-colour LED Panel
NanGuang RGB LED Pavolite tube
Cineo Matchbox mini LED panel
2x 150w Dedos
6m Hillrigs Kliktrak & dolly
Fast Flags Kit
2x2m screen with various fabrics
5-seater transit van for kit & crew

*I also have access to great hire rates for any additional kit required.